Iran nuclear talks: Prospect of deal with Iran pushes Saudi Arabia and Israel into an unlikely alliance
Netanyahu lines up with Saudis' Sunni bloc against 'expansionist' Iran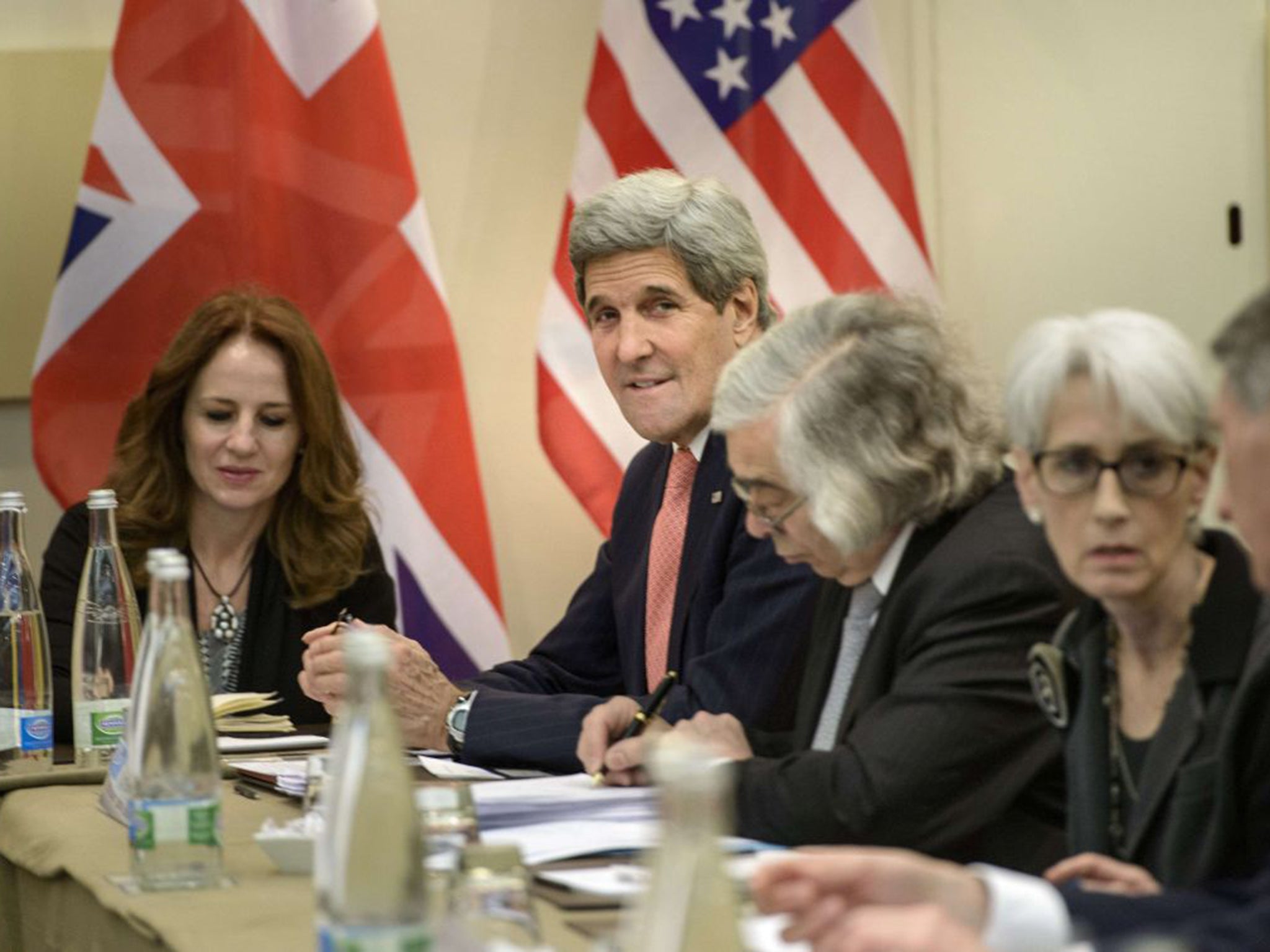 Foreign ministers from Iran, the US and five other world powers including Britain were tonight preparing for a final 24 hours of intense negotiations that could change the Middle East's political landscape for years to come.
US officials said the talks in Lausanne over Iran's nuclear programme, whose deadline for a "framework" agreement is midnight tomorrow night, would go "to the wire".
China's Foreign Minister, Wang Yi, was "cautiously optimistic". His German counterpart Frank-Walter Steinmeier said "there had been some progress and also some setbacks in the last hours".
But as officials alternately expressed optimism and gloom over the prospects, two Middle Eastern countries were observing the apparent progress in Lausanne with grave alarm – and are moving towards cementing an unlikely alliance as a result.
Which countries have nuclear weapons?
Show all 14
Both Israel and Saudi Arabia have repeatedly claimed that Tehran is intent on acquiring a nuclear arsenal, regardless of whatever pledges it makes, and that its hand will merely be strengthened by the lifting of economic sanctions as part of an agreement. Both see Iran with nuclear weapons as a direct threat to their existence which must be confronted.
Co-operation between Israel and Sunni states in the region was already growing in response to Shia Iran's expanding influence in Iraq, Lebanon, Syria and, most recently, Yemen.
But the Obama administration's enthusiasm for the nuclear talks, plus its arms-length co-operation with Tehran in the fight against Isis in Iraq and Syria, has done most to bring Israel and Saudi Arabia closer. In the run-up to Israeli elections, officials including advisers to Israeli Prime Minister Benjamin Netanyahu were keen to stress the strategic advantage of their secret understanding with the Sunni bloc.
One senior security official in Tel Aviv said: "Necessity creates alliances. The necessity for us and the Saudis in particular – as well as the Gulf states, Bahrain, Qatar, the UAE, Jordan and Egypt – is to be on our guard against Iran, which is an aggressive, expansionist power. We think the nuclear deal that the Iranians may persuade the international community to sign would make all of us vulnerable in this region, and so co-operation makes sense."
Benjamin Netanyahu yesterday stressed the danger to the region that he said was posed by the terms likely to be agreed in Lausanne by the P5+1 group of the US, UK, France, Russia, Germany and China with Iran. The course of the talks, said the Israeli Prime Minister has "confirmed our concerns and proved to be even worse". Israel was not the only country that would be in the firing line of Iranians, who wanted to "conquer" the whole of the Middle East, he maintained.
Mr Netanyahu pointedly warned of an "Iran-Lausanne-Yemen axis". Saudi Arabia has taken the lead against that "axis", by forming a Sunni coalition against Iranian-backed Houthi rebels in Yemen, whom the Kingdom's warplanes are currently bombing.
Prince Turki al-Faisal, a former head of Saudi intelligence and ambassador to Washington and London, warned that a deal with Iran could lead to nuclear proliferation. "Whatever comes out of all these talks, we will want the same," he said. "If Iran has the ability to enrich uranium to whatever level, it's not just Saudi Arabia that's going to ask for that. The whole world will be shown an open door to go down that route."
Israeli officials have claimed privately in the past that Saudi Arabia would turn a blind eye if Israeli warplanes needed to overfly its territory to strike at Iranian targets, although the Saudis are said to be keen for Israel to revive the stalled negotiations over a Palestinian state. One Western diplomat based in Brussels reportedly said: "The Saudi authorities are completely coordinated with Israel on all matters related to Iran."
Two months earlier Israel's intelligence service, Mossad, and Saudi officials were said to have met to share intelligence on Iran and there were claims that Riyadh was prepared to assist proactively in any anti-Tehran mission, facilitating the use of helicopters to rescue any downed flight crew and air-to-air refuelling for Israeli aircraft.
Last year, Prince Turki publicly met the former Israeli military intelligence chief, General Amos Yadlin, in Brussels. General Amos Gilad, the former director of the Israeli defence ministry's policy department, said Israel had a behind-the-scenes working relationship with the Sunni states. "Everything is underground," he said. "The Arabs will never accept this publicly but they are clever enough to promote common ground."
Robert Emerson, a security analyst, said: "The feeling of anger against [Netanyahu] among Democrats in the US is very deep. Until the next American election, Bibi can only hope that the Republicans will try to block any deal in Congress. So for now, Israel is forced to play a regional game in the Middle-East."
The Republicans may, however, have difficulty in getting the numbers needed block the lifting of sanctions. Mr Netanyahu's address to the US congress was viewed as a snub to President Barack Obama, and has angered members of the Congressional Black Caucus. James Clyburn, assistant minority leader, described the speech as an "affront to America's first black president".
Mr Obama has pledged to veto two bills aimed at preventing the lifting of sanctions and, without the Black Caucus, Congress may be unable to summon the two thirds majority needed to override him.
Meanwhile in Lausanne, differences remained over the time limits on uranium enrichment, the lifting of economic sanctions and their re-imposition if Tehran breaches an agreement, and the shipping of enriched uranium out of Iran.
Philip Hammond, the Foreign Secretary, added: "We are here because we believe a deal can be done. But it has to be a deal which puts the bomb beyond Iran's reach. There can't be any compromise about that."
Join our commenting forum
Join thought-provoking conversations, follow other Independent readers and see their replies