UN 'roughs up and bans' investigative reporter long considered thorn in side of world body officials
Mr Lee has written about UN in connection to Haiti, Burundi, Sri Lanka and other nations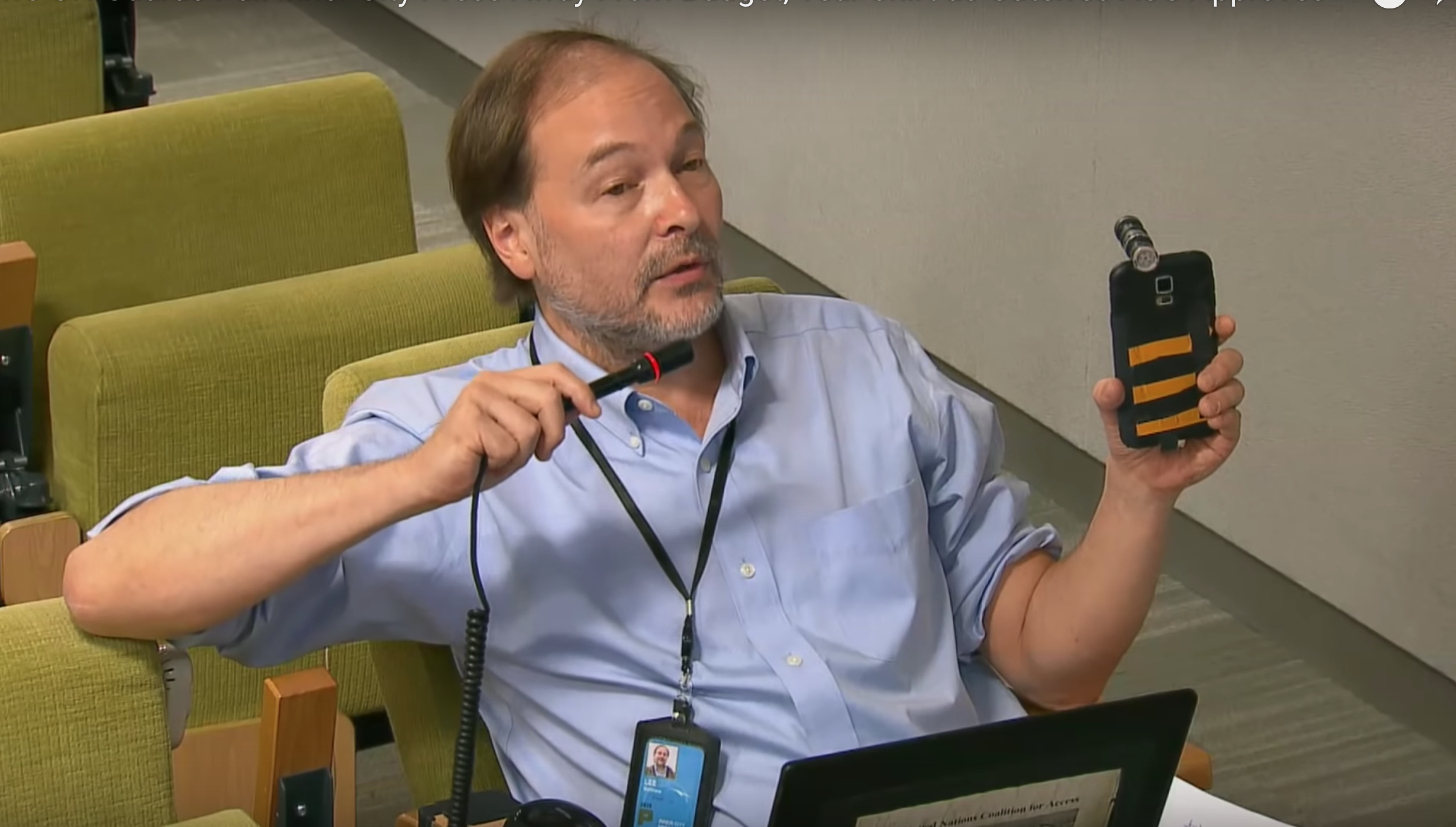 An investigative reporter long considered a thorn in the side of the UN, has said he was manhandled by a security guard, escorted from the building and then prevented from reentering – his latest brush with officials from the world body.
Matthew Lee, who runs the Inner City Press blog, said he was grabbed and his shirt torn while waiting outside a late-night, closed session on the UN peacekeeping budget. In video footage that Mr Lee took, he can be heard remonstrating with a security guard and senior British official Christian Saunders, who was last year appointed as the UN's Assistant Secretary-General for the Office of Central Support-Services.
"I'm a journalist, I'm a journalist. You see what's happening here," he can he heard saying, the volume of his voice rising. "I have a right to cover this. I'm a journalist covering the budget."
Informed by Mr Saunders the meeting was a closed session, Mr Lee responded: "I'm not in the session. I'm sitting outside covering this."
Fox News, which first reported on Mr Lee's expulsion last week, said he was "no stranger to spats with UN officials and also some fellow journalists".
It said he had his credentials downgraded from resident correspondent to non-resident correspondent in 2016 after an argument over coverage, and was last month removed from the building after being told he had to leave also for allegedly breaching rules surrounding when non-resident correspondents can be present.
It added that UN guidelines said non-resident correspondents "only have access to UNHQ on weekends or after hours accompanied by a resident correspondent or when a meeting is advised as taking place". It said Mr Lee claimed because a budget meeting was taking place, he was within his rights.
A 2007 profile of Mr Lee in the New York Times described him as a "bit like a bull in the carefully diplomatic china shop of the United Nations press corps".
It added: "He has broken a few stories and irritated more than one senior official. He has printed gossip, rumours and what several officials called lies, and was once called a "jerk" by Mark Malloch Brown, the deputy secretary-general under Kofi Annan."
A 2011 report about Mr Lee in the New Yorker, said "occasionally, Lee's web site influences the world it covers".
His removal last month was criticised by the Government Accountability Project, a non-profit organisation that says it has been helping protect whistle-blowers since 1977.
"This most recent incident is the latest in a long history of harassment directed at a journalist who has been critical of UN management and operations over the years," said the group.
"Mr Lee's investigative reporting has broken stories concerning sexual abuses committed by peacekeepers in Africa, the role of UN peacekeepers in bringing cholera to Haiti, and war crimes in Sri Lanka, Burundi and Sudan."
World news in pictures
Show all 50
It added: "Mr Lee's reporting has also helped to expose corruption at the headquarters of the United Nations, including the current bribery scandals surrounding former General Assembly President John Ashe."
Mr Lee told The Independent his removal from the world body's headquarters came as he continued to investigate a number of corruption allegations.
"The UN has become worse," he said. "On July 3 I was ousted while covering the budget, and since July 5 I have been banned from entering the UN and asking any questions."
Stephane Dujarric, a spokesman for UN Secretary-General António Guterres, said it was "ridiculous" to suggest Mr Lee had been treated as he had because UN officials were upset with his coverage.
He said many correspondents published stories that were embarrassing to the world body. He said a review had been launched into the manner in which Mr Lee had been removed and his future accreditation. He said Mr Mr Saunders was not involved in the decision to remove and had just "happened to be there" the night Mr Lee was escorted out by security.
In a statement, he said UN Security had on July 3, been alerted to a violation in the use of an access card, in which a person was using his access card to enter an off-limits area.
"When security followed up, they found Matthew Lee to be in the building past 9pm, well after the hours for a non-resident correspondent, and they informed him that he was not allowed to roam around the UN compound at that hour. They informed him that he would be required to leave the premises," said the statement.
"At that point, Mr Lee became loud and belligerent, and resisted the instructions of UN security officers. He was then escorted outside the building, along with his laptop and backpack.
"Based on his unacceptable behaviour, and the fact that he was a repeat offender, having been similarly removed from the building on 22 June 2018, Matthew Lee has been temporarily barred from the premises pending a full review of this incident."
Join our commenting forum
Join thought-provoking conversations, follow other Independent readers and see their replies