Muslims lend Christians hijabs to help them escape Isis in disguise
Some local residents are so hungry they had "started to eat their blankets"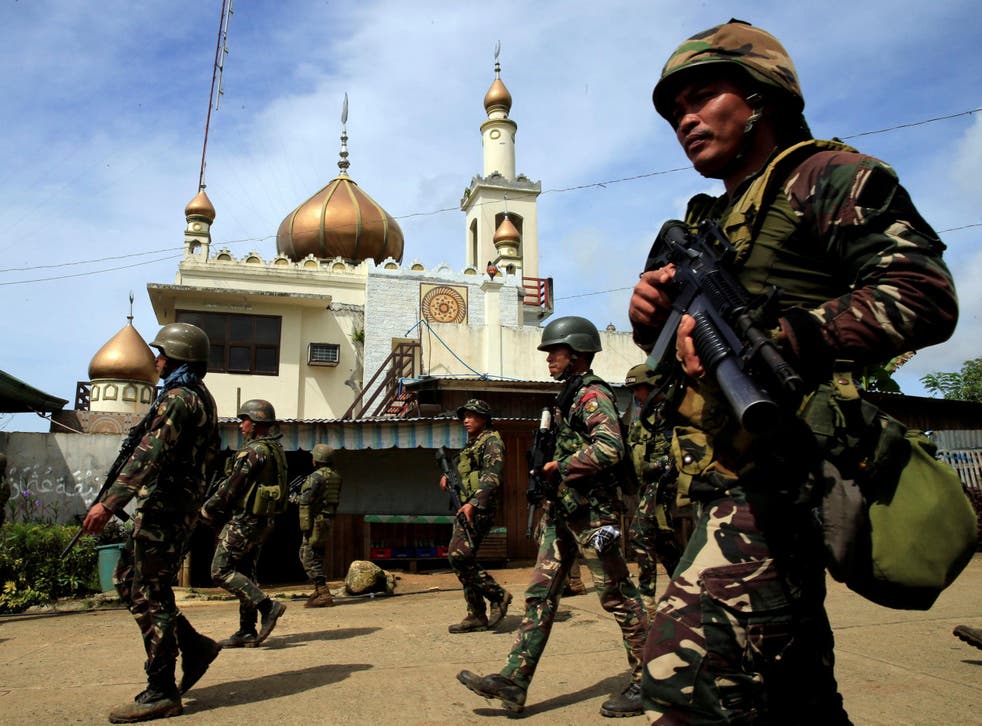 Terrified Christians are escaping Isis militants in the Filipino town of Marawi by wearing hijabs borrowed from Muslims.
There are around 1,500 people trapped in the besieged Filipino city, which is about 60 miles south of Cagayan de Oro.
Almost 100 people have escaped on foot, while others have swum across the river. Medics tending those who have made their way out alive recounted the resourcefulness of those who fled.
Video shows Isis affiliated militants plotting their attack in Marawi
"Some of the stories that stuck were Muslims helping protect Christian workers by letting them borrow a hijab," said Dr Gioia Ancheta, head of the psychosocial therapy team.
The civilians face starvation, being held as human shields and are also under attack from bombing assaults by the military who are trying to oust the jihadists.
There are reports that some local residents are so hungry they had "started to eat their blankets", according to local politician Zia Alonto Adiong, who is managing the relief and rescue efforts.
"Some residents are eating (cardboard) boxes. They just dip it in water to soften the material and eat it," he said.
Islamic militants stormed Marawi three weeks ago, leaving 290 people dead, including 205 Isis fighters, 58 soldiers and 26 civilians. Mr Adiong said that residents reported seeing terrible carnage left by the fighting.
"Dead bodies, at least 100, scattered around the encounter area," he said.
World news in pictures

Show all 50
Lieutenant Colonel Jo-Ar Herrera said his security forces were edging towards the business area of Marawi City, which is under the control of the combatants who have sworn allegiance to Isis.
There are around 200 Islamist fighters who have taken up sniper positions, he said. "The battlefield is very fluid."
US troops are located close to Marawi City but are not actively fighting Isis insurgents, a Philippines military spokesman said.
"There are some US personnel who are operating equipment to provide information on situation awareness to our troops," Brigadier General Restituto Padilla told a news conference. "I do not know the exact number and the specific mission. They are allowed to carry rifles for self-defence. But they are not allowed to fight, they only provide support."
President Rodrigo Duterte placed the entire Mindanao region under martial law after the Maute, a radical Islamic organisation, backed by other jihadist extremists, attacked Marawi City.
Join our new commenting forum
Join thought-provoking conversations, follow other Independent readers and see their replies