Nato and EU face collapse if they fail to stop Russian aggression, warn experts
Chatham House study calls for the West to increase the strength of its conventional military forces and start 'defending its principles'
Ian Johnston
Thursday 04 June 2015 11:49 Comments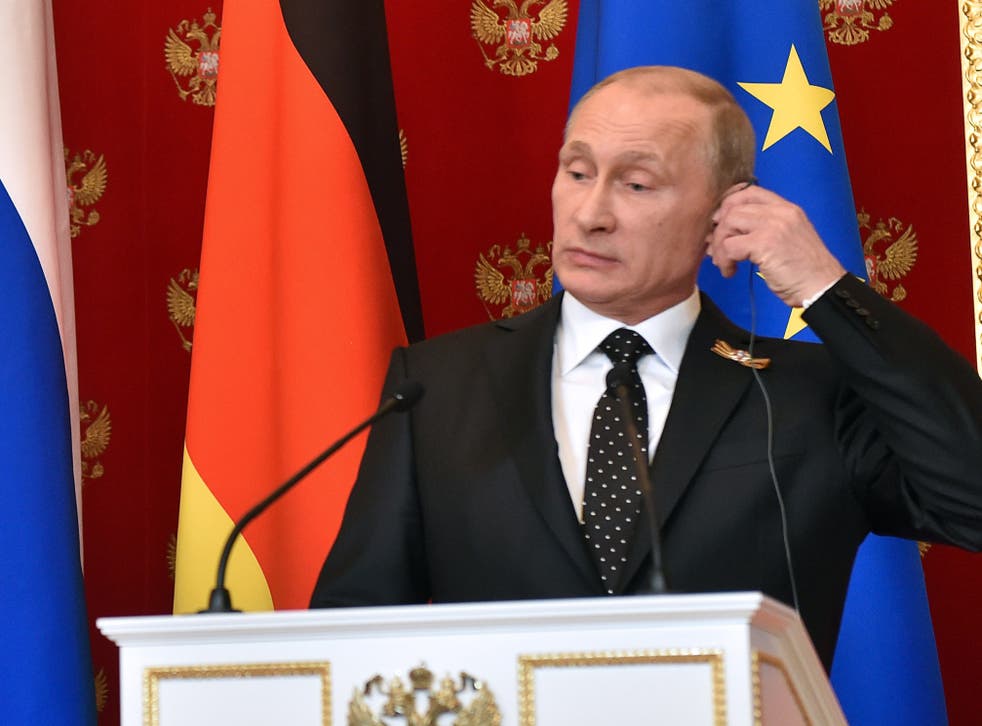 Nato and the European Union "could collapse" in the face of increasing aggression from Russia, which has been emboldened by the EU's apparent unwillingness to "defend its principles", an influential think-tank has warned.
A major study by Chatham House found the conflict in Ukraine – where Moscow is backing separatist rebels – represented a "defining" moment for the future of Europe. It called for the West to increase the strength of its conventional military forces.
It also warned that Russia was prepared to use tactical nuclear weapons in certain circumstances and Nato should make clear that a so-called "limited war" was "impossible".
"The conflict in Ukraine is a defining factor for the future of European security," the report said. "Ukraine's failure would deepen instability in Eastern Europe, increase the risk of further Kremlin adventures and diminish the prospects for eventual beneficial change in Russia.
"Russia may have the greater interest in Ukraine. But the West has an even bigger interest in preserving the post-Cold War environment.
"If that is dismantled, it is conceivable that Nato and the EU could collapse too."
Tensions between Russia and the Western world

Show all 8
The report, whose authors include two former ambassadors to Moscow, Sir Roderic Lyne and Sir Andrew Wood, said Russian President Vladimir Putin had been encouraged by the "weak and unconvincing responses" from the West to events such as Russia's seizure of South Ossetia and Abkhazia from Georgia in 2008.
"The Kremlin perceives that Europe lacks the will to pay the necessary price to defend its principles," it said.
"Russian ambitions and intentions had been telegraphed for well over a decade, but the West found it easier at the time to disregard them and indulge in the fantasy that Russia was progressing towards a liberal-democratic model with which the West felt comfortable.
"The war in Ukraine is, in part, the result of the West's laissez-faire approach to Russia."
And it warned that if there was a wider conflict in Europe, Russia would be prepared to use tactical nuclear weapons. "Nato must retain its credibility as a deterrent to Russian aggression. In particular, it needs to demonstrate that limited war is impossible and that the response to 'ambiguous' or 'hybrid' war will be robust."
Hybrid tactics is a term that describes the deployment of unbadged Russian troops and the use of local pro-Moscow forces in eastern Ukraine.
The growing threat from Moscow means that "conventional deterrent capability must be restored as a matter of urgency and convincingly conveyed, to avoid presenting Russia with inviting targets", the think-tank warned.
The Treasury has reportedly asked the Ministry of Defence to make spending cuts of £1bn this year.
David Lidington, the Europe minister, said: "The UK is working closely with EU and G7 partners in response to Russian actions in Ukraine.
"The UK is also playing a leading role in Nato exercises in Eastern Europe and with Baltic partners as part of the assurance measures and collective defence in the region."
Register for free to continue reading
Registration is a free and easy way to support our truly independent journalism
By registering, you will also enjoy limited access to Premium articles, exclusive newsletters, commenting, and virtual events with our leading journalists
Already have an account? sign in
Join our new commenting forum
Join thought-provoking conversations, follow other Independent readers and see their replies