One Young World summit 2014: Meet the youngsters networking their way to world peace
Last month in Dublin, some of the planet's brightest young minds came together to brainstorm conflicts that have plagued us for decades. Are they naive idealists? Or could these leaders-in-waiting deliver a little peace and light?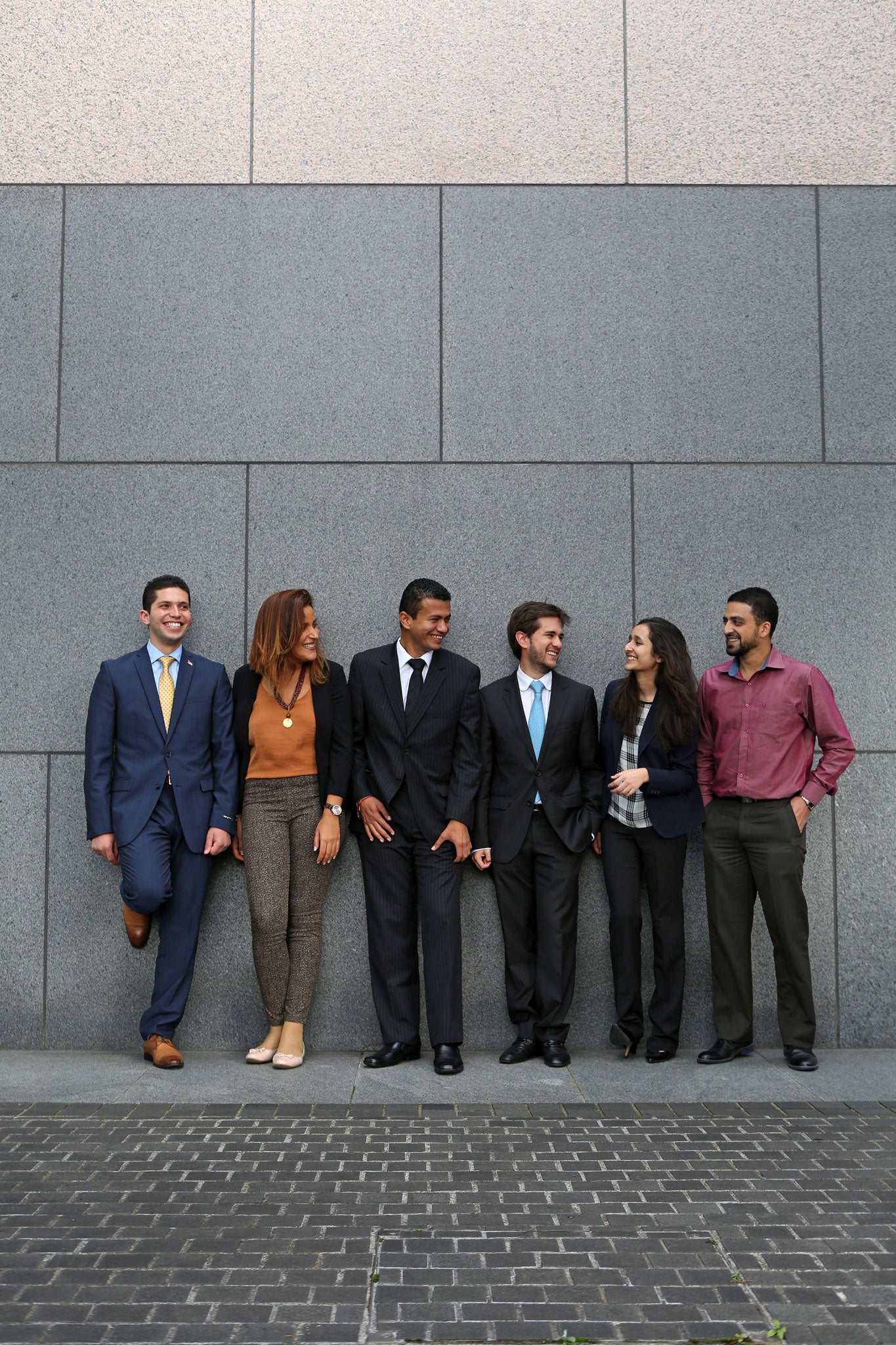 As hand-picked future leaders of the planet, the young audience seems to appreciate the sight of two old paramilitary enemies clasping hands in a gesture of peace that would once have been unimaginable.
They are watching the reformed Ulster Defence Association paramilitary brigadier Jackie McDonald join former IRA man Sean Murray for a symbolic photograph at Dublin's Croke Park – the sports stadium forever associated with the 1920 Bloody Sunday massacre of 14 people at a Gaelic football match, in retaliation for the assassinations of British agents earlier the same day. "You have to make peace with your enemies, not your friends," Murray explains. "You have to engage, empathise to a certain extent with your enemy, to understand their political needs and requirements for achieving accommodation."
An idea hatched in Britain five years ago, One Young World is gaining remarkable momentum as an annual gathering of the potential next generation of world leaders, who come together to discuss vital issues including peace and conflict, sustainable development and global business in the company of such figures as Kofi Annan, Bob Geldof and acting head of the United Nations Michael Moller.
Some of the 1,200 delegates at the conference in Ireland have been selected by big corporations or leading universities, but many others battled through a selection process that sifts through 1,000 applications for each place.
With them at this year's event are numerous power players and inspirational figures. Alongside the Irish president Mary Robinson are former presidents of Mexico, Peru, Colombia and Panama. Tech royalty comes in the form of Facebook's Sheryl Sandberg, while business is represented by the likes of Barclays group chief executive Antony Jenkins. Sports icons include Ellen MacArthur and Boris Becker.
But the really important people on the banks of the Liffey are the young delegates themselves. Chinese television news anchor James Chau, one of One Young World's counsellors, breaks down in tears as he introduces Yeonmi Park to the stage. The 21-year-old North Korean defector tells fellow delegates how she and her family fled across the Gobi to escape her birthplace, only for her mother to agree to be raped by people-smugglers in order to save her from the k same fate. "North Koreans are being terrorised," she says, weeping.
Annan, the Nobel Peace Prize winner and for nine years United Nations Secretary General, well understands the need to empower a new cohort of leaders. He has attended four of One Young World's five conferences. "Go back home, organise a few people and let them know you mean business," he tells those in Dublin.
With the world ravaged by conflict in Syria, Iraq, Afghanistan, Gaza, Ukraine, Nigeria and elsewhere, the need for sharing fresh ideas is obvious. Livewire British advertising executive David Jones, who founded the project with colleague Kate Robertson, insists that it's not just "another youth conference", and says that delegates are picked for their ability to "drive positive change in the world".
The event attracts attendees from 180 countries. When Jones asks those in the audience to greet their neighbours in the language and manner of their country, the auditorium is filled with the din of diverse tongues as many of the delegates (85 per cent of whom are under 25) come face-to-face with nationals of countries with which their homeland is in conflict.
Jones, who, as global chief of advertising conglomerate Havas, became the first Briton to run a listed French company, took his original vision for One Young World to the Google Zeitgeist ideas conference in 2009. He went armed with supporting films from Annan, Geldof and Desmond Tutu. "We said, 'If you think it's a crap idea, here are three pretty special people who think it's a great idea.'"
After a launch conference at London's Excel Centre, opened by Boris Johnson, One Young World has gone on to Zurich, Pittsburgh (where Bill Clinton attended) and Johannesburg, where it celebrated the legacy of Nelson Mandela shortly before his death.
Every delegate is asked to go away and set up a social initiative inspired by their experience at the event. Some 400 local projects have already been created, many of them with global impact thanks to technology, which Jones regards as all-important. The projects include the American David Russo's scheme with Siemens to create a modern health clinic for 45,000 people in the Amazon in Peru; Somalian Ilwad Elman's establishment of a rape crisis centre in Mogadishu; k and InkuluFreeHeid, a national democracy campaign which has reached 32 million people and was created by Sizwe Mpofu-Walsh and Erik de Ridder to engage youth of all backgrounds in South African politics.
"[These young people] understand the digital revolution, which is as significant as the industrial revolution," says Jones. "They are the people who are creating it, and they are the people who are going to use it to drive change."
Jackie McDonald says he was left "very humbled" by the testimonies of young conflict survivors from other parts of the world. But just as Jones is excited by the potential of technology, the former paramilitary is worried by the capacity for social media to whip up fresh hatreds. "Young people get on Facebook and overnight they become internet warriors." Angry young people in Northern Ireland, their frustrations fuelled by lack of education and employment prospects, "don't understand about bombs going off and the way it changes your life dramatically". They could learn from some of the One Young World delegates. "What some of these young people are living through is horrendous. It puts things in perspective for us," says McDonald.
It's sobering to hear a former gunman talk of contemporary politics and say that the world "is going mad". Jones, too, reflects on "so much conflict" in 2014.
It seems a bit late for the "I Have a Dream" ambitions of the social activists of the 1960s. Outside the Convention Centre Dublin, the working people going about their daily lives might struggle to see the value of this grand networking exercise, aside from boosting the career prospects of participants and the racking up of a lot of air miles. Yet hope persists within One Young World itself that it can have a long-term impact.
"We are not naive optimists – we don't believe that because we have one session at Croke Park, all of a sudden this is all going to come to an end," says Jones. "But we are dealing with quite exceptional people and it's highly likely they will go on to be very influential in their fields in the future. Hopefully, one day, two very senior people from either side of a conflict will know each other because of One Young World and will try to do something positive together – rather than perpetuating that conflict."
For more: oneyoungworld.com
Noam Shuster, 27, Israel
Management team member for peace-building organisation Interpeace's Israel programme
"I grew up in Oasis of Peace, a small community next to Jerusalem. It's the only place where Jews and Palestinians live together by choice, with an equal education system, so I grew up with both identities and speaking Arabic fluently. My mother is an Iranian Jew and my dad's parents are Holocaust survivors from Romania.
"I embody the example of something different that can be achieved through education.
"I work for Interpeace, which works with populations that are normally excluded from the peace process and are potential 'peace spoilers'. We engage with right-wing religious leaders, with representatives of the Russian-speaking population and with Palestinians living inside Israel. You don't make long-term sustainable solutions with people who agree with you.
"I want to be part of the generation that sees an end to the lack of strategy that leaders continue to demonstrate."
Mahmoud Jabari, 23, Palestine
Born in Hebron, Jabari is studying communication and global studies in the United States
"I grew up in Israeli-controlled Hebron knowing what it feels to not be able to sleep because of gunfire. I was looking for a path to tell my story and wrote my first newspaper article at 15.
"In 2011, reporting on a demonstration, I was attacked by the Israeli military police, who beat me. I was in detention for six days. It was a turning point in my life. I was given a scholarship at Champlain College in the US and became interested in strategic leadership, public policy and international diplomacy.
"We – Palestinians and Israelis – need to act collectively to put an end to the Israeli occupation. When you are a Palestinian, wherever you go, you take the hopes of your people. We are not passionate about shooting rockets or throwing stones – we just want to have a life like other people in the world. One Young World is an opportunity: we can't keep the same models of leadership, the same cycles of conversation – something new has to happen."
Regis Ortiz 35, ex- Farc soldier, Colombia
Works for the Colombian Integration Agency, assimilating former paramilitaries into society
"I was 24 and at university when right-wing paramilitary groups threatened me and I took a decision to join the left-wing Farc guerrillas for my safety. I made an agreement with the leader that I would be there for two months, teaching soldiers to read and write. After two months, I was told I could not return home. I escaped after two years, following an aerial bombardment in which 26 people died.
"The memory of a boy of 13 called Cruz Roja drove me on. He died in my arms after the bombardment. After I escaped, I was put on a government re-integration course. I was placed alongside right-wing paramilitaries, who asked me why I was helping them – I told them we were now Colombians with dreams and projects, and together we could make those happen.
"I now work with Colombia's Agency for Integration, which has helped 32,000 ex-fighters. There is still violence, but the situation in Colombia has totally changed."
Daniel Buritica 29, former Farc victim, Colombia
Founder of the Recojo Colombian Network of Youth
"My aunt Maria was kidnapped by the Farc that Regis was part of; it was the most awful experience my family ever lived through.
"I created the first network of young social entrepreneurs in the country, Recojo – Red de Colombianos Jovenes (the Colombian Network of Youth). We created an app, Real Hero, that sets real-world challenges involving volunteer work for young people.
"In 10 years, Recojo has engaged 3,000 people in 190,000 hours of voluntary service. Peace is not something you sign, it is something you build every day. To come here with Regis is our way of giving a message of hope. When I told my aunt I wanted to come here with an ex-soldier from Farc she started crying. All her blessings are with us. We flew together and had a lot of time to share our experiences. My next goal with Regis is to create a summer camp for the kids of ex-guerrillas from the re-integration process."
Pizwak Imtiaz, 22, Pakistan-held Kashmir
Rural development specialist in Rawalakot and Islamabad
"I was born and bred in Kashmir and live an hour from the border. I cannot cross that border, contact somebody from the other side, or trade with them. We have constant violence in terms of border shelling. Kashmir is one of the most beautiful places on Earth, yet tourism has been completely untapped.
"I believe the solution to any conflict is dialogue. I went on an exchange semester in the US last year and met [an Indian] Kashmiri for the first time – at 21! We talked about our perspectives, and it was one of the best experiences of my life.
"We have recently been hit by the worst floods in our history, losing 1,500 homes and up to 600 people. The Indian part was more badly hit but India refused to declare it an international calamity. We sent truckloads of aid and they refused to allow it across the border. Getting these things out to the rest of the world will lead to the solution of the problem, because right now nobody is talking about us."
Shahzad Hussain Hamdani 29, Indian-held Kashmir
Human-rights lawyer and journalist based in Srinagar
"Kashmir is Asia's oldest dispute. It was an independent nation until 1947, before modern India and Pakistan were born. A 1948 United Nations resolution called for a complete withdrawal of troops and a plebiscite so the Kashmir people could vote for their destiny. Since 1948, more than 11 such resolutions have been passed by the UN, but none has been implemented by India.
"At my law firm we document all human-rights cases and provide people with free legal education and assistance. Draconian laws such as the Armed Forces Special Power Act let the Indian army break into any house and shoot someone as a "suspect", with immunity from criminal proceedings, while the Public Safety Act, enacted a long time ago for timber smugglers, is now applied to teenagers who are imprisoned without trial.
"I want to share the oppression Kashmir has faced and appeal to activists worldwide. Kashmir needs and deserves the focus of the international community."
Join our commenting forum
Join thought-provoking conversations, follow other Independent readers and see their replies