Politicians: Sing when you're winning... or not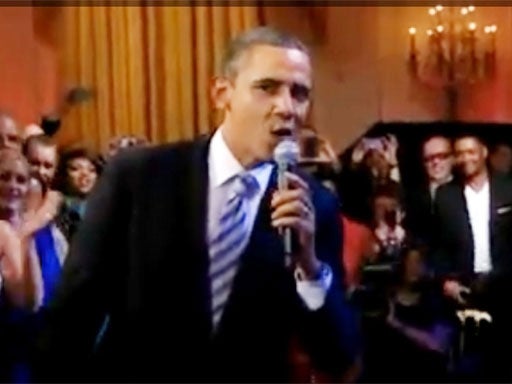 Who knew Barack Obama could be a one-man stimulus package for a beleaguered music industry? When the US President belted out a couple of lines of Al Green's "Let's Stay Together" at a fundraiser last month, sales of the track soared by almost 500 per cent. Now the blues classic "Sweet Home Chicago" can expect a boost after Obama confirmed his singing chops with an impromptu performance at the White House.
The First Lungs appeared to shrink with shyness after a starry blues night on Tuesday. Obama was thanking his guests, who included BB King, Buddy Guy and Mick Jagger, when Guy requested a presidential encore. Obama shook his head but when Jagger thrust forth a microphone, Barry O took it and piped up with: "Come on, baby don't you want to go... Sweet Home Chicago."
And he was good, arguably rising to the head of the unofficial World Leader Music Hall of Fame. Canadian PM Stephen Harper is a mean pianist, Vladimir Putin surprised guests at a gala in 2010 with a rendition of Fats Domino's "Blueberry Hill". And Bill Clinton would find any excuse to whip out his saxophone. US politics watchers will wonder, however, if Obama is concerned with more immediate competition.
Days after his Al Green turn, his would-be presidential rival, Mitt Romney, sang two verses of "America the Beautiful" at a campaign rally. If Romney's tone was an indication of his chances of polls victory, it's he who'll be singing the blues after the presidential election in November.
Join our commenting forum
Join thought-provoking conversations, follow other Independent readers and see their replies