Pope Francis tells Davos: 'Ensure humanity is served by wealth, not ruled by it'
Pope's message on wealth distribution comes after Oxfam said 85 richest people in world have as much wealth as poorest 3.5 billion
Adam Withnall
Wednesday 22 January 2014 11:10 Comments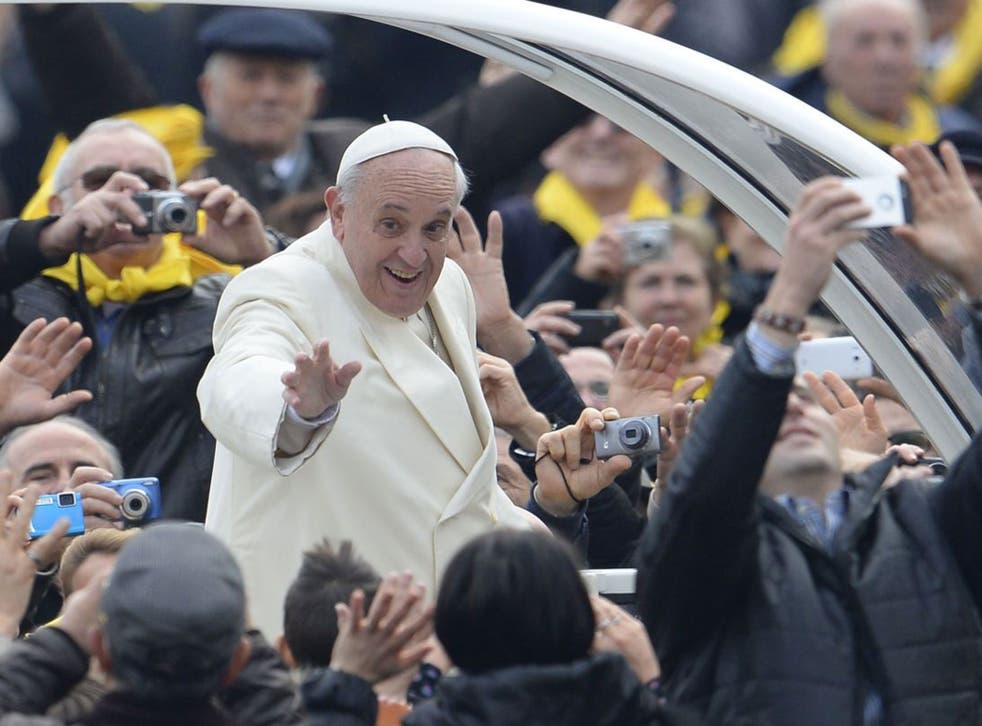 Pope Francis has challenged the world's business leaders to put their wealth to good use in serving humanity, and to oversee the "better distribution of wealth".
In a message addressing more than 2,500 participants at the World Economic Forum (WEF) in Davos, Switzerland yesterday, he said more must be done to promote the "growth of equality" alongside an economic recovery.
The Pope's comments came as a report released by Oxfam found that the 85 richest people in the world have as much wealth as the poorest half of the global population, around 3.5 billion people.
"I ask you to ensure that humanity is served by wealth and not ruled by it," Pope Francis said in the message read at the opening ceremony by Cardinal Peter Turkson, president of the Pontifical Council for Peace and Justice.
While he acknowledged that building business had helped lift millions of people out of poverty, he has previously been highly critical of capitalism and said yesterday it led to widespread social exclusion.
"The growth of equality demands something more than economic growth, even though it presupposes it. It demands first of all 'a transcendent vision of the person'," he said in the message.
"It also calls for decisions, mechanisms and processes directed to a better distribution of wealth, the creation of sources of employment and an integral promotion of the poor which goes beyond a simple welfare mentality."
Last week the WEF's annual Global Risks report for 2014 identified increasing income disparity and associated social unrest as the biggest threat to the world. It linked recent protests from Brazil to Thailand with the lack jobs and hope of social improvement since the 2008 financial crisis.
Oxfam's research, released on the eve of the WEF, said that the world's tiny multibillionaire elite controlled a collective worth of $1.7trn (£1trn). Top of the pile is Carlos Slim Helu, the Mexican telecommunications mogul, whose family's net wealth is estimated by Forbes business magazine at $73bn. He is followed by Bill Gates, the Microsoft founder and philanthropist, whose worth is put at $67bn and is one of 31 Americans on the list.
The charity found that 70 per cent of people live in countries where the gap between the rich and poor has widened in the last 30 years.
"This massive concentration of economic resources in the hands of fewer people presents a significant threat to inclusive political and economic systems," Oxfam said. "People are increasingly separated by economic and political power, inevitably heightening social tensions and increasing the risk of societal breakdown."
Register for free to continue reading
Registration is a free and easy way to support our truly independent journalism
By registering, you will also enjoy limited access to Premium articles, exclusive newsletters, commenting, and virtual events with our leading journalists
Already have an account? sign in
Join our new commenting forum
Join thought-provoking conversations, follow other Independent readers and see their replies