Erdoğan vows to reinstate death penalty as referendum opponents face 'attacks and imprisonment'
In the build up to the referendum, the Turkish President promised he will introduce the death penalty in a campaign that has caused a diplomatic furore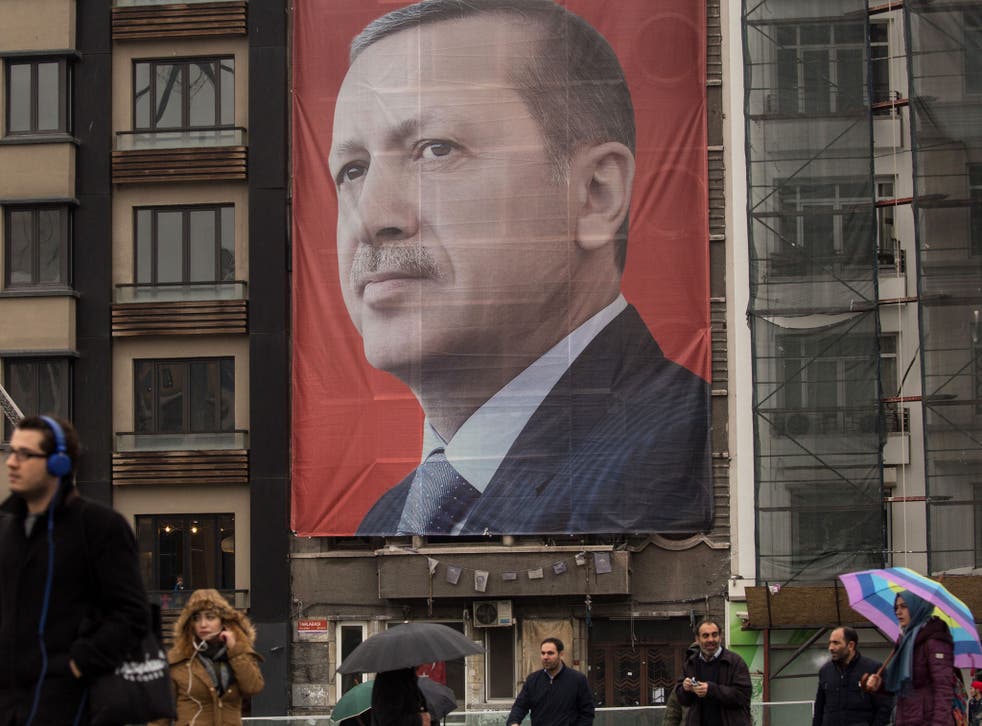 Turkish President Recep Tayyip Erdoğan vowed on Saturday that he will reinstate capital punishment "without hesitation", ahead of the referendum on 16 April that could lead to a radical extension of his powers.
Speaking at a televised rally in Canakkale, the leader of the Justice and Development Party (AKP) promised that he would sign a bill on the death penalty, stating: "I believe, God willing, that after the 16 April vote, parliament will do the necessary concerning your demands for capital punishment".
His controversial comments come over a decade after Turkey completely abolished the death penalty in its efforts to join the European Union.
This isn't the first time the premier has introduced talks about reinstating capital punishment. He raised the idea after last year's failed coup of 15 July, suggesting it would bring justice to the families of the victims.
World news in pictures

Show all 50
As the referendum approaches, Erdoğan has been leading an inflammatory, anti-western campaign that saw him pushing a political narrative that depicts Turkey as a great nation that is being undermined by an imperialist Europe.
He attacked German chancellor Angela Merkel again on Sunday, accusing her of using "Nazi measures", according to Agence France-Presse. In a televised speech, he said: "You are right now employing Nazi measures," using the informal 'you' in Turkish in what has become an intense diplomatic dispute. He previously launched a scathing attack on Germany for stopping rallies in advance of the constitutional referendum, in which he repeatedly referred to Germans as 'Nazis'.
He erroneously labelled the Dutch as "Nazi remnants" in a desperate bid to appeal to voters in the Turkish diaspora. The Netherlands is home to approximately 397,471 people of Turkish origin, who make up 2.4 per cent of the total population. Most of them hold dual nationality and are therefore eligible to vote in the Turkish referendum.
A 'yes' in the referendum would rewrite the constitution and transform Turkey from a parliamentary system to an executive presidency, giving Erdoğan unprecedented control to appoint ministers, pick senior judges, and dismiss parliament.
Erdoğan's campaign has understandably been met with criticism, with Turkey's main opposition leader, Kemal Kılıçdaroğlu, urging Turks to vote no in the referendum, saying its approval would undermine democracy.
European institutions have also expressed concerns over the campaign. A Council of Europe inquiry noted there is an "excessive concentration of powers in one office."
According to the Associated Press, figures opposing the referendum in Turkey have faced threats, violence, arbitrary detentions, a lack of TV airtime and even sabotage in the campaign.
The AKP leader's shift towards an autocratic government has led to accusations of being 'dictatorial' by critics.
Erdoğan came under fire in January after using Hitler's government as an example of an effective presidential system. He defended his argument that putting all political power in the hands of the presidency would be a success, by saying "there are already examples in the world [...] you can see it when you look at Hitler's Germany. There are later examples in various other countries."
The rocky campaign and talks of introducing a death penalty will undoubtedly cause long-term damage for ties between Turkey and European countries, and could end Ankara's efforts to join the EU.
Join our new commenting forum
Join thought-provoking conversations, follow other Independent readers and see their replies