The case against Kenya's powerful vice-president, William Ruto, that the ICC must win to vindicate itself
Following the collapse of its case against President Kenyatta for orchestrating ethnic clashes following the disputed election in 2007, the court's attention now shifts to his deputy
Catrina Stewart
Sunday 15 February 2015 01:00 Comments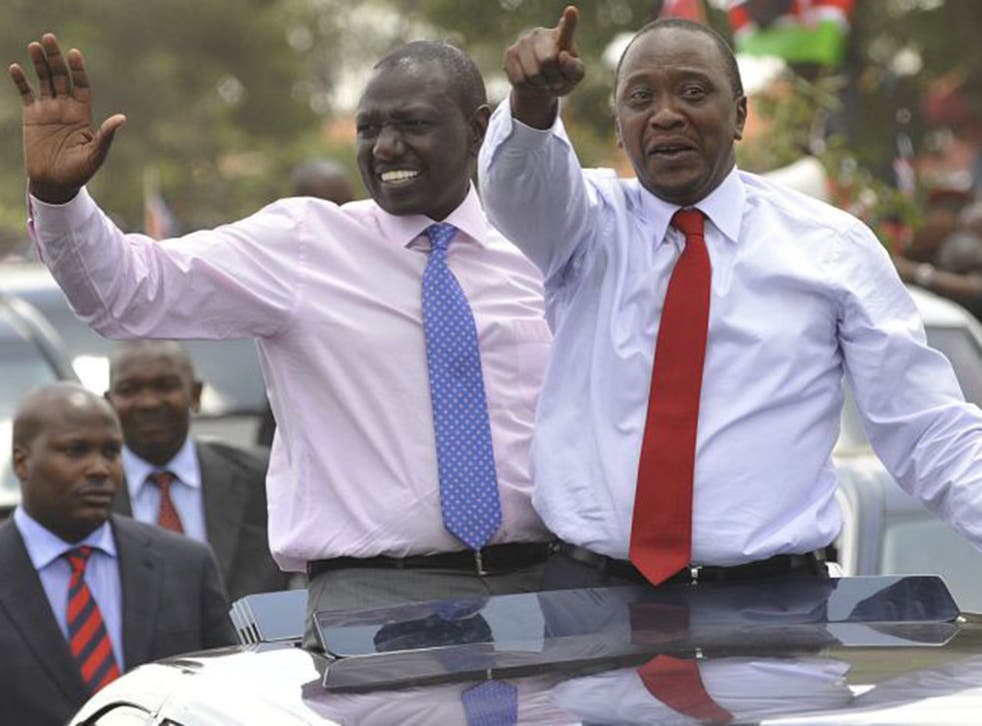 It has the air of pulp fiction; a cheap airport thriller, replete with intrigue, moving between The Hague and the squalor of a village in Kenya's luscious Rift Valley. The story begins with a corpse found floating in a river and whose identity is bitterly contested.
Meshack Yebei vanished from his home six weeks ago. He was a contradictory figure: seen as either a vital defence witness in the ICC's trial of Kenya's powerful vice-president, William Ruto, or a figure of no consequence to the case, a one-time prosecution witness allegedly now disavowed for his role in turning other witnesses.
After the ICC's case against Uhuru Kenyatta, Kenya's President, failed to proceed in December, the court's chief prosecutor Fatou Bensouda's hopes for vindication rested with the trial of Mr Ruto and fellow defendant Joshua arap Sang, a radio journalist.
Like the President before him, Ruto stands accused of orchestrating ethnic clashes that killed more than 1,000 people and left hundreds of thousands more homeless in the wake of a disputed presidential election in 2007. Ruto was then an opposition leader, Kenyatta a lieutenant of the election's winner, Mwai Kibaki.
Yebei, the Vice-President's legal team insists, was one of its most important witnesses. He was last seen being bundled into a car at gunpoint three days after Christmas Day. And the Yebei case has taken a bizarre turn in recent weeks, starting with a text message that he purportedly sent to his mother a day after his abduction, saying he had gone to Uganda with two ICC agents. His family believes the text was intended to throw them off the scent.
Also puzzling is the dispute over the identity of the body fished out of a river near Yebei's village.
Despite some decomposition of the body, Yebei's family positively identified it through his facial structure and circumcision markings unique to their tribe. A week later, however, police investigators abruptly informed the family that the fingerprints belonged to one Yusuf Hussein, a public minibus tout, and that they had sent DNA samples for testing.
"It was the darkest day of my life," says a family member, recalling the moment the police broke the news. "Twenty of us had looked at the body and identified him."
In an interview with The Independent in November 2013, Yebei said he intended to quit the defence after receiving repeated threats to his life. He spoke anonymously, but his family has agreed to the publication of what he said. "I will not continue to be a witness for the defence when [they] are working against me," he said. "I still have information that I know will be very important to the prosecution," he continued, adding it would "not do any harm" to talk to the prosecution.
Yebei said he joined the defence case after promises of financial reward – a gleaming new car was parked at his village home. But he went further, and played a key role in turning prosecution witnesses, the prosecution alleges.
But the relationship soured, and by November Yebei no longer felt safe in his village, a heartland of the Vice-President's supporters where they openly called him a "traitor".
Those close to Yebei have spoken of his growing disenchantment with the defence.
"I think they realised he was going to restart communication with the prosecution," Ken Wafula, a Kenyan human rights activist, said.
While the prosecution was unlikely to use Yebei as a witness in its case against Ruto, sources have suggested he could appear as a witness in a future trial of Walter Barasa, the Kenyan journalist charged with suborning prosecution witnesses.
Suggestions that Ruto or people linked to him harmed Yebei are an "absolute contortion", said Karim Khan, the lead counsel for the defence case.
Ms Bensouda was aware, he said, that a prosecution witness had threatened Yebei, prompting the defence to refer him to a witness protection scheme. "He was my witness," Mr Khan added.
Despite a court order preventing the release of the corpse found in the river until the results of a second, independent DNA test from South Africa returned (the results of which are still pending), the Hussein family was allowed to take it for burial in accordance with Muslim tradition.
Should fresh DNA tests prove that the body in the river was not that of Mr Yebei, his relatives may never learn his fate. The wider impact, however, could be devastating, say activists. Witnesses will run scared, further damaging the concept of international justice.
Register for free to continue reading
Registration is a free and easy way to support our truly independent journalism
By registering, you will also enjoy limited access to Premium articles, exclusive newsletters, commenting, and virtual events with our leading journalists
Already have an account? sign in
Join our new commenting forum
Join thought-provoking conversations, follow other Independent readers and see their replies