German right-wing populists AfD launch 'racist' attack on one of Angela Merkel's ministers
Alexander Gauland said integration minister Aydan Özoguz should be 'disposed of' to Turkey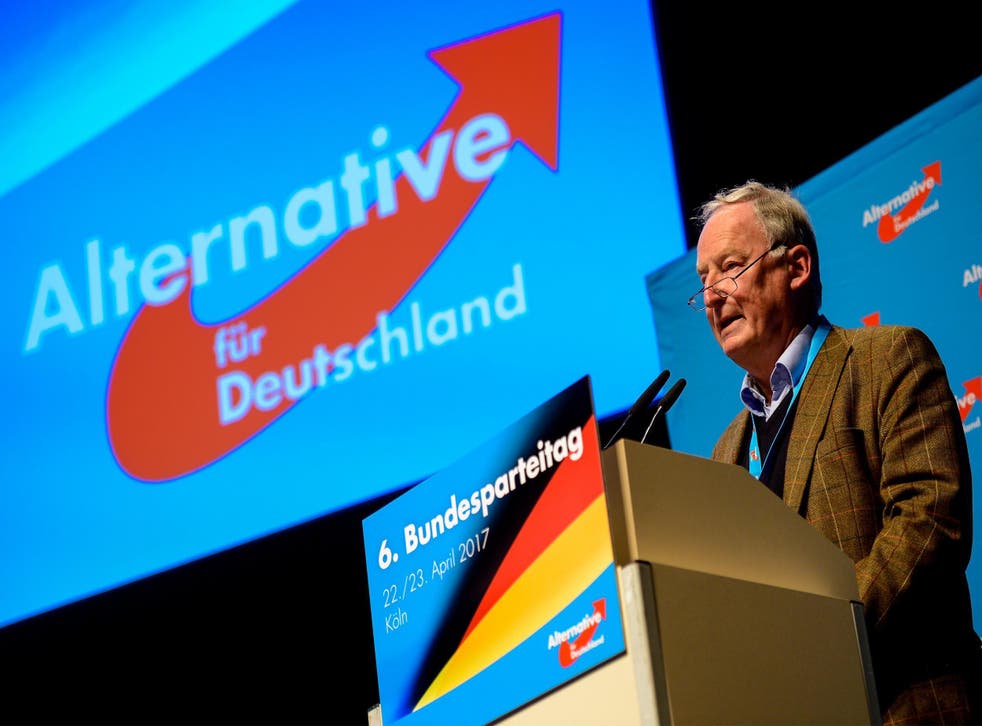 Germany's right-wing populist party Alternative für Deutschland has launched a "racist" attack against one of the ministers in Angela Merkel's government.
AfD deputy leader Alexander Gauland prompted criticism from across the political spectrum after he said the minister, who is a German of Turkish descent, should be "disposed of" in Turkey.
Aydan Özoguz, the minister for integration, who was born in Hamburg, had written an article about German culture for national newspaper Der Tagesspiegel.
Mr Gauland took issue with a claim in the article, and told an audience while out campaigning in the town of Eichsfeld: "That's what a German-Turk says. Invite her to Eichsfeld and tell her then what specifically German culture is.
"Aferwards, she'll never come back here and we will be able to dispose of her in Anatolia, thank God."
Condemnation of Mr Gauland's comments was quick from across the political spectrum.
Peter Tauber, chair of Ms Merkel's CDU party, said: "Gauland wants a German of Turkish descent, who is a member of the Federal Government, 'disposed of'. It's called racism."
Martin Schulz, the leader of the centre-left SPD party, said: "Gauland's derailment against Özoguz is disgusting. We must do everything to ensure that such racists don't enter the Bundestag!"
Asked later by the ARD public broadcaster whether he would apologise, the AfD's Mr Gauland said: "No, I don't have to apologise to Ms Özoguz."
Mr Gauland however said he would not use the same wording in future because "sensible people" had advised against it.
The outburst by Mr Gauland is the latest in a string of scandals and race rows that have dogged the party.
Elena Roon, AfD's regional chair and parliamentary candidate in Nuremberg, was earlier this year put under investigation after allegations that she shared a picture on social media asking for Hitler to come back.
Björn Höcke, one of the party's branch leaders, also previously rejected the idea Hitler was "absolutely evil", arguing that the issue was not "black and white".
World news in pictures

Show all 50
The AfD party is hoping to enter the German parliament, the Bundestag, for the first time in elections set to be held on 24 September.
The right-wingers are currently polling at between 8 and 10 per cent of the national vote share, according to different pollsters – a figure that would put them over the 5 per cent threshold needed to win any seat under Germany's proportional electoral system.
Mr Gauland himself would almost certainly be one of those elected if AfD wins seats.
Register for free to continue reading
Registration is a free and easy way to support our truly independent journalism
By registering, you will also enjoy limited access to Premium articles, exclusive newsletters, commenting, and virtual events with our leading journalists
Already have an account? sign in
Register for free to continue reading
Registration is a free and easy way to support our truly independent journalism
By registering, you will also enjoy limited access to Premium articles, exclusive newsletters, commenting, and virtual events with our leading journalists
Already have an account? sign in
Join our new commenting forum
Join thought-provoking conversations, follow other Independent readers and see their replies