Rupert Murdoch suggests Facebook should pay fees to authoritative news sources
A proposal to help journalists share in social media profits
Jeremy B. White
San Francisco
Monday 22 January 2018 22:01 Comments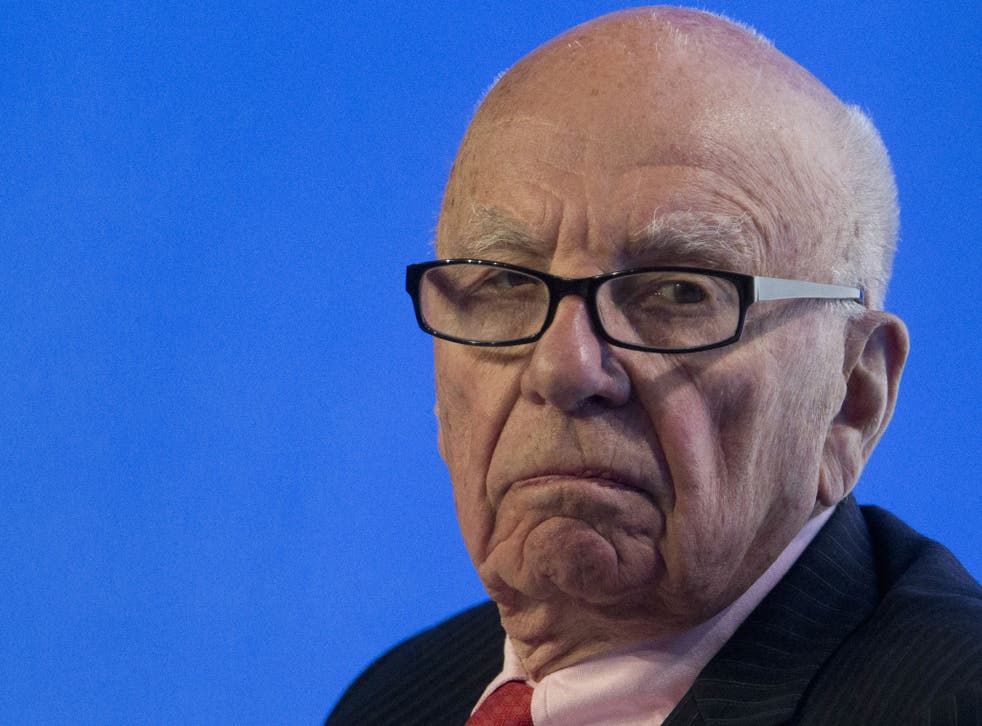 Media mogul Rupert Murdoch has suggested Facebook pay fees to authoritative news sources, floating a model that could help ailing media organisations share in the social media giant's profits.
"If Facebook wants to recognize 'trusted' publishers then it should pay those publishers a carriage fee similar to the model adopted by cable companies," Mr Murdoch said in a statement.
News outlets have become heavily reliant on Facebook as they seek to put their content in front of readers. The social media hub has become a crucial distribution channel and a key source of information for many users, and much of the online traffic to news outlets comes through Facebook.
Last week, Facebook announced a change that could disrupt that flow of information, announcing it would seek to prioritise content posted by friends and family members rather than from the media.
In a follow-up post, CEO Mark Zuckerberg said that users would also be able to designate whether certain sources are reliable, saying the change would not "change the amount of news you see on Facebook" but would only "shift the balance of news you see towards sources that are determined to be trusted by the community."
"The idea is that some news organizations are only trusted by their readers or watchers, and others are broadly trusted across society even by those who don't follow them directly," Mr Zuckerberg said.
World news in pictures

Show all 50
Mr Murdoch, executive chairman of the NewsCorp empire, said Facebook should go further by reimbursing publishers who "are obviously enhancing the value and integrity of Facebook through their news and content but are not being adequately rewarded for those services".
"Facebook and Google have popularized scurrilous news sources through algorithms that are profitable for these platforms but inherently unreliable," Mr Murdoch said. "Recognition of a problem is one step on the pathway to cure, but the remedial measures that both companies have so far proposed are inadequate, commercially, socially and journalistically."
Facebook's ascendance as a news source has paralleled continued financial woes for the journalism industry, as growing digital traffic has largely failed to offset declines in subscriptions and print advertising revenue.
Increasingly, journalists have called for Facebook to devise a way to let news outlets share the wealth. Mr Murdoch's embrace of a fee-based system echoes those calls and lends the idea the imprimatur of one of the media world's most powerful figures.
"There has been much discussion about subscription models but I have yet to see a proposal that truly recognizes the investment in and the social value of professional journalism," Mr Murdoch said, adding that "Carriage payments would have a minor impact on Facebook's profits but a major impact on the prospects for publishers and journalists".
Facebook did not respond to a request for comment.
Revelations that Russian-linked actors flooded Facebook with propaganda during the 2016 election has put the social media giant in the political spotlight and prompted calls for the site to do a better job of policing misleading content.
Theresa May asked about Russia interference in elections
Faced with mounting public pressure, Facebook has since the election announced mechanisms to downplay "clickbait" news; unveiled a tool letting user see if they interacted with Russian content; and pledged to release more information about paid political content.
But even as Mr Zuckerberg and other leaders vow to increase transparency and root out fraudulent content, a top executive acknowledged that Facebook posed risks to democracy.
In a blog post, civic engagement product manager Samidh Chakrabarti acknowledged "the damage that the internet can do to even a well-functioning democracy". He described Russian efforts to influence the election by "using social media as an information weapon" and "fake news" stories that spread falsehoods before the truth can catch up
"If there's one fundamental truth about social media's impact on democracy it's that it amplifies human intent — both good and bad. At its best, it allows us to express ourselves and take action. At its worst, it allows people to spread misinformation and corrode democracy," Mr Chakrabarti wrote. "I wish I could guarantee that the positives are destined to outweigh the negatives, but I can't".
Register for free to continue reading
Registration is a free and easy way to support our truly independent journalism
By registering, you will also enjoy limited access to Premium articles, exclusive newsletters, commenting, and virtual events with our leading journalists
Already have an account? sign in
Join our new commenting forum
Join thought-provoking conversations, follow other Independent readers and see their replies