Sepp Blatter tried to persuade Burundi's president to resign after military coup with offer of football job
'They thought he might be someone materialistic and if they offered him certain things he'd give up his duty to serve Burundians,' spokesman for president says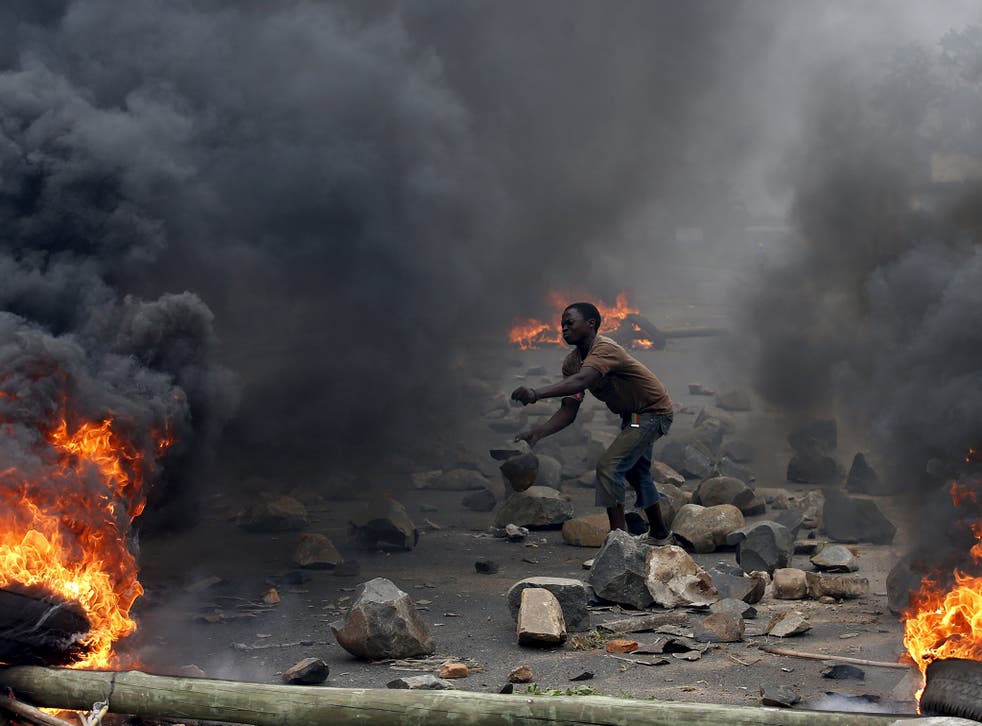 Former Fifa president Sepp Blatter was asked by Switzerland's foreign ministry last year to help persuade an African president to leave office as a failed military coup.
According to his new book Sepp Blatter: Mission And Passion Football, he offered an ambassador's role in world football to Burundi President Pierre Nkurunziza, a fan of the game, as the nation fell into violent turmoil.
The attempted intervention was supported by the United States, he claims.
After Mr Nkurunziza said last April that he wanted an unconstitutional third presidential term, a coup to remove him was launched by disaffected members of the Burundi military.
However after several days and the deaths of at least five rebels, he re-established control of the country, the second poorest in the world. Mr Nkurunziza won a disputed election in July and continues to lead his troubled nation.
Since his re-election, the violence has continued with reports that nearly 90 people were killed in clashes between security forces and anti-government factions in December.
Sepp Blatter's worst moments
Mr Blatter said his offer to Mr Nkurunziza followed an approach by Yves Rossier, the state secretary of the Swiss ministry.
"I proposed to the president, who is a big football fan, in front of witnesses that if it would be an advantage for his country and him, FIFA could deploy him as an ambassador for football in Africa or in the whole world," Mr Blatter is quoted as saying in an interview section of the 300-page book.
"Unfortunately, that never happened."
Burundi's presidential spokesman told the BBC Great Lakes service that Mr Blatter's approach to Mr Nkurunziza had failed because the president's supporters wanted him to stay in office.
"Some who tried it through Fifa... didn't know that it wasn't Nkurunziza's decision. He didn't want to run to cling on power, it was the will of the political party members and many Burundians who wanted him to run because they saw him as legitimate.
"So those who thought it was his decision rushed to persuade him from not running. But they were wrong… They thought he might be someone materialistic and if they offered him certain things he'd give up his duty to serve Burundians."
The Swiss ministry said that they had wanted to help prevent the violence.
"The intention was to contribute to a peaceful solution in order to prevent the current crisis in Burundi," the ministry said in a statement, adding that Switzerland "never asked President Nkurunziza not to run for the office of president again".
Mr Blatter's picture-led book reflects on his 41 years at scandal-hit Fifa, which ended in February.
It includes photographs of Mr Blatter with US President Barack Obama, Russian President Vladimir Putin and Pope Francis.
The book had been scheduled for release before the election in February to replace Mr Blatter as Fifa president, but was delayed.
Mr Blatter is currently awaiting an appeal hearing date at the Court of Arbitration for Sport (CAS) to challenge a six-year ban from football by Fifa. He was suspended for a financial conflict of interest over a payment given to Uefa president Michel Platini. Mr Platini goes to the CAS on 29 April to appeal against his six-year ban.
Mr Blatter is the subject of a Swiss criminal investigation over the payment and for approving the sale of undervalued World Cup television rights for the Caribbean. That deal benefited disgraced former Fifa vice-president Jack Warner, who appears in the book in the photograph of Mr Blatter with Mr Obama at the White House in 2009.
The Fifa election was won by former Uefa general secretary Gianni Infantino, who the book says once applied for a job at an unspecified date in the Fifa legal department. "Without success," Mr Blatter wrote. (AP/staff)
Register for free to continue reading
Registration is a free and easy way to support our truly independent journalism
By registering, you will also enjoy limited access to Premium articles, exclusive newsletters, commenting, and virtual events with our leading journalists
Already have an account? sign in
Register for free to continue reading
Registration is a free and easy way to support our truly independent journalism
By registering, you will also enjoy limited access to Premium articles, exclusive newsletters, commenting, and virtual events with our leading journalists
Already have an account? sign in
Join our new commenting forum
Join thought-provoking conversations, follow other Independent readers and see their replies