South Korea's biggest market bans dog slaughtering
'The greatness of a nation can be judged by the way its animals are treated' says city mayor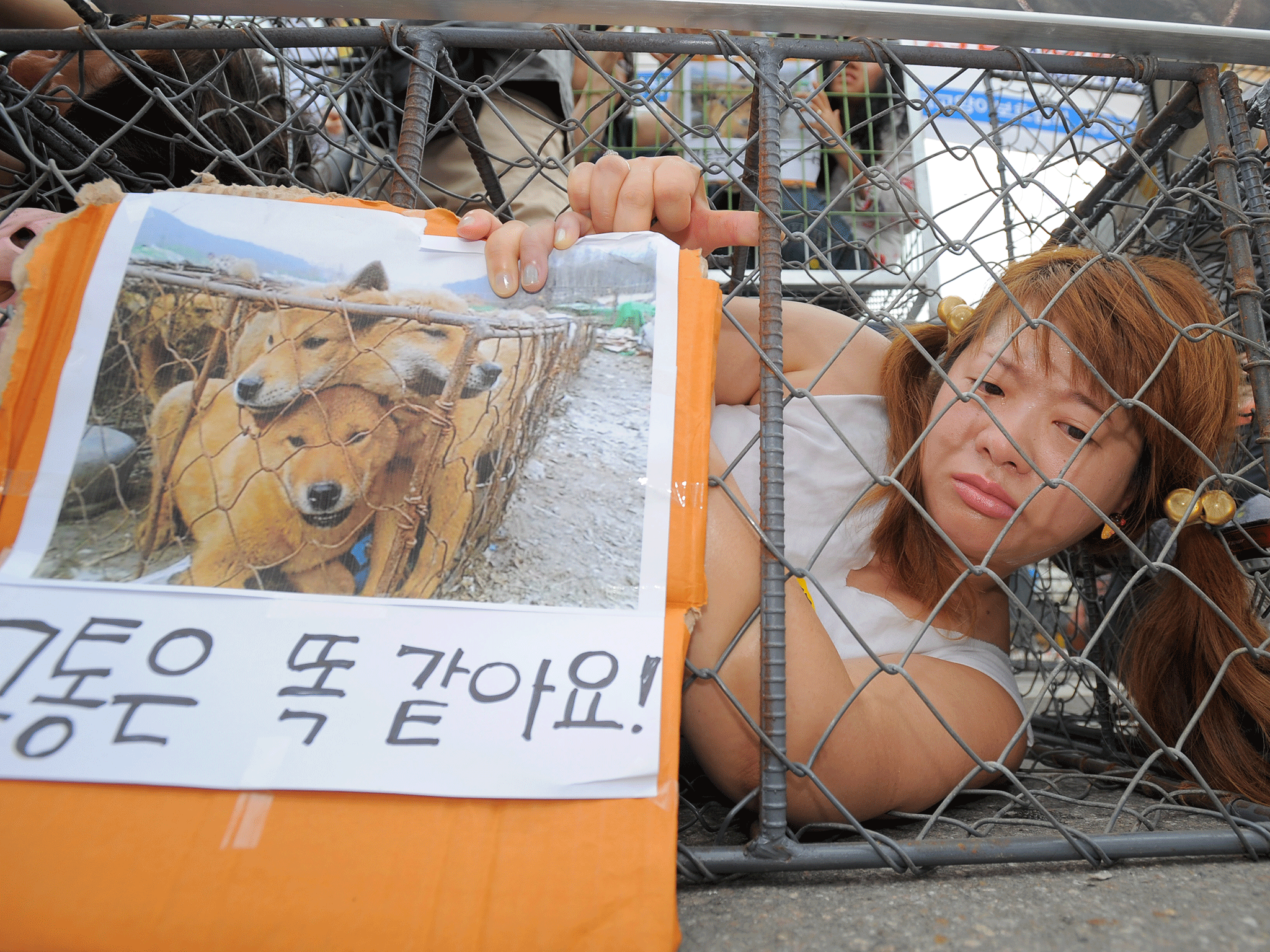 Dog slaughter and butchering is being abolished at South Korea's largest dog meat market in a move being described by welfare campaigners as a step toward a nationwide ban.
Slaughter facilities at Moran Market in Seongnam will be confiscated from its 22 dog meat dealers as early as next week.
The legitimacy of the country's dog meat industry is a grey area.
It is simultaneously legalised, and illegalised, in two different pieces of South Korean law.
"Seongnam city took a big step toward changing the dog meat industry here," said Korean Animal Welfare Association official Jang In-young.
"But we will have to constantly monitor dog meat shops in the market to see if they really stop slaughtering dogs and change their business.
"The city government will also need to keep pushing the idea to ultimately ban the sales of dog meat here."
Moran Market, which opened in the 1960s and sells all sorts including antiques and live animals, sees an estimated 80,000 pooches sold dead or alive each year.
The notorious spot supplies an estimated one third of all dog meat consumed in the country and live dogs are kept in cages for customers to pick out.
Seongnam city official Kang Won-gu told The Korea Herald he wanted to "ultimately stop" the dog meat trade at the market.
City mayor Lee Jae-myung said: "This may be the beginning of [a long path toward] solving issues surrounding dog meat consumption.
"This will hopefully eradicate the negative image of Moran Market.
"Seongnam city will take the initiative to transform South Korea's image since the greatness of a nation can be judged by the way its animals are treated."
Animal rights activist saves dogs from Yulin festival
The country's Livestock Industry Act classifies dogs as livestock, so therefore can be killed for consumption, but says they cannot be killed inhumanly.
The Livestock Products Sanitary Control Act however does not define dogs as livestock or animals for consumption.
South Korea's Animal Protection Act of 2007 states that "killing in a cruel way such as hanging" and "killing in an open area" is illegal.
China is believed to consume more dog meat than any other country, and around 10,000 dogs were killed at its annual Yulin festival this year.
Join our new commenting forum
Join thought-provoking conversations, follow other Independent readers and see their replies