Global shipping: The world's most opaque industry
The blockage in the Suez Canal has shone a spotlight on a major international industry where there is often a drought of accountability and transparency, says Ben Chu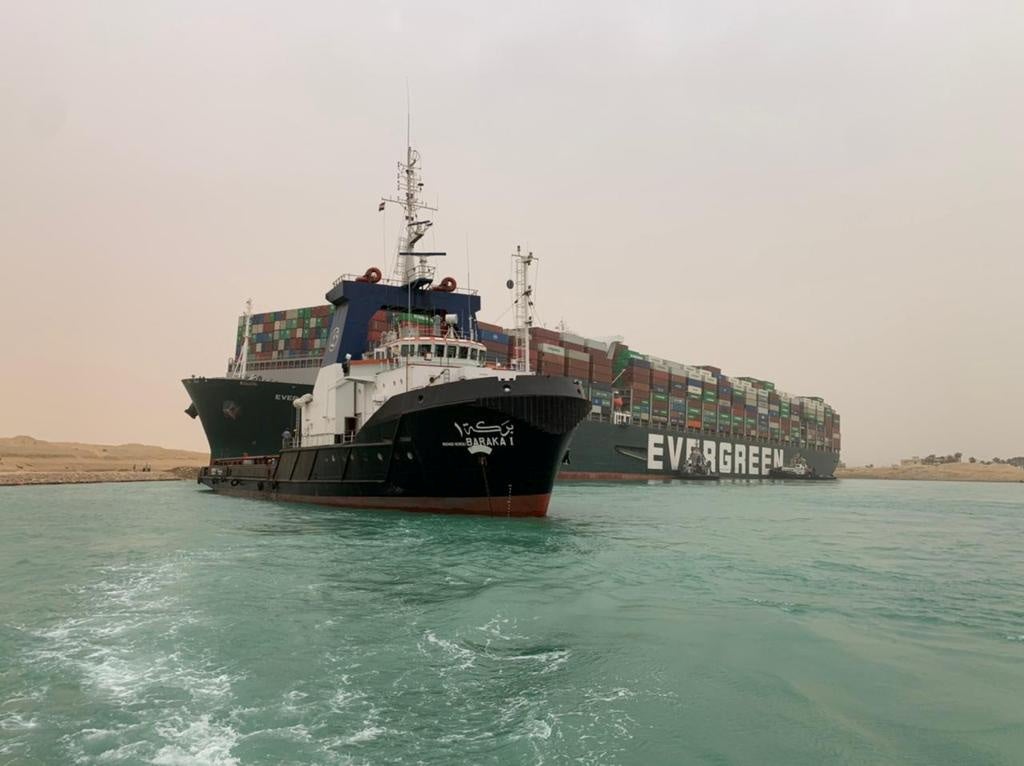 When a cargo ship the size of the Empire State Building got stuck in the Suez Canal this week, blocking a major artery of global commerce, a natural question was to ask who was in charge of the vessel.
The answer turned out to be rather complicated. The Ever Given is registered in Panama, but it's operated by a Taiwanese shipping firm called Evergreen Marine.
However, the "technical manager" of the vessel is BernhardSchulte Shipmanagement, which is based in Hamburg.
So who owns the vessel? That turns out to be a Japanese company called Shoei Kisen Kaisha, which is itself a subsidiary of the Japanese shipbuilding firm Imabari Shipbuilding.
The 25-strong crew, by the way are not Panamanians, Taiwanese, or Germans or Japanese but Indian nationals.
Read more:
There is nothing particularly unusual about this multinationalism in the world of commercial shipping. And one might expect an industry like global shipping to be globalised.
Yet the intricate web of registration, ownership and operation responsibilities does raise questions about accountability.
Michelle Wiese Bockmann, a shipping analyst at Lloyd's List, says it's striking how invisible the bosses of the companies involved have been in this crisis.
"I would expect Evergreen would get its CEO down to the vessel to explain – this is what you would expect if it was any other industry," she says.
And it's not just the absence of transparency from the shipping industry in a crisis like this that's a problem, say critics.
It's also a problem when it comes to safeguarding the welfare of sailors, reducing the sector's considerable carbon emissions and curbing corruption.
Sailors' welfare
The Panamanian registration of the Ever Given raised no eyebrows in the shipping industry. The Central American state of 4.2 million people is the largest ship registry in the world.
For decades ship owners all around the world have chosen to register their vessels in Panama primarily as a way, say critics, to reduce their taxes and also avoid the stricter marine regulations imposed by their own countries.
The International Transport Workers' Federation (ITF) has been waging a campaign against so-called "flags of convenience" since the 1950s, pointing out that it undermines the welfare and conditions of sailors and makes it harder for unions to get recognition.
In 2014 the ITF labelled the Panamanian safety regime "seriously flawed in areas such as oversight, accident investigation and crew assistance", though some argue it has improved in recent years.
However, concerns about the safety and welfare of sailors in global commercial shipping have intensified during the pandemic.
Last September the International Chamber of Shipping (ICS) estimated there were as many as 400,000 commercial sailors unable to leave their ships due to coronavirus restrictions, with many forced to work longer than their contracts specified. There was also estimated to be another 400,000 waiting to relive those crew members on land who were getting little or no pay.
The editor of the maritime publication gCaptain, John Konrad, issued an impassioned video last September listing a host of maritime accidents and suggesting many were the result of declining maritime safety standards in recent years.
"Maritime interests have been fragmented and siloed throughout the world and sailors from each country have little opportunity to communicate," he warned.
The ITF believes flags of convenience should be scrapped and argues there should be a "genuine link" between a vessel's owners and the country in which it is registered.
Shipping is estimated to be responsible for 2.5 per cent of annual global greenhouse gas emissions.
The International Maritime Organisation (IMO), an agency of the United Nations, has set a goal of reducing total annual greenhouse gas emissions from shipping by at least 50 per cent by 2050 compared to 2008 levels by increasing the fuel efficiency of vessels and developing biofuels.
The UN Paris Accord targets for 2050, to keep global temperature rises below 2C, do not include shipping emissions but the IMO argues its goals would be "consistent" with them.
Yet environmental groups argue the IMO's actual actions are, in fact, far too weak to achieve this.
And researchers have found that board level oversight of climate issues among shipping firms is very low compared to other industries and pollution disclosure is poor.
Michelle Wiese Bockmann of Lloyd's List suspects many shipowners are not really serious about decarbonisation.
"There are very strong elements of the industry that don't like any change, or anything that would cost them money," she says.
The opacity of shipping on a corporate level might have helped them shirk these responsibilties relative to other more consumer-facing transport industries such as aviation or automobiles.
Corruption
Alexandra Wrage, the founder of the anti-bribery group Trace, says the shipping industry, by its nature, faces more corruption challenges than most other industries, because ships are moving from jurisdiction to jurisdiction all the time. The fragmented nature of the industry also contributes to this risk that shipping firms do not follow best practice.
"From a corporate perspective they're almost self-contained," Ms Wrage notes.
And she points to the Suez Canal incident as an example of the kind of temptations that spring up.
"Once they're able to unjam things [in the Canal] there will a huge number of ships and each of those ships will have an extraordinary incentive to get near the front of the queue," she says.
"The opportunity for corruption there is pretty obvious. Shaving hours off [a journey] can save a company money, now they've got an incentive to shave days off".
Mr Wrage says that some shipping companies are trying to clean up their act but "a whole lot aren't".
However, she stressed that governments also need to do more too by digitising operations to reduce the number of face-to-face meetings where bribery could occur.
"The shipping companies can place a higher priority on governance and transparency but the governments that control the ports need to step up aswell," she argues.
Sea change?
Experts agree that the opacity of global shipping is extreme. And for those in the sector who want to avoid scrutiny and accountability that's how they like it.
But just as a cargo ship stuck in a canal is hard to ignore, it's possible an industry accustomed to operating out of the public gaze might now also find it a little harder to do so.
Join our commenting forum
Join thought-provoking conversations, follow other Independent readers and see their replies