Top Russian newspaper suggests the US government was behind the Charlie Hebdo massacre
Komsomolskaya Pravda is not the first Russia media outlet to promote the conspiracy theory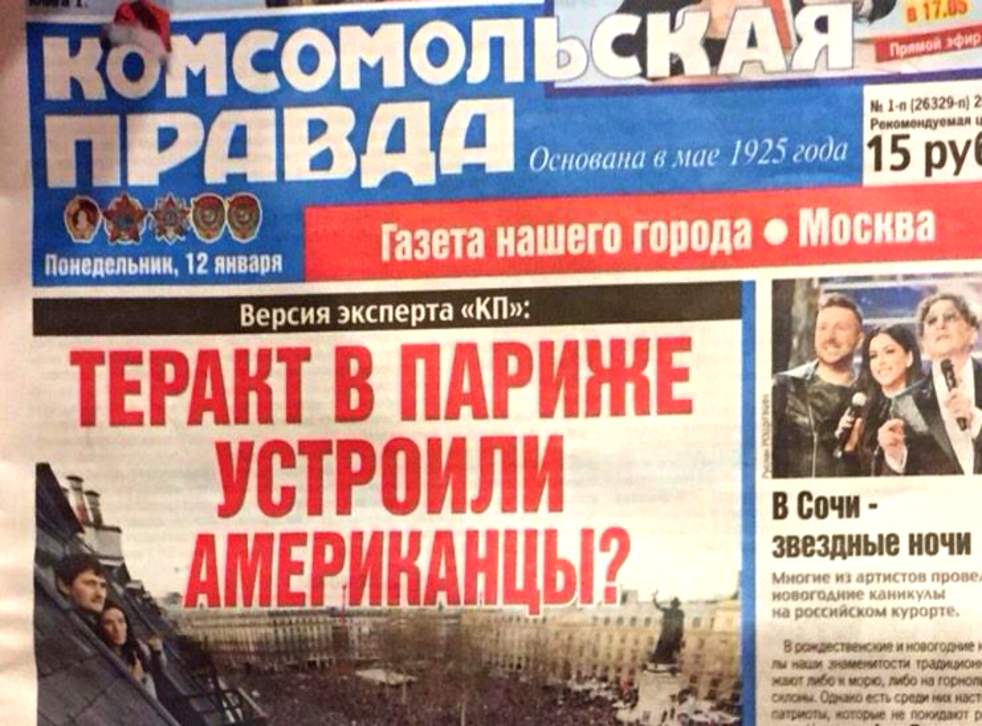 A leading Russian newspaper has suggested that the Charlie Hebdo massacre in Paris could have been the work of the United States government.
Komsomolskaya Pravda, one of the country's best selling daily papers, ran headline "Did the Americans stage the terror attack in Paris?" in large red letters across its 12 January front page.
The tabloid published a number of interviews with people suggesting that the US government might have orchestrated the killings.
In one, Alexander Zhilin, the head of the Moscow Centre for the Study of Applied Problems think-tank said the attack had been retribution for signs French president Francois Hollande could be wavering on sanctions against Russia.
On 5 January Mr Hollande told the France Inter radio station that sanctions "must be lifted if there is progress. If there is no progress the sanctions will remain".
Mr Zhilin suggested similar clandestine attacks using "European resources" had been conducted against Germany and that they had caused Angela Merkel to toughen her stance on sanctions.
The views of the political scientist were treated by the newspaper as a straight analysis of the causes for the attack and were not challenged.
Other Russian news outlets have also discussed whether the attack were a conspiracy by the United States.
On the day after the shootings took place the pro-Kremlin outlet LifeNews published an interview with another think-tank director who suggested the United States might behind the massacre.
Charlie Hebdo: Mourning in Paris

Show all 6
"For the last 10 years, so-called Islamist terrorism has been under the control of one of the world's leading intelligence agencies," Alexei Martynov, director of the International Institute for New States said.
"I am sure that some American supervisors are responsible for the terror attacks in Paris, or in any case the Islamists who carried them out."
Komsomolskaya Pravda was the official newspaper of the Soviet Union until the bloc's collapse in 1991.
The newspaper's current political outlook has been described by BBC Monitoring, which surveys the foreign press, as "gentle nostalgia for the Soviet period, firm backing for Kremlin policy and a keen interest in celebrity news and scandal from home and abroad".
Charlie Hebdo, the French satirical newspaper in whose offices a gunman killed 12 people last week, is seeing its first edition since the massacre.
As of Wednesday lunchtime most newsstands have sold out of the new edition. Five million copies are expected to ultimately be printed of the magazine, up for the usual print run of 40,000.
Join our new commenting forum
Join thought-provoking conversations, follow other Independent readers and see their replies