Mike Pompeo says US will need 'bold leadership' from North Korea as he confirms Kim Jong-un letter to Trump
But in sign of friction, Kim Jong-un blasts 'US hegemonism' to visiting Russian official
Jeremy B. White
Thursday 31 May 2018 22:18 Comments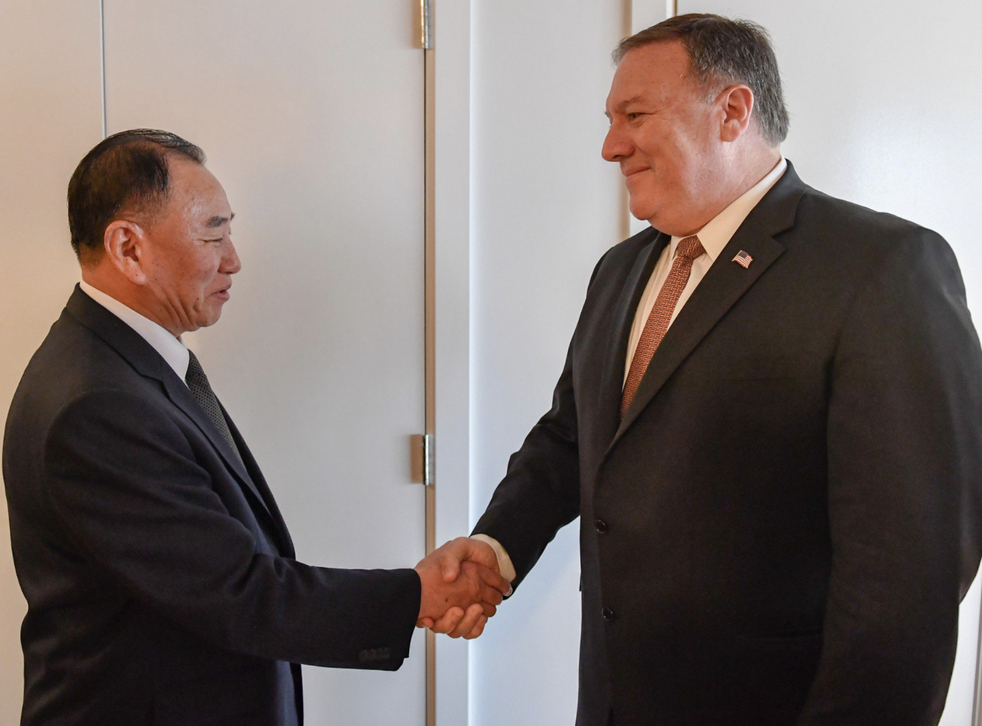 Secretary of state Mike Pompeo heralded a "once-in-a-lifetime opportunity" to dismantle Pyongyang's nuclear programme after meeting with a top North Korean official, but warned the regime would need to show "bold leadership" and renounce its militaristic governing philosophy.
"Our countries face a pivotal moment in which it could be nothing short of tragic to let this opportunity go to waste", Mr Pompeo said on Twitter.
The negotiations in New York between Mr Pompeo and Kim Yong-chol, a prominent official in Pyongyang, spurred on a concerted effort to revive a meeting between Donald Trump and North Korean leader Kim Jong-un.
One week after Mr Trump abruptly renounced the planned meeting, excoriating the regime for a statement mocking vice president Mike Pence, the US president said he was expecting a North Korean delegation to deliver him a letter from Mr Kim. Mr Pompeo later confirmed that Kim Yong-chol intended to deliver the note.
"It is very important to them," Mr Trump told reporters.
The president said striking a deal might require multiple meetings but left open the possibility of talks not occurring, saying "maybe we will have none".
As the president awaited the missive from Mr Kim, Mr Pompeo was entering a second day of meetings with his North Korean counterpart. After dining on steak, corn and cheese the previous evening, Mr Pompeo announced on Twitter that the "potential summit" between the nation's leaders presented a "great opportunity to achieve security and economic prosperity".
North Korea: A road trip on the edge of the Chinese border

Show all 20
But in remarks after the summit concluded, Mr Pompeo acknowledged the challenges in convincing the North Korean regime to abandon its longstanding strategy of developing nuclear weapons to guarantee its continued hold on power. It is critical, Mr Pompeo said, to convince the regime that "the real threat to their security is the continued holding onto that nuclear weapons programme and not the converse".
He said: "I believe they are contemplating a path forward where they can make a strategic shift, one that their country has not been prepared to make before," adding that an agreement to give up the nuclear weapons programme would allow North Korea to be "integrated into the community of nations".
Both developments reenacted the series of events that led Mr Trump to agree to a meeting in the first place, demonstrating that both sides remained keen to go ahead with a meeting that days earlier teetered on the brink of collapse.
Mike Pompeo meets Kim Jong-un in North Korea
Earlier this year, the White House made the bombshell announcement that South Korean envoys had conveyed to Mr Trump an invitation to meet with Mr Kim. Weeks after the message was delivered to the Oval Office, Mr Pompeo - who was head of the CIA at the time - secretly travelled to North Korea for a meeting with Mr Kim
But even as the White House underscored the momentum towards a meeting by describing a pair of diplomatic delegations travelling to Asia and saying the administration expected a meeting to happen on 12 June, as scheduled, there were reminders of the obstacles to a deal.
In a meeting with Russian foreign minister Sergei Lavrov, Mr Kim signalled resistance to American demands by blasting "US hegemonism". Pyongyang has long denounced America as an imperial power that is intent on planning an invasion.
Ahead of his meeting with his North Korean counterpart, Mr Pompeo reiterated that America would demand "the complete, verifiable, and irreversible denuclearisation of the Korean Peninsula", hewing to language long emphasised by the US and its allies.
While Mr Kim has conveyed his commitment to "denuclearisation", Pyongyang has also telegraphed that it will not easily accede to totally dismantling its nuclear programme.
After national security adviser John Bolton reiterated the administration's focus on dissolving North Korea's nuclear programme and invoked Libya's voluntary renunciation of its nuclear programme, Pyongyang issued an angry statement assailing the "recklessly made" remarks - an apparent reaction to Libya's ultimate fate, where the nuclear agreement could not prevent leader Muammar Al-Gaddafi's ouster.
The statement warned that Pyongyang would walk away if it was pushed into "a corner" and compelled to agree to "unilateral nuclear abandonment".
Register for free to continue reading
Registration is a free and easy way to support our truly independent journalism
By registering, you will also enjoy limited access to Premium articles, exclusive newsletters, commenting, and virtual events with our leading journalists
Already have an account? sign in
Join our new commenting forum
Join thought-provoking conversations, follow other Independent readers and see their replies