Donald Trump threatens to withdraw all future US aid payments to Palestinians
Second time in 2018 Trump has threatened to withhold aid on Twitter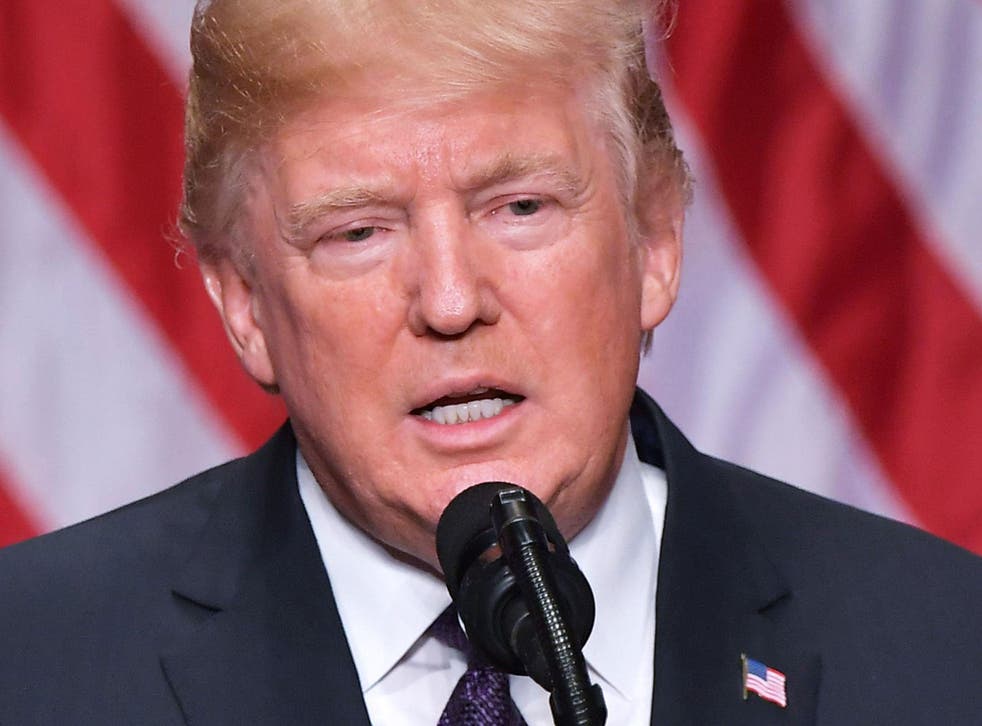 America may withhold aid money to the Palestinians if they walk away from peace negotiations, Donald Trump threatened.
In a pair of tweets, Mr Trump wrote that "we pay the Palestinians HUNDRED OF MILLIONS OF DOLLARS a year and get no appreciation or respect".
"We have taken Jerusalem, the toughest part of the negotiation, off the table, but Israel, for that, would have had to pay more," Mr Trump said in reference to his decision to recognise Jerusalem as the capital of Israel.
"But with the Palestinians no longer willing to talk peace, why should we make any of these massive future payments to them".
The provocative messages are likely to inject further uncertainty into America's relationship with Palestinian leadership, already strained by Mr Trump's move to recognise Jerusalem as Israel's capital. Palestinian officials and other critics warned Mr Trump's move squandered American credibility as a neutral mediator, undercutting the prospect of a peace settlement.
America's ambassador to the United Nations, Nikki Haley, had foreshadowed the President's tweets, saying the Trump administration was considering clamping down on funding for the the United Nations Relief and Works Agency for Palestine Refugees.
"He doesn't want to give any additional funding until the Palestinians agree to come back to the negotiation table, and what we saw with the resolution was not helpful to the situation," Ms Haley said. "We're trying to move for a peace process, but if that doesn't happen, the president is not going to continue to fund that situation."
World news in pictures

Show all 50
The United Nations resolution Ms Haley referenced passed overwhelmingly last month, assailing Mr Trump's Jerusalem decision and declaring the move "null and void". While that resolution did not carry legal force, it prompted a sharp rebuke from Ms Haley, who warned that America "will remember this day" when "we are called upon once again to make the world's largest contribution to the United Nations".
"When a nation is singled out for attack in this organisation," Ms Haley warned the UN, "that nation is disrespected. What's more, that nation is asked to pay for the privilege of being disrespected."
The President's latest tweets, like Ms Haley's response to the UN resolution, articulated a recurring theme in Mr Trump's world view: the idea that America doles out money to international entities and other nations without receiving enough in return.
Earlier this week, the President stirred geopolitical turmoil by lashing out at Pakistan on similar grounds, proclaiming on Twitter that America "has foolishly given Pakistan more than 33 billion dollars in aid over the last 15 years, and they have given us nothing but lies & deceit, thinking of our leaders as fools."
Register for free to continue reading
Registration is a free and easy way to support our truly independent journalism
By registering, you will also enjoy limited access to Premium articles, exclusive newsletters, commenting, and virtual events with our leading journalists
Already have an account? sign in
Register for free to continue reading
Registration is a free and easy way to support our truly independent journalism
By registering, you will also enjoy limited access to Premium articles, exclusive newsletters, commenting, and virtual events with our leading journalists
Already have an account? sign in
Join our new commenting forum
Join thought-provoking conversations, follow other Independent readers and see their replies