UN is running out of money and member states should pay what they owe, warns secretary-general
'An organisation such as ours should not have to suffer repeated brushes with bankruptcy'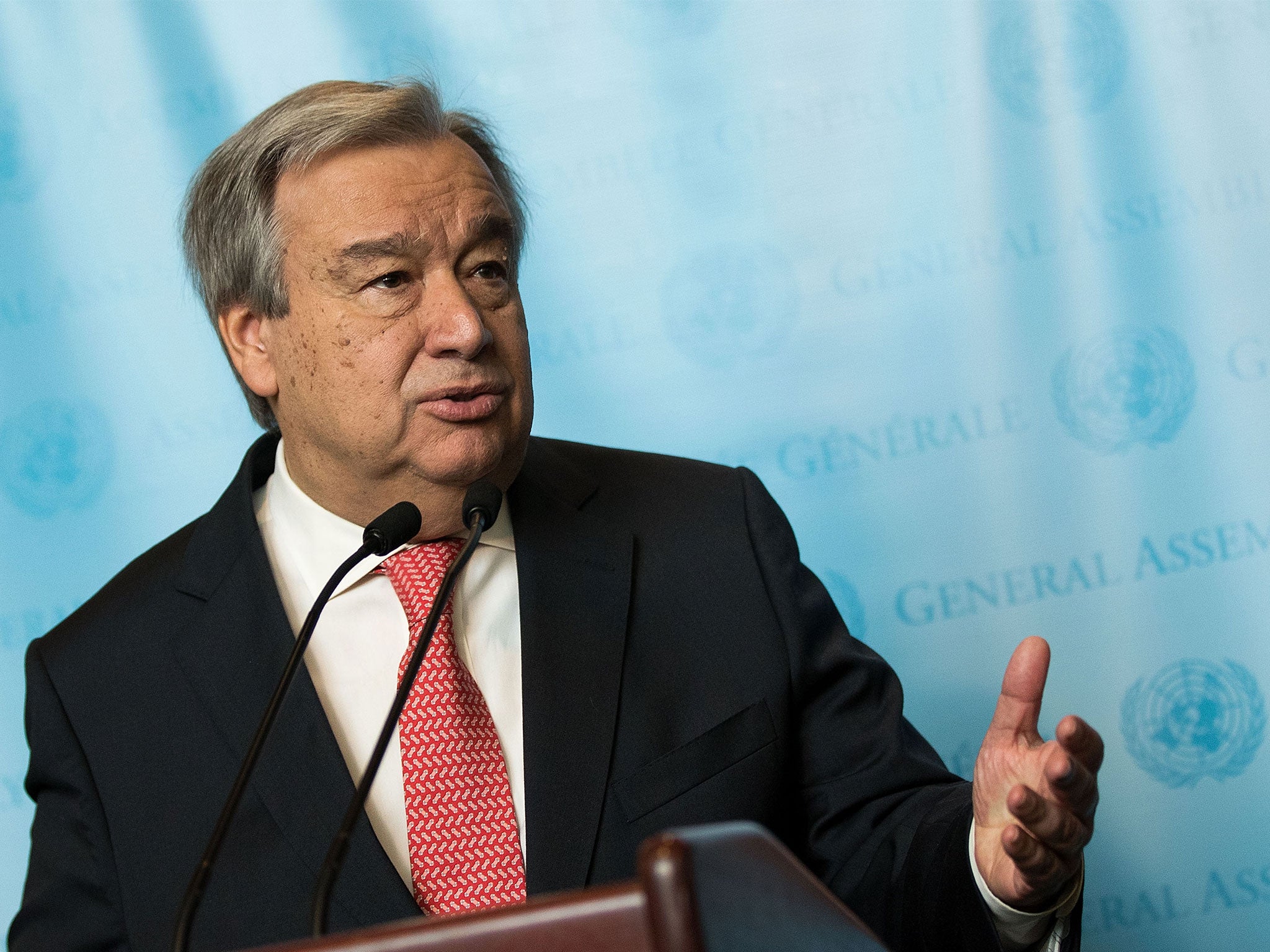 The United Nations is running out of money and has urged member states to pay what they owe the intergovernmental organisation, according to reports.
Secretary-general Antonio Guterres sent a letter to the world body's 193 member states warning that it had "never faced such a difficult cash flow situation this early in the calendar year" with the core UN budget at a $139m (£106m) deficit.
"An organisation such as ours should not have to suffer repeated brushes with bankruptcy. But surely, the greater pain is felt by those we serve when we cannot, for want of modest funds, answer their call for help," Mr Guterres wrote in letters seen by Reuters on Thursday.
According to the UN, almost two thirds – 112 out of 193 – of its member states have so far paid their share of the core budget.
The United States, which is responsible for 22 per cent of the budget, traditionally pays later because of its budget year.
The UN general assembly budget committee agreed on a $5.4bn core UN budget for 2018-2019 in December.
US ambassador Nikki Haley said that represented a cut of $285m from 2016-2017, with peacekeeping funded separately.
By July last year, 116 countries had paid, compared with 98 in 2016. China, France, Russia and Britain – the permanent members of the UN Security Council along with the United States – are all paid up for 2018.
Under UN rules, countries in arrears of an amount equal to or exceeding its contributions for the previous two years can lose their general assembly vote unless the country can show its inability to pay is beyond its control.
Currently Comoros, Guinea Bissau, Sao Tome and Principe and Somalia are significantly in arrears but have been allowed to retain their vote, while only Libya – which is regarded by some to be a failed state – is unable to vote.
World news in pictures
Show all 50
Mr Guterres told staff he was concerned with a broader trend: "We are running out of cash sooner and staying in the red longer."
He said the UN would take measures to reduce expenses with a focus on non-staff costs following American pressure to cut costs and increase efficiency.
Join our commenting forum
Join thought-provoking conversations, follow other Independent readers and see their replies