UN forced to cut food rations to 1.4 million refugees after rich states delay payment
The World Food Programme is in talks with the United States – its biggest donor – and other wealthy nations in a bid to get more money to help feed people displaced by the war against Isis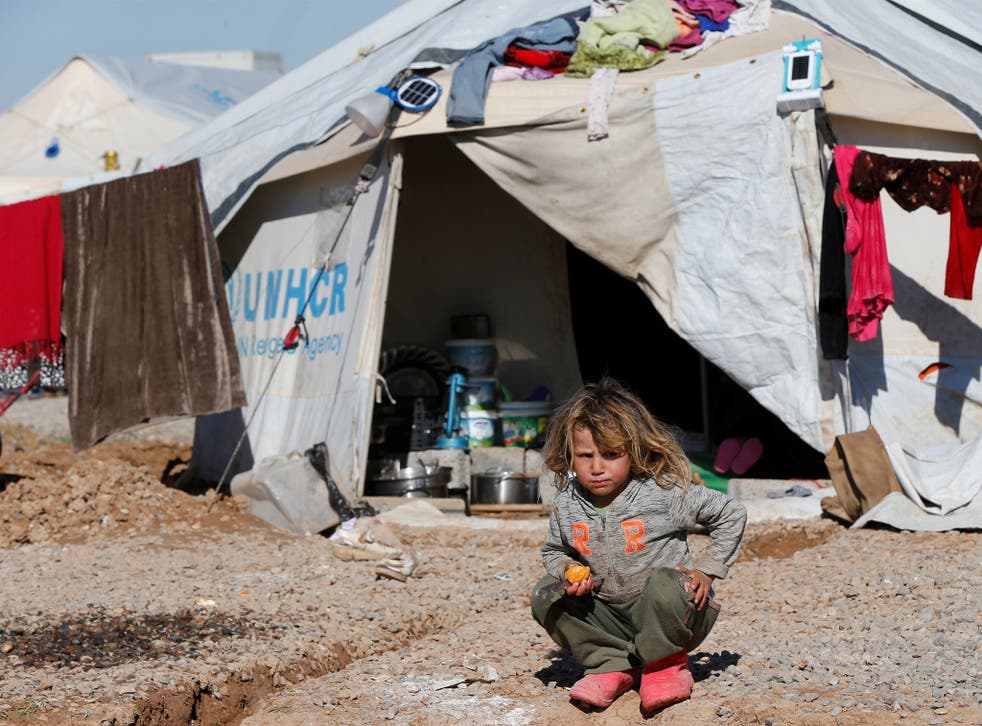 The World Food Programme (WFP) has been forced to cut food rations to 1.4 million people because the world's richest countries have delayed paying the organisation.
The food rations of 1.4 million Iraqis, displaced in the war against Isis, had to be halved this month because of delays in payments from donor states.
The WFP is now in talks with the United States – its biggest donor – Germany and Japan to pay the money so they can be fully delivered.
Inger Marie Vennize, a spokeswoman for the World Food Programme, told Reuters: "This year somehow we are receiving commitments from donors a little bit late, we are talking with donors but we don't have enough money as of yet. We have had to reduce (the rations) as of this month. The 50 per cent cuts in monthly rations affect over 1.4 million people across Iraq."
It was unclear which countries had not provided money in time.
In Iraq, the cuts are already being felt at the Hassan Sham camp east of Mosul, a city which remains an Isis stronghold in the north of the country.
"They gave us a good amount of food in the beginning, but now they have reduced it," said Omar Shukri Mahmoud.
"They are giving an entire family the food supply of one person ... And there is no work at all ... we want to go back home," he told Reuters.
Safa Shaker, who has a family of 11, added: "We are a big family and this ration is not going to be enough. We escaped from Daesh [Isis] in order to have a chance to live and came here and now they have cut the aid. How are we supposed to live?"
The ration cut came as the United Nations condemned Donald Trump's ban on refugees and his order to prevent travellers from seven major Muslim countries – including Syria and Iraq – from entering the US.
The UN refugee agency (UNHCR) and International Organisation for Migration urged the Trump administration to continue its work with the UN and other agencies to ensure "vital" resettlement programmes for people fleeing conflict and persecution, whatever their background.
In pictures: Mosul offensive

Show all 40
During his first week in office, Mr Trump signed an executive order to slash funding to the UN by at least 40 per cent.
He also dismissed the UN last December as a "club" for people to "have a good time". The President's executive order could affect peacekeeping operations in 16 countries.
About 160,000 people have been displaced since the Isis-held city of Mosul was attacked by Iraqi forces in October.
A total of three million people have been forced to leave their homes in Iraq since Isis gained control of large areas of the country and neighbouring Syria in 2014.
Register for free to continue reading
Registration is a free and easy way to support our truly independent journalism
By registering, you will also enjoy limited access to Premium articles, exclusive newsletters, commenting, and virtual events with our leading journalists
Already have an account? sign in
Register for free to continue reading
Registration is a free and easy way to support our truly independent journalism
By registering, you will also enjoy limited access to Premium articles, exclusive newsletters, commenting, and virtual events with our leading journalists
Already have an account? sign in
Join our new commenting forum
Join thought-provoking conversations, follow other Independent readers and see their replies