US sanctions Myanmar military over Rohingya 'ethnic cleansing'
Army accused of rape, indiscriminate killing and arson in weeks-long clearance operation in Rakhine state
Shibani Mahtani
Saturday 18 August 2018 17:36 Comments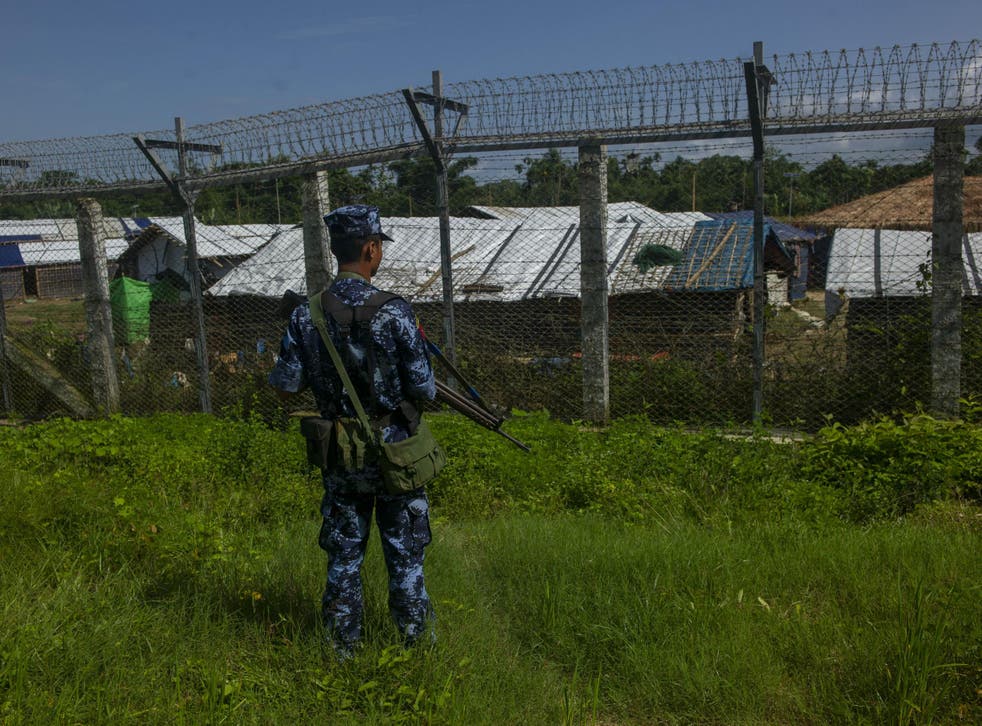 The US Treasury Department has imposed sanctions on three Myanmar military commanders, a border guard police commander and two entire military units for their involvement in "ethnic cleansing" against Rohingya Muslims in Rakhine state.
It was the firmest US action yet against the Myanmar military since it launched a brutal campaign against the minority group almost a year ago.
The move comes as the US State Department readies a comprehensive report on atrocities in Rakhine state last August.
The study could include findings on whether the military committed crimes against humanity or genocide against the Rohingya.
Human rights groups and experts have accused the military in Myanmar, also known as Burma, of waging a premeditated campaign against the Rohingya, disputing its explanation that it was merely responding to militant attacks on police posts.
The army's weeks-long clearance operation in Rakhine state resulted in allegations of rape, indiscriminate killing and the torching of Rohingya homes.
The three Myanmar military commanders, Aung Kyaw Zaw, Khin Maung Soe and Khin Hlaing, and the border guard police commander, San Lwin, were sanctioned for their roles in leading campaigns against ethnic minority communities, the Treasury Department said in a news release.
Rohingya crisis in photos

Show all 15
In addition to the campaign in Rakhine state, the military has "used many of the same tactics against a number of other ethnic and religious minority groups," the department said, citing "extrajudicial killings, enforced disappearances, arbitrary arrests and torture against civilians".
Khin Hlaing was specifically sanctioned for his role in Shan state, in the country's north, against ethnic Kachin and Chinese minorities.
The Treasury Department also sanctioned two entire military units – the 99th and 33rd light infantry divisions – in a rare move. Both units were designated for "engaging in serious human rights abuse", the department said.
Soldiers of the 33rd Light Infantry Division participated in last August's campaign against the Rohingya and were accused of firing on fleeing villagers and raping women.
"Treasury is sanctioning units and leaders overseeing this horrific behavior as part of a broader US government strategy to hold accountable those responsible for such wide-scale human suffering," said Sigal Mandelker, treasury undersecretary for terrorism and financial intelligence.
"The US government is committed to ensuring that Burmese military units and leaders reckon with and put a stop to these brutal acts," he added.
Several people familiar with the matter, who were not authorised to speak publicly, said that the Treasury Department has had the names of Myanmar military commanders responsible for actions against the Rohingya for months.
But the US has been slower than other Western nations to respond to the atrocities while it determines the most appropriate foreign policy response.
Washington has been weighing the risk that sanctions or tougher actions against Myanmar would push the country closer to China, its neighbour to the north.
World news in pictures

Show all 50
The military's actions against the Rohingya have boosted its popularity within the country, and Myanmar's de facto civilian leader Aung San Suu Kyi has not spoken out strongly against the atrocities.
In June, Canada and the European Union sanctioned seven Myanmar military and police leaders over similar accusations.
Meanwhile stronger action against Myanmar from the US Congress has stalled as Senate majority leader Mitch McConnell blocks any punitive action that could be perceived as directed toward Ms Suu Kyi.
Provisions that would bar US cooperation with or assistance to Myanmar's military and impose sanctions on generals overwhelmingly passed the US House of Representatives as an amendment to the National Defence Authorisation Act, but they were left out of the final bill because of opposition from Senator McConnell, people familiar with the negotiations said.
Matthew Smith, who leads the advocacy group Fortify Rights, said Friday's announcement was a "welcomed and useful start".
Fortify Rights recently published a report charging that the Myanmar military's actions in Rakhine were the result of deliberate and meticulous planning.
"Certain members of Congress who want to protect Suu Kyi should understand that there's no alternative to holding perpetrators accountable in the face of genocide and mass atrocities," he said.
"Military impunity is one of Myanmar's most significant problems, and Suu Kyi stands in the way of fixing it."
Fortify Rights, Amnesty International and other rights groups argue that sanctions must include the commander in chief of Myanmar's military, Min Aung Hlaing.
"Responsibility extends to the highest levels of the chain of command – so, too, should justice and accountability," said Francisco Bencosme, Asia-Pacific advocacy manager at Amnesty International.
"That includes Senior General Min Aung Hlaing, commander in chief of the Myanmar military."
Others, however, have argued that sanctions – which block their targets' assets in the US and prevent American businesses from working with them – will not harm the Myanmar's army, which has few US holdings.
"Sanctions will not affect the military," said a former high-ranking Myanmar army official, speaking on the condition of anonymity because of the sensitivity of the issue.
He argued that punitive actions, including prosecution at the International Criminal Court, would only harden its position.
"If you push the military too hard, they will behave in a much more extreme way – and then China will be very happy," he added.
The Washington Post
Register for free to continue reading
Registration is a free and easy way to support our truly independent journalism
By registering, you will also enjoy limited access to Premium articles, exclusive newsletters, commenting, and virtual events with our leading journalists
Already have an account? sign in
Join our new commenting forum
Join thought-provoking conversations, follow other Independent readers and see their replies