Where is the best place for LGTBI rights in Europe (clue: it's definitely not Russia)?
The Rainbow Europe survey ranked the UK top in a list of 49 countries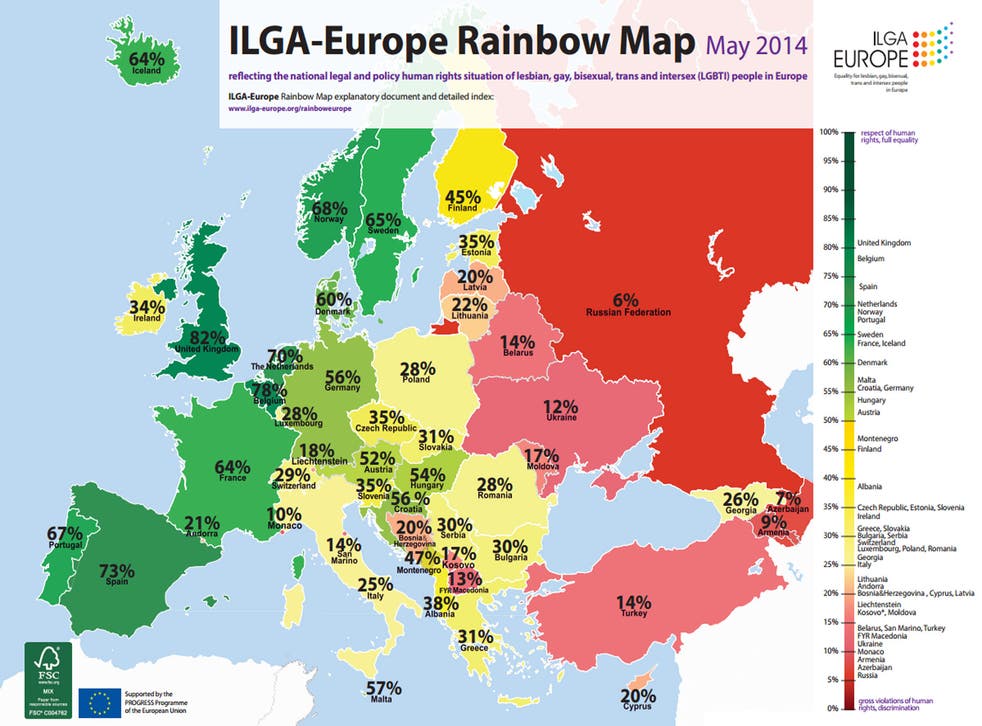 The UK has been ranked number one in Europe for LGBTI rights.
The Rainbow Europe survey, carried out by the International Lesbian, Gay, Bisexual, Trans and Intersex Association (ILGA), named the UK the best out of 49 countries in terms of legislation and policies that have a "direct impact on the enjoyment of human rights by LGBTI people".
With a tally of 82 per cent, the UK scored highly across six categories: equality and non-discrimination; family; bias motivated speech/violence; legal gender recognition; freedom of assembly, association and expression; and asylum.
The result marks a five per cent increase since last year's survey, helped in particular by marriage equality legislation, which saw the first same-sex couples tie the knot in March.
Top 10 best places for LGBT rights in Europe

Show all 10
Belgium was in second place, with a score of 78 per cent, followed by Spain with 73 per cent. The Netherlands, Norway and Portugal came in joint fourth place with 70 per cent, while Sweden, France and Iceland completed the top five with equal scores of 65 per cent.
Unsurprisingly, Russia was revealed to be the worst place for LGBTI people to live, scoring just six per cent. It was closely followed by Monaco, Armenia and Azerbaijan with joint scores of 10 per cent.
Launched to mark the International Day against Homophobia and Transphobia on 17 May, the survey showed that the European average for LGBTI rights stands at 36 per cent – with the average for EU countries only slightly higher at 46 per cent.
But vast improvements were seen in Malta, which had a score 22 points higher than in last year's survey, and Montenegro, which was up by 20 points.
However, the report's authors stressed that discrimination against LGBTI people continues to occur all across Europe. It also highlighted concerns regarding new anti-gay legislation, including Russia's law banning gay "propaganda".
Gabi Calleja, co-chair of ILGA-Europe's executive board, said: "ILGA-Europe's 2014 edition of its Rainbow Europe package shows that while the human rights of LGBTI people have undoubtedly gained great visibility across Europe, progress in terms of real legal, political and social changes vary considerably from one country to another, in large part depending on levels of societal acceptance, of political leadership and political will, as well as the strength of civil society in a given country."
Join our new commenting forum
Join thought-provoking conversations, follow other Independent readers and see their replies