D-Day 70th anniversary: Seven decades on, a band of brothers meet to pay their respects one last time
As world leaders head to Sword Beach, John Lichfield reports on the private ceremony being ushered into the pages of history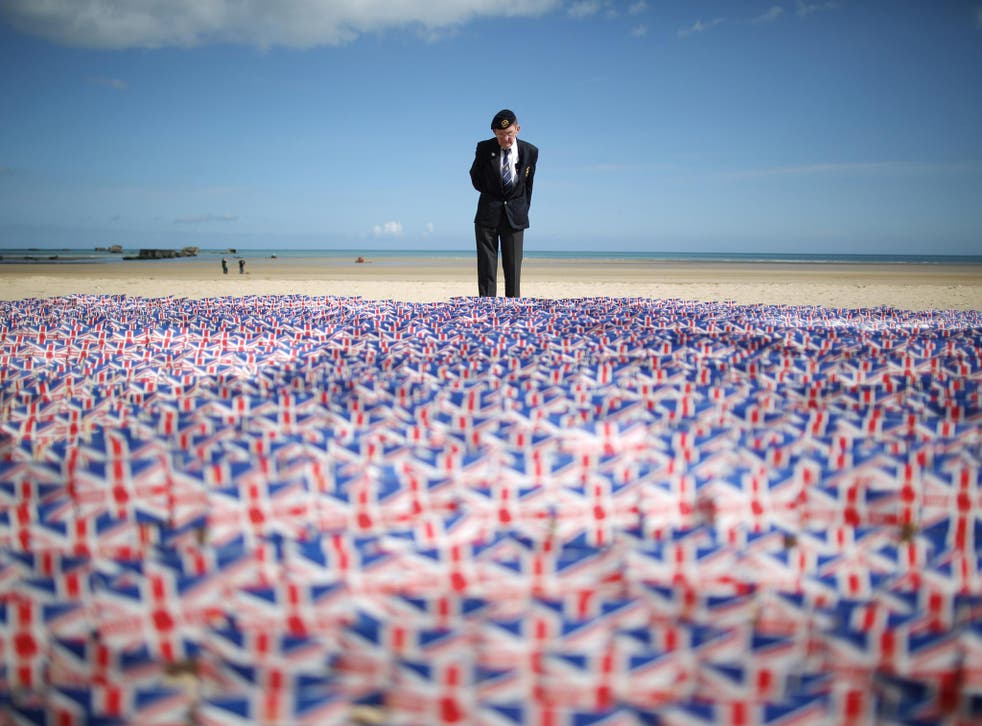 Age had finally wearied them. They marched proudly on Sword Beach with stiff legs, bent backs and, in some cases, tears in their eyes.
After decades of annual pilgrimages to the beaches, towns and fields where their friends died, British Normandy veterans gathered for a private ceremony of remembrance for the last time. There were 150 of them – with a combined age of around 13,500.
Media coverage of Friday's 70th anniversary of D-Day will focus on the grandiose "international event" organised by France, to be held this afternoon at the other end of the beach. The Queen, Barack Obama, Vladimir Putin, Angela Merkel, François Hollande and many other leaders will pay tribute to the 200,000 British, American and Canadian men – and the handful of women – who took part in the largest seaborne invasion of all time.
It promises to be spectacular, but its unlikely to have the poignancy of this final parade of the Normandy Veterans' Association (NVA) at Colleville-Montgomery. For each of the 30 years since it was founded, members of the NVA have gathered on 5 June around a nearby, malevolent-looking statue of the allied commander, Field Marshal Bernard Montgomery.
In pictures: D-Day 70th anniversary

Show all 41
Politicians and royalty have never been invited. This has always been an event organised by the veterans, for the veterans – and for their families and for British and French well-wishers. A large crowd did turn up, including 150 British veterans – one-in-four of the surviving members of the NVA. Fifty of the fitter veterans (average age 92) marched 50 metres to the ceremony and then 200 metres to the beach, led by a military band and applauded by French and British supporters.
"I was astonished when I saw how many people had turned up," said George Batts, 88, the National Secretary of the NVA. "It is sad, of course it's sad, but this will be the last time that we meet here on 5 June. Our numbers are melting away. Many of our members are in nursing homes. I am practically the baby of the organisation and I am 89 next month. We wanted a fitting last occasion, rather than a gradual disintegration."
The NVA will disband in November and hang up its banners in a final ceremony at York Minster. From a peak of around 30,000 members in the 1980s, and 14,000 members at the 60th anniversary in 2004, there are now around 600 NVA members left alive. It is estimated that there are roughly another 600 British Normandy veterans alive who do not belong to the association.

As D-Day passes over the horizon of living memory, the NVA is running a campaign – supported by The Independent – to record filmed interviews of the memories of as many surviving Normandy veterans' as possible. Many of the veterans at the final parade had well-rehearsed stories to tell. Others were anxious to fill gaps in the D-Day record or to correct mis-impressions.
Albert Holmshaw, 90, from Sheffield, was a gunner who came ashore under fire on Gold Beach on D-Day. "What people don't realise is that the most extraordinary thing was the noise," he said. "Not just a bang-bang-bang but a continuous ear-splitting bang which went on for hours."
Another veteran, John Scase from Exeter, who could not be present in Normandy, pointed out that one aspect of D-Day – perhaps the most written-about event in military history – had been neglected or deliberately obscured. On 6 June he was a junior naval officer on one of the motor launches, equipped with an experimental new form of direction-finding radar. There is no mention of the launches or the radar in the official history – perhaps for security reasons.
"Surprisingly, not a shot had been fired in our direction from the enemy forces opposing us," Mr Scase recalled. "We were, exceptionally lucky."
Colleville added Montgomery to its name after the war in tribute to is British liberators. Some years ago, the village made a permanent gift of the ground around the Bernard Montgomery statue to the NVA.
The local mayor told the assembled veterans: "This is your last meeting here but you will never be forgotten. We will remember you always."
Join our new commenting forum
Join thought-provoking conversations, follow other Independent readers and see their replies