Fall of the Berlin Wall: Timeline of a year of wonder, when the unthinkable became the unstoppable
The fall of the Berlin Wall was merely the highlight of a year of extraordinary political drama. Here are some key moments, described largely through headlines on The Independent's reports. (The dates refer to the events rather than the reports.)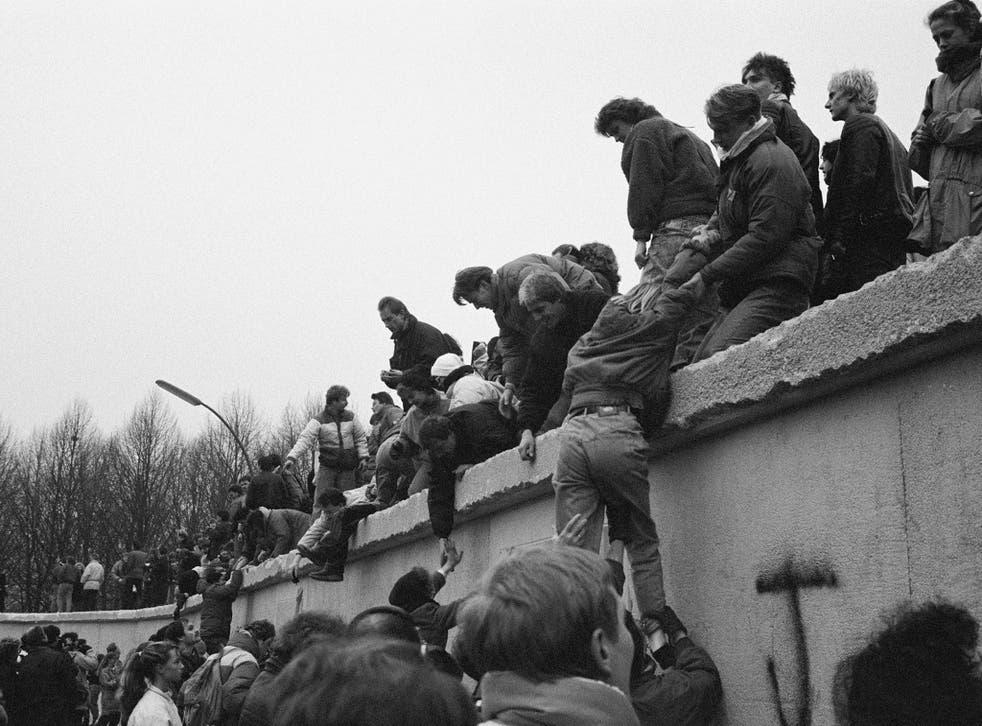 How The Independent reported the collapse of Communism across the eastern bloc countries in 1989
15 FEBRUARY 1989 'MOSCOW LEAVES AFGHANISTAN TO THE AFGHANS'
28 MARCH 1989 'YELTSIN HEADS FOR MASSIVE VICTORY'
Boris Yeltsin, a radical reformer, is elected as the Moscow delegate to the Congress of People's Deputies of the Soviet Union.
2 MAY 1989 HUNGARY CUTS ITS WIRE
Hungary's relatively liberal regime begins to dismantle its border with Austria.
4 JUNE 1989 'SOLIDARITY CRUSHES COMMUNISTS AT THE POLLS'
The Independent's headline sums up Poland's dramatic, seismic election result.
How 'The Independent' reported the collapse of Communism across the eastern bloc countries in 1989

Show all 10
13 JUNE 1989 THE BONN DECLARATION
The German Chancellor, Helmut Kohl, and the Soviet President, Mikhail Gorbachev, sign an agreement easing tensions between the two countries.
23 AUGUST 1989 'HUMAN CHAIN STANDS UP AGAINST THE SOVIET UNION'
Two million protesters form a 400-mile chain in Estonia, Latvia and Lithuania.
1 SEPTEMBER 1989 'EUROPE VOTES WITH ITS FEET'
East German refugees begin to mass in Hungary.
10 SEPTEMBER 1989 HUNGARY OPENS THE REFUGEE FLOODGATES
Thousands of East German refugees are allowed to cross from Hungary into Austria.
SEPTEMBER 20 1989 'CZECHS TRY TO STOP EAST GERMANS'
Border guards try to staunch the flow of East German refugees trying to escape via the Czech border into Hungary, and thence into the West.
21 SEPTEMBER 1989 'COMMUNISM STARTS TO CRACK...'
"The future of Communist East Germany is hanging in the balance following the flight of 13,000 citizens to a new life in the West," reported The Independent.
2 OCTOBER 1989 'GERMANY LETS 7,000 TAKE THE TRAIN WEST'
6-7 OCTOBER 1989 GORBACHEV IN EAST BERLIN
The Soviet President's visit is greeted by thousands of demonstrators chanting "Gorby! Gorby!".
16 OCTOBER 1989 '120,000 JOIN PROTEST MARCH THROUGH LEIPZIG'
18 OCTOBER 1989 'HONECKER FORCED OUT...'
Weight of protest makes the position of East Germany's hardline leader untenable.
23 OCTOBER 1989 '250,000 MARCH IN LEIPZIG'
6 NOVEMBER 1989 'BIGGEST MARCH YET IN LEIPZIG'
9 NOVEMBER 1989 BERLIN WALL OPENED
10 NOVEMBER 1989 BULGARIA REGIME FALLS
24 NOVEMBER 1989 CZECHOSLOVAKIA'S 'VELVET REVOLUTION'
17 DECEMBER 1989 REVOLT IN ROMANIA
25 DECEMBER 1989 DEATH OF CEAUSESCUS
Romanian tyrants Nicolae and Elena Ceausescu are executed on Christmas Day.
Join our new commenting forum
Join thought-provoking conversations, follow other Independent readers and see their replies