World warned: Prepare for more Ebola-like outbreaks
The world should prepare for more major outbreaks of diseases which can pass from animals to humans, a leading UN expert has warned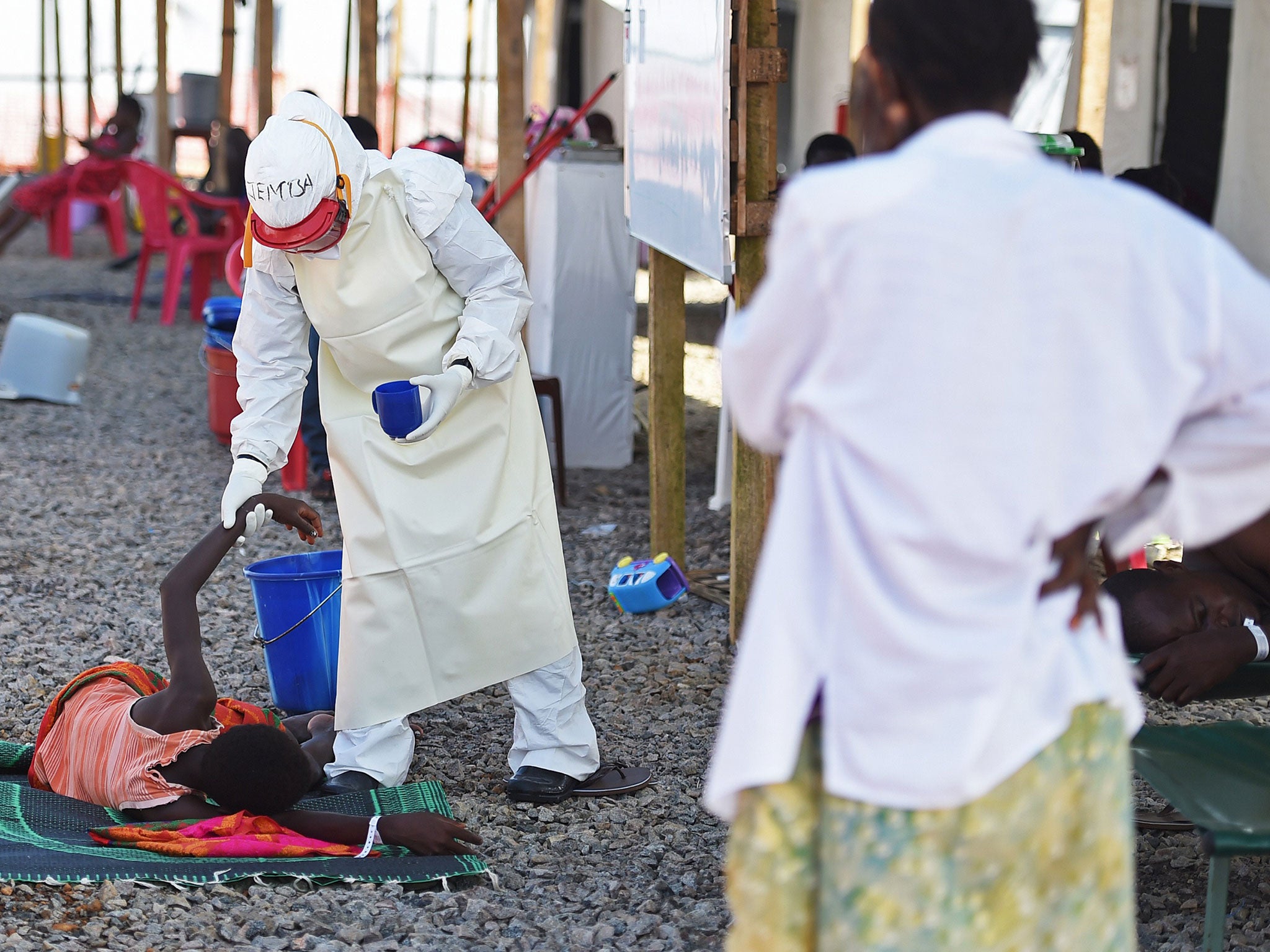 Outbreaks of deadly animal‑to-human viruses such as Ebola could become more likely due to climate change and human encroachment into untouched natural habitats, a leading United Nations expert has warned.
Dr David Nabarro, the UN Secretary-General's special envoy on Ebola, told The Independent the world should prepare for more major outbreaks of zoonotic diseases – those which can pass from animals to humans – which he said were a "local and global threat to humanity".
The Ebola outbreak in West Africa, which has claimed nearly 10,500 lives in little over a year, is believed to have originated in fruit bats – and Dr Nabarro believes it is not the only disease that could transfer and spread. "I've been dealing with influenzas and Sars and Mers, they are a tip of the iceberg," he said.
"There will be more: one, because people are moving around more; two, because the contact between humans and the wild is on the increase; and maybe because of climate change. The worry we always have is that there will be a really infectious and beastly bug that comes along." Some experts suspect that population pressure and deforestation in Sierra Leone, Liberia and Guinea, which has brought people into closer contact with the wild-animal hosts of numerous viruses – combined with changes to rainfall patterns that affected the numbers and behaviour of bats – may have led to the first transmission of Ebola in West Africa, a region that prior to last year never had an outbreak.
In pictures: The village where Ebola started
Show all 5
Dr Nabarro also said climate change was expanding the range of disease-carrying mosquitoes, posing threats to millions more people from infections like malaria and dengue fever. Severe acute respiratory syndrome (Sars), which provoked a global health panic in the 2000s, is a deadly flu-like illness caused by a virus thought to have originated from wild animals sold at food markets in China.
Middle East Respiratory Syndrome (Mers) is an emerging illness that has killed more than 350 people, most of them in the Middle East. It is thought to originate in bats, and to have been passed on to humans by camels.
However, the new focus of scientists' concerns are tropical regions where areas of high biodiversity are increasingly being encroached upon by growing human populations, or where mining companies, loggers and palm oil growers working in untouched habitats bring people into close contact with wildlife reservoirs of disease.
Dr Peter Daszak, president of the EcoHealth Alliance, a scientific organisation that researches environmental factors that raise disease threats in humans, said the loss of agricultural land as a result of climate change, which drives migration into previously underpopulated areas, also brings humans and livestock into contact with new wildlife, and potentially new viruses.
"Most new viruses originate in wildlife so when we do stuff in the environment that increases our contact with wildlife, that's where you get new diseases," Dr Daszak said. "We're going to see more of these. We estimate there will be five new emerging diseases every year and this adds to the ones already out there."
Dr Nabarro, a leading expert on public health and international development, who was appointed last August to spearhead the UN's response to the Ebola outbreak, added that the world needed to put in place a "systematic" prevention and response plan for new zoonotic disease outbreaks.
"It is surprising to me, given the nature of the threat, that the investment is so low, compared with investment in, for example, potential terrorist threats where the investment is generally higher," he said.
"What we're finding, is with population growth, with productivity of land reducing, with floods, people are encroaching on forest land more and more… The biggest cause of destruction of natural habitats is loss of productivity and damage to existing soil – that's very much climate related," he said. "The linkages [with climate change] are not nice neat and linear and may be more to do with things like habitat change and change in lifestyle patterns."
Climate change is also leading to the spread of the insect carriers of pathogens like malaria, which is now affecting people living at higher altitudes in Kenya because of warming temperatures, Dr Nabarro said. In Brazil, there are concerns that outbreaks of dengue fever – a potentially deadly viral infection – may also be driven by extreme weather events affecting the breeding patterns of mosquitoes that lay their eggs in standing water.
"The dengue problem in Brazil right now is happening because of a drought followed by massive torrential rains," Dr Nabarro said.
"They are asking themselves: 'Is this a climate change thing? Is this the first of a pattern of drought and flood in Brazil?' If we get big changes in climate patterns it's things like dengue in particular, mosquito-borne, that will change their geographical distribution and also the mortality they bring with them."
Dr Nabarro, who returned last week from a visit to the front line of the fight against Ebola in Sierra Leone and Guinea, said that the outbreak was far from over.
He said that while the international response had been "amazing", it had come late, and that aid funding for Guinea, the country that documented the first case of the outbreak over a year ago, had been lower than for neighbouring Liberia and Sierra Leone, where the epidemic was most severe.
Now, with cases dropping in Liberia and Sierra Leone, numbers remain worryingly high in some parts of western Guinea; 57 of the 82 new Ebola cases confirmed by the World Health Organisation last week were in Guinea.
"On all indicators the situation in Guinea is a little bit more concerning," Dr Nabarro added. "People would say the international response for Guinea was proportionate given that it had far fewer cases, but it did get much less money. If you look at in terms of population, in terms of land mass, it wasn't enough."
Join our commenting forum
Join thought-provoking conversations, follow other Independent readers and see their replies