Rishi Sunak 'fired up' to deliver shock general election victory
The Conservative party are currently trailing behind Keir Starmer's Labour party in the opinion polls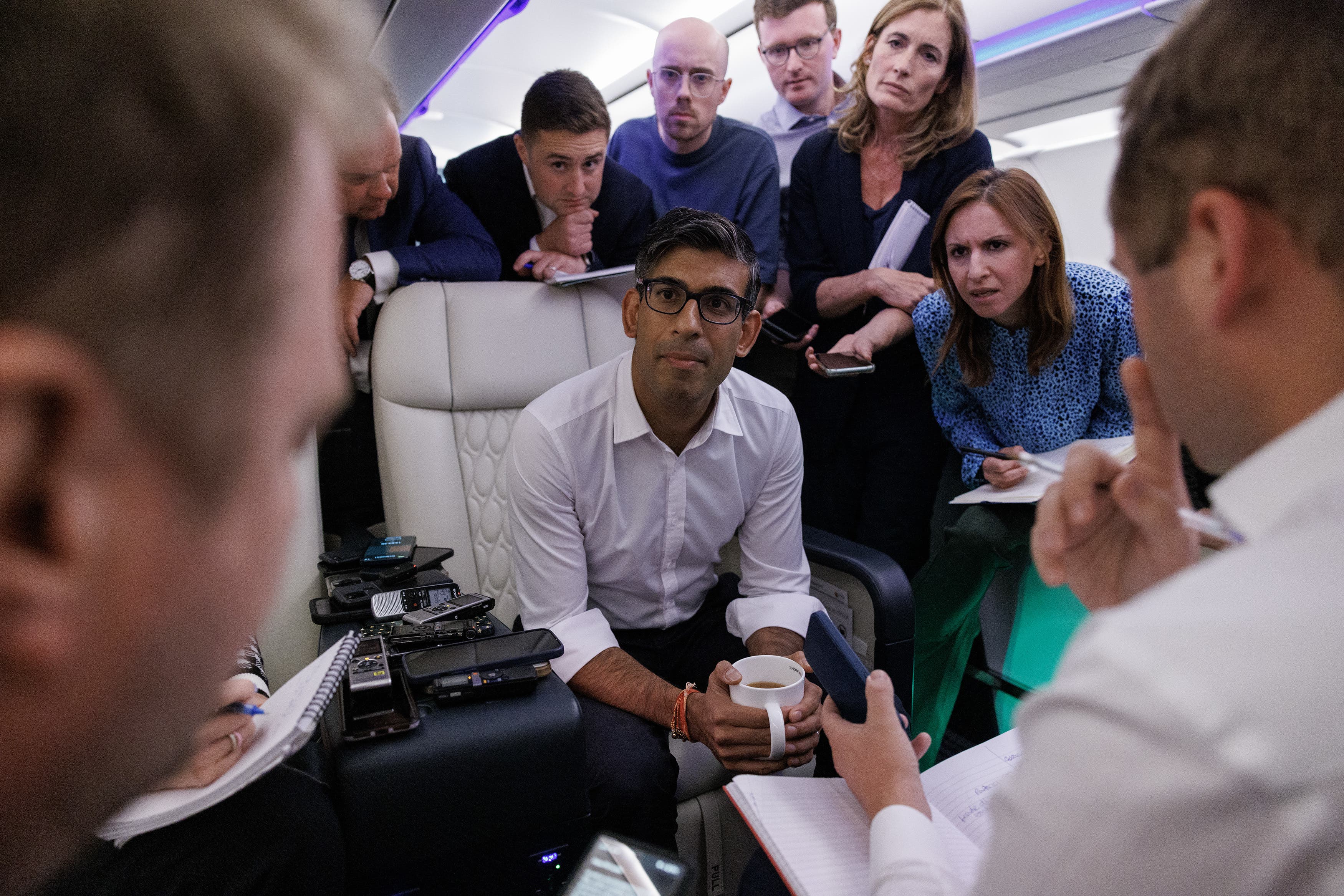 Prime minister Rishi Sunak has said he is "hungry to win" the next general election and said his recently reshuffled No 10 operation is "fired up" to deliver for Britain.
Speaking to reporters on his way to the G20 summit in India, Mr Sunak said that he was "entirely confident" he could lay the groundwork for a shock general election result.
Mr Sunak's Conservative Party currently trail heavily to Sir Keir Starmer's Labour Party in opinion polls, with some surveys putting them as much as 20 points behind ahead of an election that could be less than a year away.
The party was hammered in recent by-elections by Labour and the Liberal Democrats in Selby and Ainsty and Somerton and Frome, with tough tests await in by-elections in Mid Bedfordshire and Tamworth following the resignations of Nadine Dorries and Chris Pincher respectively.
But the country's leader made it clear that he believed that his party could reverse Labour's poll lead, pointing to the way the Tories pulled off a surprise victory in the Uxbridge and South Ruislip by-election in July.
"In that by-election, when voters were confronted with an actual choice between us and the Labour Party on an issue of substance, what did they do? They voted for us.
"That is what a general election looks like. It is an actual choice between two alternatives on a set of issues of substance. That is why I feel confident. As we won in Uxbridge, we will be able to make great progress."
He said recent falls in the rate of inflation and a drop in energy prices showed his "plan is working".
Mr Sunak also pointed to a "massive upgrade" to UK growth estimates that was announced last week, suggesting it "completely demolished in one swoop the entire economic narrative of the past two years".
The Office for National Statistics (ONS) revised its estimate for UK gross domestic product (GDP) after getting access to new data, saying it indicated the country's economy had already returned to its pre-Covid levels by the end of 2021.
The revision means the UK's economy is now believed to have grown by 8.5 per cent during 2021, compared to the previous estimate of 7.6 per cent, the ONS said.
Mr Sunak said: "It turns out we were the fastest growing European economy throughout Covid, we recovered the quickest.
"So that should give people confidence that all the things we have done and are doing are right and are going to make a big difference to them."
He told reporters that he had brought new people into No 10 who "believe that we will win" when voters next go to the polls to elect a Westminster government.
Last week, it was also announced UK Music chief executive Jamie Njoku-Goodwin was stepping down from his role after three years to become the PM's new director of strategy.
Mr Njoku-Goodwin has been at the helm of the trade body since September 2020 and had previously held a number of roles within government, including acting as an adviser to former minister Matt Hancock and at the Department for Digital, Culture, Media and Sport.
The prime minister's press secretary, Nerissa Chesterfield, was also promoted to director of communication in Downing Street following the departure of former broadcast journalist Amber de Botton.
Ahead of parliament's return on Monday, Mr Sunak carried out a mini-reshuffle after Ben Wallace stood down as defence secretary, using it as an opportunity to move Grant Shapps into the vacated role and promote close ally Claire Coutinho to the cabinet as energy security secretary.
The prime iminister said: "I want to put our country on a trajectory that they can see their lives improving and I'm confident we can deliver that.
"We've got plenty of time between now and the next election. I'm not complacent, there is lots of work to do but I'm entirely confident we can deliver for people.
"And I can tell you – certainly in Downing Street, we are fired up. As you can see we've brought some new people in – these are very high quality people that are joining the team because they believe that we will win.
"They are hungry to win, I am hungry to win, and they are fired up to deliver it."
Asked whether he could commit to serving a full second term if he does beat Sir Keir's party, Mr Sunak, who has been prime minister for nearly 11 months, replied: "I am focused on delivering for the people now and winning the next election.
"That will be my first full term. I will show the British people what I am capable of in the time I have now before the election.
"I will be saying to them, 'give me a full term and then let me show you what I can deliver for you'."
However, he refused to commit to tax cuts as he stressed that the focus remained on reducing inflation, having set the target of halving the rate by the end of the year.
He said: "I am a low tax Conservative. The biggest tax cut I can deliver for the British people is to reduce inflation. Inflation is a tax.
"That is what Margaret Thatcher and Nigel Lawson said – they were right to say it."
Join our commenting forum
Join thought-provoking conversations, follow other Independent readers and see their replies