Born survivor: The ancient Chinese tree that survived the dinosaurs and the Ice Age
The gingko became a ubiquitous presence in modern life – whether in sculpture form or as a smart drug.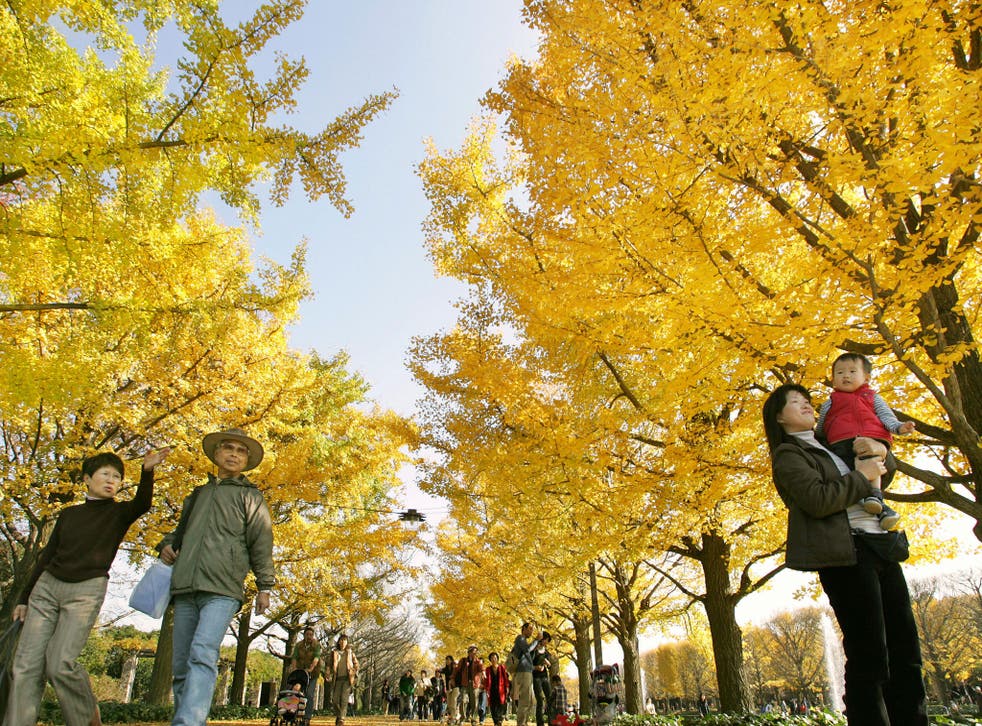 The Chinese are taking over. It's a fact. But today I'm not thinking of container ships from superstructured giant ports with oversized cargos of desirable goods. Actually, I'm standing in the Royal Botanic Gardens, Kew, looking at a tree.
This rather unshowy ginkgo, tucked in behind Sir William Chambers' grand Orangery, is one of just five trees left from Kew's first ever planting, dating back to 1762. A vivid lime-green in spring with new leaves, and a bright, friendly yellow in autumn, the ginkgo has calmly seen Kew's seasons change for the past 250 years. But despite its modest appearance, this single tree lays good claim to being one of the most significant in Britain – it made it on to the Tree Council's 2002 list of the 50 Great British Trees, one of the few foreigners to stand alongside Newton's apple, Charles II's oak and Brighton Pavilion's elm.
Yet 250 years is a mere trifle in the eye of the ginkgo. This is a species that saw the dinosaurs come and go. Having been a global success for millions of years, the ginkgo shrank during the Ice Age to a tiny population confined to a mountainous bit of southern China. So the tale's final twist is a good one: the ginkgo's bouncing back in our own era, leaving its Chinese retreat and becoming one of the world's most planted street trees.
And I now know all of this because Peter Crane, the former head of Kew, has just written a book that details the swings and roundabouts of the ginkgo's career – one with more successful comebacks than the Thin White Duke himself. "The ginkgo is a good-news story," as Crane puts it, "a tree that people saved."
Crane packs in an amazing number of facts for curious tree-huggers such as myself. It turns out that much of the early ginkgo story can be traced right here to the UK. Forget the big bone badlands of T Rex country – Crane takes in essential British stops for plant fossil-hunters such as the Rhynie chert in Scotland, the Yorkshire Jurassic and the London Clay fossils of the Isle of Sheppey. And in every place, he's looking for the ginkgo's fine, distinctive leaf, with its elegant fan shape and tiny radiating veins.
The tale is one of dominance and then retreat. But it's also a story of resurgence, as 19th-century plant collectors alighted on this elegant tree and quickly acted to bring back seeds for Western gardeners. And gardeners certainly took to the ginkgo. The tree has no close living relatives any more – it's a lonely soul in that respect – but these days there are ginkgos in the world's greatest cities, from Seoul to Manhattan. (It turns out that evolving in the sulphurous climate of dinosaur times gives a tree a distinct survival advantage when faced with nonstop traffic pollution.)
Yet the world's most revered ginkgos remain temple trees in Japan, China and Korea, where they are honoured for their elegant leaves and long life. And the tree has left its imprint everywhere: Crane includes the lovely detail that sumo wrestlers' hair is tied in a top knot that takes the name "ginkgo".
We also shouldn't forget that many these days know it best as a drug for battling what is politely termed "cerebral insufficiency". (Especially in Germany and France, where ginkgo-based drugs account for an astonishing 1.5 per cent of those countries' total prescription sales.) From Frank Lloyd Wright to Gilbert and George, Tsurugaoka to the Tower of London, Hiroshima to 9/11 memorials, there have been ginkgos.
And so here I am, beneath this historic tree, pondering. Crane expresses great affection for this particular example of a ginkgo – it was just outside his back gate when he was Kew's director, resident in the fine Georgian house provided for the incumbent.
These days, he's Professor of Forestry and Environmental Studies at Yale, and a remarkably poetic campaigner on biodiversity issues, happily quoting Charles Darwin and Joni Mitchell as the occasion demands. Crane shows us the world in very long view, with climate shifts and ice movements well before human beings existed, but he also places moral responsibility for the world now firmly on our shoulders.
"Letting species go extinct when we have the power to intervene is like letting the library burn just as we are learning how to read the books," he says. And if you ever needed to feel inspired about saving the trees, here's your bible: dinosaurs, shipwrecks, plant collectors, supercargos and smart drugs, the ginkgo has it all.
'Ginkgo: The Tree that Time Forgot' by Peter Crane is published by Yale University Press, priced £25
Join our new commenting forum
Join thought-provoking conversations, follow other Independent readers and see their replies