How to grow vegetables in the smallest of plots
Growing veg and other edibles might seem like an impossible dream for those without the luxury of a garden or allotment. But with a little imagination, one can make even the tightest of spaces pay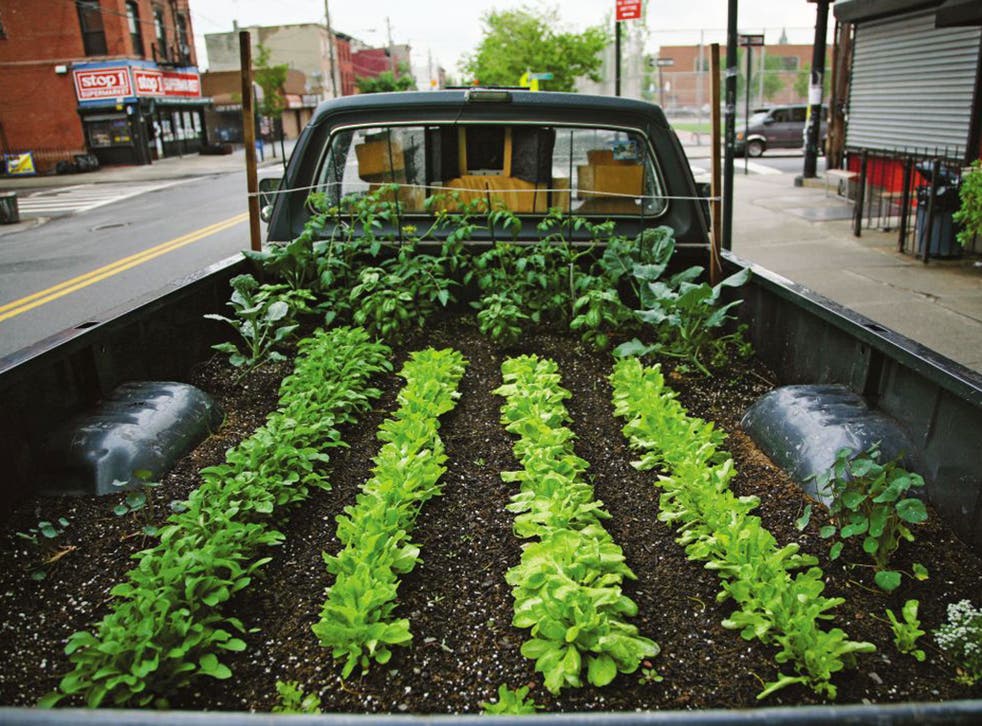 What can you really do with a balcony garden? People claim you can grow edibles up there, lugging bags of compost back from Homebase on a bicycle and then up three flights of stairs, but surely that's exaggeration? And what about those probable liars who reckon they can make a whole salad from things they're growing in salvaged cooking-oil tins perched on their doorsteps?
I am as inclined as the next massive cynic to be sceptical about these claims, but garden writer and allotment expert Lia Leendertz takes the opposite view. Last year she made it her mission to track down people who grow veg in what I consider ridiculously cramped conditions, yet who produce pretty edible crops in most cases. "So many people don't have much space to grow in, but the small spaces they do have can be really productive. I wanted to show it could be done."
Leendertz's new book is a collaboration with photographer and gardener Mark Diacono, who captured both crops and croppers with warmth and humour. From a floating orchard on a boat to sprouts in windowsill jars and Dawn Isaac's much-too-good-to-eat hanging lettuce ball, these are gardeners tackling space issues with wit and enthusiasm.
Leendertz has good answers to all my concerns about the trickiness of raising a crop in such confined spaces: "In a way, it's a lot easier than doing it on a big scale. If you have your growing space close at hand, you can check on it every day. If you have your pot on a step you walk past every morning, you will notice when it needs water, and when it's ripe, you will harvest at exactly the right moment. It removes a whole layer of the work: the 'I've got to get down to the allotment' bit."
But she's also clear on the difficulties of growing without a garden. "The most successful ones," she says, tactfully, "had good, straightforward watering systems. And on a timer, so it's all done regularly, little and often, just as the plants need it."
Leendertz has practical experience of growing on her own veranda at home. "We have a waterbutt," she explains, and the warmth near the house allows some exotic pot crops: "Nectarines and peaches. Each tree gives between six and 10 fruits."
So now I feel confident enough to bring up the dreaded topic: molluscs. She laughs, and tells me about one of the growers in her book. "Wendy's roof garden is 20 metres up. I said: 'Well at least there's no slug problem up here.' And she said: 'Don't be so sure!' Twenty metres up!"
Leendertz's gardeners are in autumn crop mode at the moment, but it's not too late in the season to start off some cold-weather salads, such as winter mustards, rocket and lamb's lettuce. "As it's now getting a bit cold to sow direct, look in your local garden centre for plants that have already got going. Or order from Delfland," she suggests – her favourite organic mail-order supplier, currently offering a bumper pack of 12 winter salad plants for £8.25 plus postage. One of the sweetest of the try-this-at-home projects in her book features these very salad leaves, grown in an old colander.
Many of the growers Leendertz talked to are focused on one particular aspect of growing: flavour. "Only a few people were doing the big, bulky, blander crops; there were often lots of big flavours crammed into one little space." The steps of Mark Diacono's writing hut offer the perfect demonstration, with a "tea garden" incorporating all kinds of non-caffeine options, from lemon verbena to his choice Tasmanian mountain mint.
So, I ask Leendertz, any suggestions for those horrible slugs? "Copper tape," she says. "Nematodes don't really work in container gardens, as the soil doesn't stay damp enough. But copper tape around the tops of the pots does a great job."
'My Tiny Veg Plot: Grow Your Own in Surprisingly Small Spaces' is published by Pavilion at £14.99
Register for free to continue reading
Registration is a free and easy way to support our truly independent journalism
By registering, you will also enjoy limited access to Premium articles, exclusive newsletters, commenting, and virtual events with our leading journalists
Already have an account? sign in
Register for free to continue reading
Registration is a free and easy way to support our truly independent journalism
By registering, you will also enjoy limited access to Premium articles, exclusive newsletters, commenting, and virtual events with our leading journalists
Already have an account? sign in
Join our new commenting forum
Join thought-provoking conversations, follow other Independent readers and see their replies