Plants as Christmas presents: Why keep poinsettias going when there are narcissi, cyclamen or hyacinths?
It is the flowering plant everyone buys at Christmas but there are far better options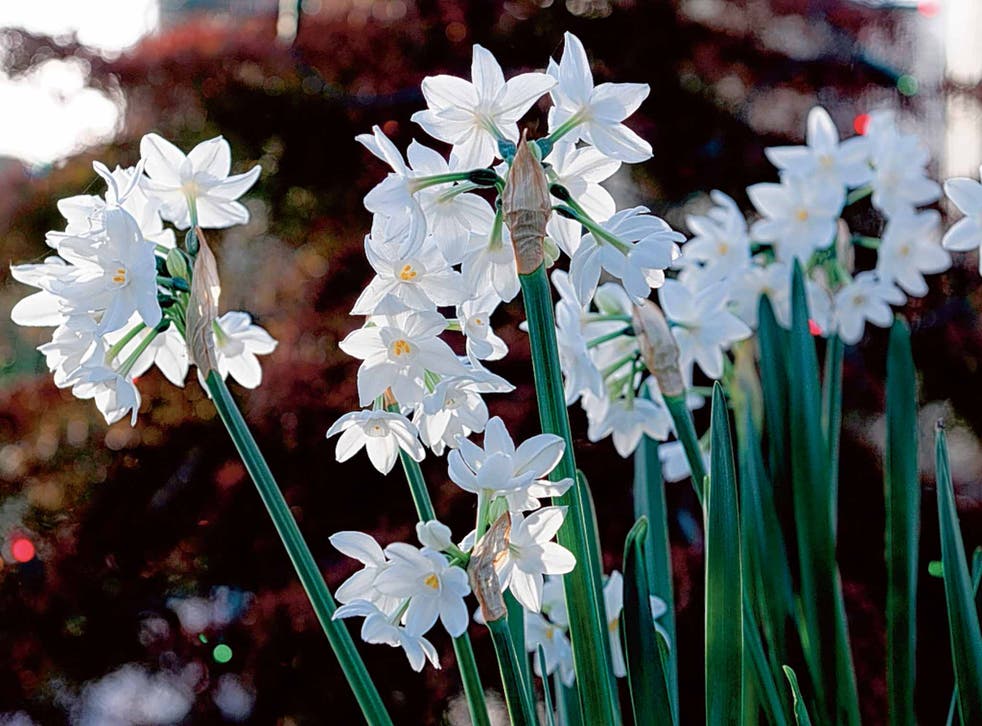 What plants would you choose to give (or would most like to receive) as presents at Christmas? Often the two things converge. I'd find it hard to buy a plant that I really didn't warm to. With presents for children of course, you are in different territory. I remember gritting my teeth and taking a train to London one December to buy a doll from Hamley's that wet its nappy and made a noise like a sheep. The manufacturers interpreted the bleat as "Mummy". This was before the days of the internet. I hated that doll, but it was all our eldest daughter dreamed of and so it was worth the journey.
And there are exceptions to the plant rule too. Some friends have conservatories, for instance, kept frost free over winter. So I might think of giving a plumbago, if I knew they had room for it to spread over a wall. It's a fabulous climber with flowers of a clear sky blue, but it can't take frost. Nevertheless I wouldn't want to be given it, because we have nowhere to plant it. Our greenhouse is frost free through winter, but there's only one wall and it's taken up with a nectarine.
I'd never give a poinsettia though. I don't see the point of poinsettias, as they are presented in this country. They look great in the Caribbean where they grow lankily up into hedges and are slower to drop their "leaves" (actually bracts). The colour is good there, under that bright clear light where the poinsettias are surrounded by excellent friends such as gingers and the wildly dramatic foliage of dasheen. They flood into the UK at Christmas solely on the basis that they are red and can be grown relatively cheaply by computers in temperature-controlled greenhouses. But the colour is harsh, and indoors they start dropping their red bracts too soon. By nature they are shrubs, and a dead-looking baby shrub is what you will be looking at all too soon in the New Year.
Plenty of advice is handed out about keeping poinsettias going for another Christmas performance. But why would you want to? When you could be looking at narcissi, hyacinths, orchids, azaleas, baby cyclamen, magnificent blowsy hippeastrums, why would you waste windowsill space on a poinsettia?
My best present, to give or to receive, would be sweet-smelling paperwhite narcissus, already in bud, just about to burst into flower. It's too late now to plant them for this Christmas. But it's worth remembering for the next one, because at this time of year there's nothing lovelier to have inside, a reminder of all the delights to come this spring.
Plant them eight weeks before Christmas, when garden centres will certainly have the bulbs for sale. Choose a deepish container, water it after planting and stand it anywhere frost-free. These bulbs are not like hyacinths; they don't have to be kept in the dark. Prop up the stems with twiggy lengths of dogwood or hazel. Hazel is particularly good in this context, as the new catkins are already in growth. You can cheat though by buying the double-flowered narcissus "Bridal Crown" in bud and currently for sale at £1.99 for a pot of four bulbs.
To be really organised in the bulb department, you have to start thinking about Christmas in September. But thanks to clever Dutch growers, as well as narcissus, you can get hold of hyacinths, already sprouting. Plant them up in a bowl, or set each bulb on top of a custom-made hyacinth glass (£1.99 each). And don't forget fat hippeastrums, which used to be called amaryllis. These are the perfect indoor plants to see you through the dreary weeks ahead before the first snowdrops show. Choose orchid-like "Papilio"or lime-green "Lemon and Lime" and plant them either in tall, cylindrical glass containers (for a minimalist interior) or simply in traditional clay pots.
Perhaps the greatest bargain in the world are miniature cyclamen, which you can also buy for only £1.99. They are enchanting and flower much more freely than the big cyclamen, also around at this time of year. Buy several of the small cyclamen and plant them up in a shallow wicker basket, lined with plastic.
Choose plants all of the same colour (white, pink or deepest purple). Tip them out of their individual pots, arrange them in whatever container you choose and fill the spaces in between with multipurpose compost. I generally top off containers with 6mm gravel. It gives a good finish and ensures water drains away fast from the crown of each plant. Or use moss, if you have it growing in a shady place in the garden. It looks lovely, lightly packed between the marbled leaves of the cyclamen. Have a good Christmas.
Register for free to continue reading
Registration is a free and easy way to support our truly independent journalism
By registering, you will also enjoy limited access to Premium articles, exclusive newsletters, commenting, and virtual events with our leading journalists
Already have an account? sign in
Register for free to continue reading
Registration is a free and easy way to support our truly independent journalism
By registering, you will also enjoy limited access to Premium articles, exclusive newsletters, commenting, and virtual events with our leading journalists
Already have an account? sign in
Join our new commenting forum
Join thought-provoking conversations, follow other Independent readers and see their replies