The clove club: If you're planning on growing your own garlic and shallots this year, now's the time to get planting
Anna Pavord
Saturday 18 January 2014 01:00 Comments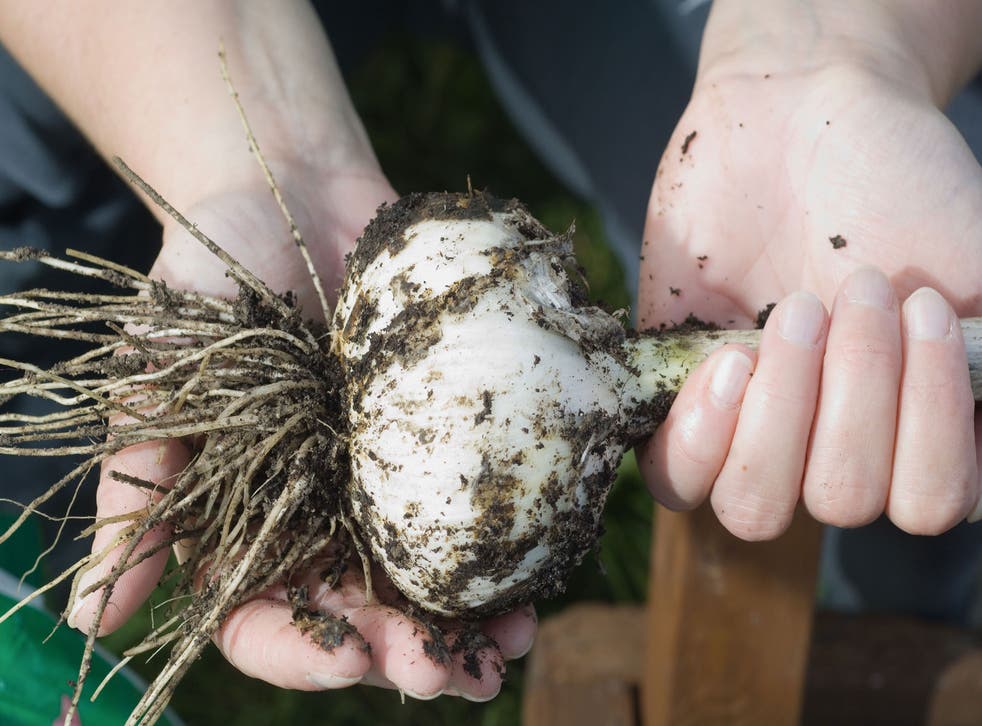 In the kitchen, it's the best smell of all: garlic roasting with parsnips in the oven, garlic swishing around in a frying pan with strips of chicken and ginger, garlic quietly oozing its way through a curry of cauliflower and chick peas. There are reasons not to grow your own: it's easy to get hold of, cheap to buy, and the flavour of home-grown does not differ greatly from the stuff in the shops.
And yet, the strings of garlic hanging in our back store, along with the ropes of onions and shallots, always gave me a pleasurable sense of being prepared for the worst. Any of those three will wake up the kind of meal you are sometimes forced to concoct from nothing. Garlic more than the others.
In our garden, it was always the first crop of the year to be planted because the critical thing with garlic is to get it into the ground early enough for it to mature by the longest day. Some growers favour autumn planting; the advantage is that your cloves will root before the year's end and are then in the best possible state to surge into growth as the weather warms up in spring. I tried that a couple of times, but hideous things happen during winter to crops that are left in the ground. Rust, their greatest enemy, has more opportunity to invade and in a wet winter the cloves may rot. Or be scattered by cats defecating on your carefully prepared patch.
So plant now, to be sure that your cloves will get the month of low temperatures (below 10C) necessary to kickstart growth above ground. The leaves are like a leek's but much thinner. The underground bulb starts to swell only when the leaves stop growing, and this part of the cycle takes at least six weeks. All growth stops by the end of June. By that stage your garlic bulbs will be as big as they are going to get and nothing you can do will persuade them to continue growing.
Clear and rake the ground smooth before you plant, choosing as sunny and free-draining a spot as you can give them. Set individual cloves 15cm apart in rows 30cm apart, burying them pointed end up so the tufty bit at the top is only just under the surface of the soil.
There are three different kinds of garlic you can buy. Elephant garlic (Allium ampeloprasum) produces huge cloves with a milder flavour than other kinds. Roast it whole and squidge out the creamy middle into baked potatoes, with cream cheese puddled in as well. It's a different species from ordinary garlic, closer in a botanical sense, to a leek. Marshalls sell a pack of 12 cloves for £8.95.
True garlic (Allium sativum) can be sorted into hard-neck and soft-neck kinds. Hard-neck varieties, such as the beautiful pink 'Lautrec Wight' (Marshalls, £4.95 for two bulbs), and mild-flavoured 'Germidour' (Robinson's, £7.50 for five bulbs), have bigger but fewer cloves than soft-neck kinds and won't keep beyond Christmas. Soft-neck kinds such as strongly flavoured 'Vigour' (Robinson's, £7.50 for five bulbs), 'Thermidrome' (Robinson's, £7.50 for five bulbs) and 'Solent Wight' (Marshalls, £4.95 for two bulbs) produce lots of smallish cloves and in cool conditions will keep until spring. 'Solent Wight' has an Award of Garden Merit from the RHS and crops well, even in Scotland.
The Wight tag marks the varieties developed by The Garlic Farm on the Isle of Wight where they've grown > garlic for more than 50 years. Owner, Colin Boswell, spent weeks on horseback in the mountains of Kazakhstan and Kyrgystan searching for the beginnings of all garlics, and for garlic addicts, writes a regular blog (find it via thegarlicfarm.co.uk). Each year around the middle of August, when the crop has been lifted, the farm hosts a garlic festival, which, if you are not equally addicted, is probably not the best time to take the ferry over the Solent.
Garlic has long been thought of as a magic plant – proof against vampires and things that go bump in the night. Great claims are also made for its health-giving properties. Health food shops have shelves full of it, stuffed into pills. It's said to ward off colds, thin the blood, defend against malevolent bacteria, lift the spirits (if only it were that easy), lower cholesterol, generally clean and detoxify the system. Well, whatever. It'll be oca next week. Or perhaps back to goji berries which have been rather quiet recently. And where are we on chocolate now? Our eldest daughter is a great barometer for these things. She seems to think chocolate is now GO, but only the kind flavoured with salt.
Garlic will be ready to lift when the oldest leaves start to turn yellow. That's usually around July. You need to let the bulbs dry off outside before plaiting them into the strings that used to give me such pleasure in the store. If we get a wet summer, spread out the garlic in a single layer inside a greenhouse or cold frame, and leave them for at least two weeks. For green garlic, always milder than dried bulbs, just dig a head straight from the ground. Elephant garlic is particularly good used this way.
Shallots can also be planted towards the end of this month, or in February. Each one you stuff in the ground, will magically produce a clump. I always thought them a bomb-proof crop. Push in the shallots (called sets) about 20cm apart in rows 30cm apart. They will be ready to pull some time between July and September when the leaves begin to yellow. Robinson's have 'Hative de Niort' (£15 for 15 small sets), a favourite with those who grow to win prizes, 'Red Sun' (10 sets for £5.50) and the banana-shaped 'Jermor' (£7.50 for 250g).
I like them best cooked Mark Diacono-style: pushed around in butter with sprigs of rosemary, then gently braised with a touch of sugar, a glass of red wine and a splash of balsamic vinegar. When the liquid has reduced, they are ready. Plant lots. If you eat them like this, you'll need them.
Garlic and shallots are available from Marshalls at marshalls-seeds.co.uk (0844 557 6700) and Robinson's at mammothonion.co.uk (01524 791210)
Register for free to continue reading
Registration is a free and easy way to support our truly independent journalism
By registering, you will also enjoy limited access to Premium articles, exclusive newsletters, commenting, and virtual events with our leading journalists
Already have an account? sign in
Join our new commenting forum
Join thought-provoking conversations, follow other Independent readers and see their replies