You're my best budd: Why I love my 'butterfly bush'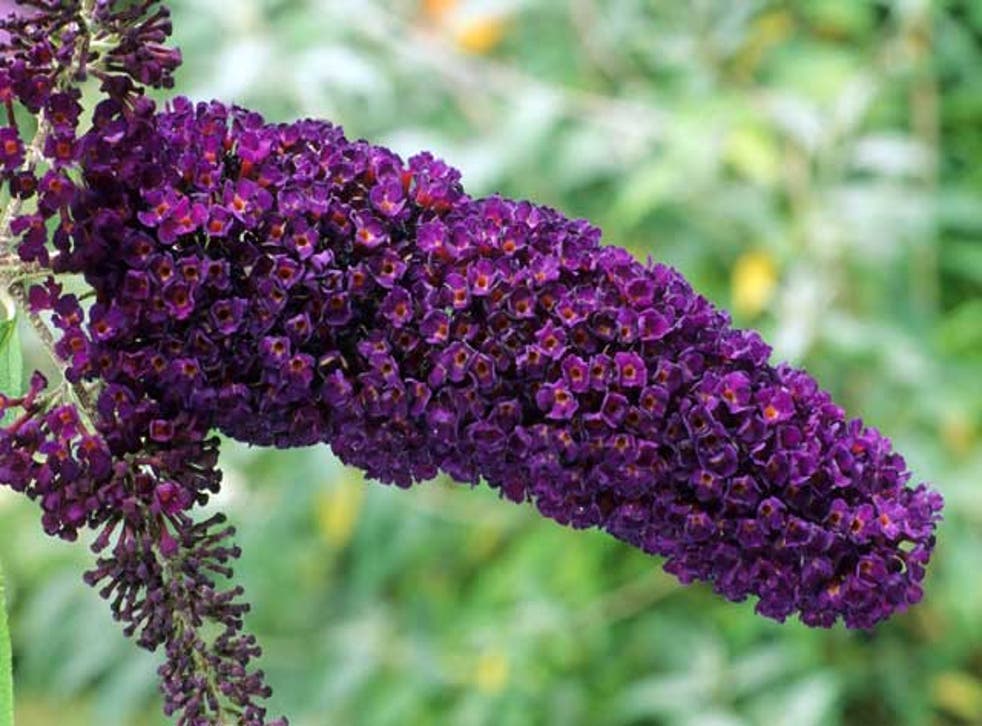 Buddleia is almost always accidental. The so-called "butterfly bush" is one of those plants that successfully seeds itself all along every London railway line, so you can't fail to spot its purple spikes this time of year if you travel overground in the capital.
Even if you eschew public transport, it's pretty much bound to be growing in the sunniest corner of any expensive car park, too. (Or, when you get home, to be found sprouting from your roof. "What's that one, then?" asked my friend Sylvia, after I'd identified the tiny, stunted buddleia that had somehow taken up residence in her chimney stack. This bonus mystery plant was growing extreme-sports-style, vertically out from a cracked drainpipe. "Also a buddleia," I replied.)
Due to buddleias' Cirque de Soleil-like abilities, getting in high-up places requiring handymen with ladders for removal, it's often an unpopular plant. OK, that's not the only reason. It can also grow 5ft in a season, easily, which means that if your neighbour has one but neglects to cut it back, you can end the summer unable to see out of your own front window. But it's also a great plant, and this shouldn't be ignored just because almost every buddleia in London is an unwanted self-seeding in an average shade of purple. Buddleias have so much more to offer, I find myself whining a little too often.
For once, the Royal Horticultural Society actually agrees with me: it's just finished a buddleia trial at Wisley, its show garden just off the A3 in Surrey. A small field was planted with 125 different kinds of buddleia and then the general public wandered around to pick their favourites. Well, actually, a committee picked the best ones, but the RHS allowed a public vote too, which revealed a single winner during both years of voting: "Miss Ruby".
Unlike the common-or-garden variety, "Miss Ruby" is a deep rosy purply-pink, and is absolutely covered in flowers all summer holidays long, which explains its ranking in the poll. However it's an American variety and we're still waiting for a British company to license it for sale (boo). Thankfully, other favourites are easier to find (see box, right).
You do need to treat them right: they're not too fussy about soil, but prefer a well-drained spot (think of that chimney pot). Pruning is very important: if it didn't look garish, I'd put "very" in capital letters. Cut back all the stems to a height somewhere around your mid-thigh, to keep a compact shape and ensure better blooms (preferably in April, so the bushes peak at butterfly time). And finally, even experts with big gardens think carefully about where to put a buddleia. John Brookes at Denmans in West Sussex seemed to me to have the right idea last time I visited: big, tightly grown bushes of vivid buddleia formed the backdrops for dramatic August displays of dahlias. Delicious, and totally on purpose. 1
Three to grow
1. 'Black knight'
A nice older variety, with an RHS Award of Garden Merit for its long flowers in a deep, velvety purple. Will grow massive, though, so needs serious pruning. £5.50, thelavenderg.co.uk
2. 'Flower power'
A gaudy kaleidoscope of 1970s purple and orange. You'll either love it or find it atrocious. £9.99, delivered from September, thompson-morgan.com
3. 'Pink Delight'
This is known as a "smaller" buddleia but will still grow 3m high if you don't get on the case. Lovely silvery leaves set off long pink flowers which both look great underplanted with pale-blue caryopteris. £8.99, crocus.co.uk
Join our new commenting forum
Join thought-provoking conversations, follow other Independent readers and see their replies