Feeling nostalgic? Take a trip down memory lane with your home décor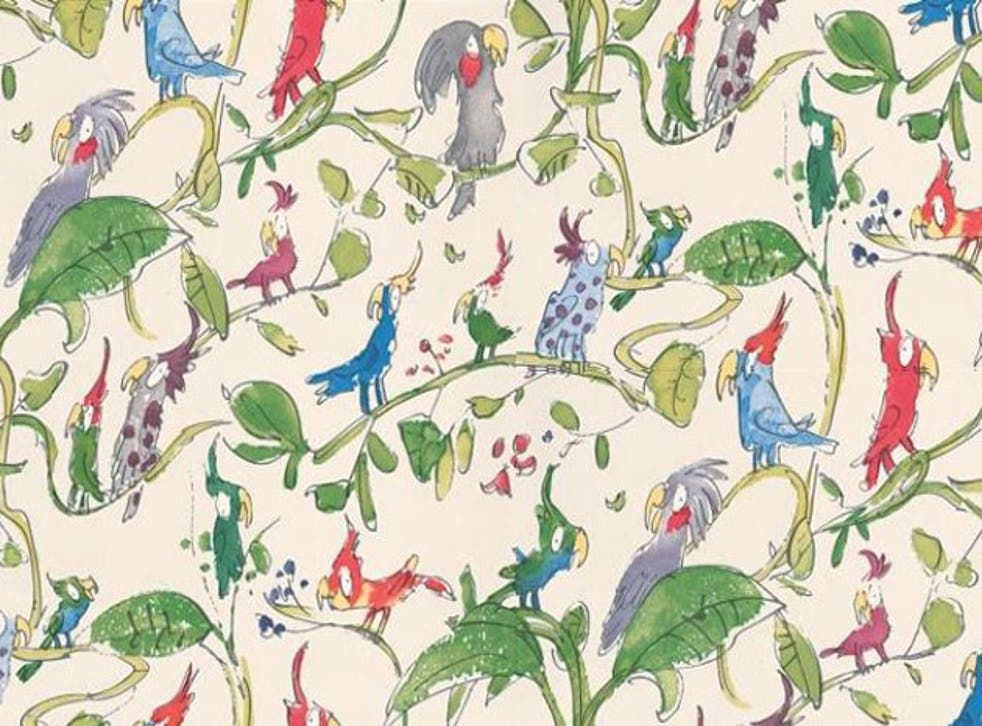 When Osborne and Little launched its Zagazoo collection of wallpaper and fabrics this summer, a warm, fuzzy feeling came over me. Designed by Quentin Blake, the collection features all manner of his trademark cheeky characters: mischievous-looking cockatoos perched on jungle branches, wiry children flying about on skateboards, and perky farmyard animals that take me straight back to childhood and my first forays into the rich and magical world of Roald Dahl's books.
Search for the perfect furniture with The Independent house and home database, powered by mydeco. 
Nostalgia is a powerful trend that has come about in the world of interiors in recent years. Not to be mixed up with 'retro' and the revival of 50s or 60s-style fashions, nostalgia is more about a 'feeling' than a 'look'. Nostalgic designs, in other words, hold meaning to the person who owns them, helping to conjure up memories of one's own past - be those from a much-loved book, a family holiday, mother's wallpaper or granny's tassled lampshades.
Last year, the consumer trends firm, trendwatching.com identified nostalgia as one of the key trends of 2010, noting: "Storybook sentiment has got hold of consumers looking to escape their stresses and find a temporary refuge from adult responsibilities. Nostalgia marketing holds great appeal in times of uncertainty as it allows consumers to reminisce, bringing them back to simpler, more carefree times."
In a post-recession world, looking back and emulating the values of a previous time provides an escape from current pressures. In today's world, cheaply-made furniture with no history and no longevity is symptomatic of a consumer culture that went wrong. Vintage buys in a market, family hand-me-downs, or things which have been personalised by hand with love suddenly seem so much more appealing because they tell a story, and this has a value which cannot be measured.
Recently, while rifling through the attic at my parents' home, I discovered a beautiful red screen, painstakingly decoupaged, it emerged, by my great-grandmother. The screen shows Hollywood stars such as Grace Kelly and Audrey Hepburn interspersed with magazine illustrations of London and fresh-faced cut-outs of a young Prince Philip and Queen Elizabeth II. On one panel, Father Christmas, snowmen and 30s children opening presents under a tree are pasted on, implying that this section was done at a Christmas period over 70 years ago. The screen is the prized possession of my flat because it is so striking and expertly done, but also because it is so highly individual to me and a great-grandmother I never met.
The nostalgic look is "the antithesis of mass market and intensely personal," says Marianne Shillingford, Design Director of Dulux Design Service. "A set of authentic old cake tins and mixing bowls replace slick designer stainless steel and glass functionality. Meanwhile, patchwork quilts and dress print curtains from the family home or your first flat combined with home-made soft furnishings and reclaimed re-painted furniture help you to create a room that is unique and heartfelt."
The nostalgia trend is not just evident in our interiors. Across the country this summer, bookings for campsites, holiday parks, self-catering cottages and boating breaks were up on years before while popular beach resorts such as Blackpool, Brighton and Torquay were busier than ever.
Meanwhile, the joys of retro sweets such as Space Raders or Sherbert Fountains are being rediscovered with the help of sites such as Bah Humbugs or A Quarter of Old-Fashioned Sweets. Fashion has also succumbed to the nostalgic mood with Autumn/Winter 2010 collections characterised by quirky prints, soft palettes and oversized wooly jumpers reminiscent a post-war sartorial style.
Nostalgia might be defined as escapism in its purest form, but, if it reminds us of what really has value in life and helps us to see the cheap, throwaway culture of pre-recession years for what it really was, then I, for one, am all for it.
Emily Jenkinson is interiors writer for furniture and interior design website mydeco.com.
Join our new commenting forum
Join thought-provoking conversations, follow other Independent readers and see their replies