Photos of tiny £737-a-month London flat 'didn't do it justice', landlord says
Feeling claustrophobic? Go to the bathroom or shared roof terrace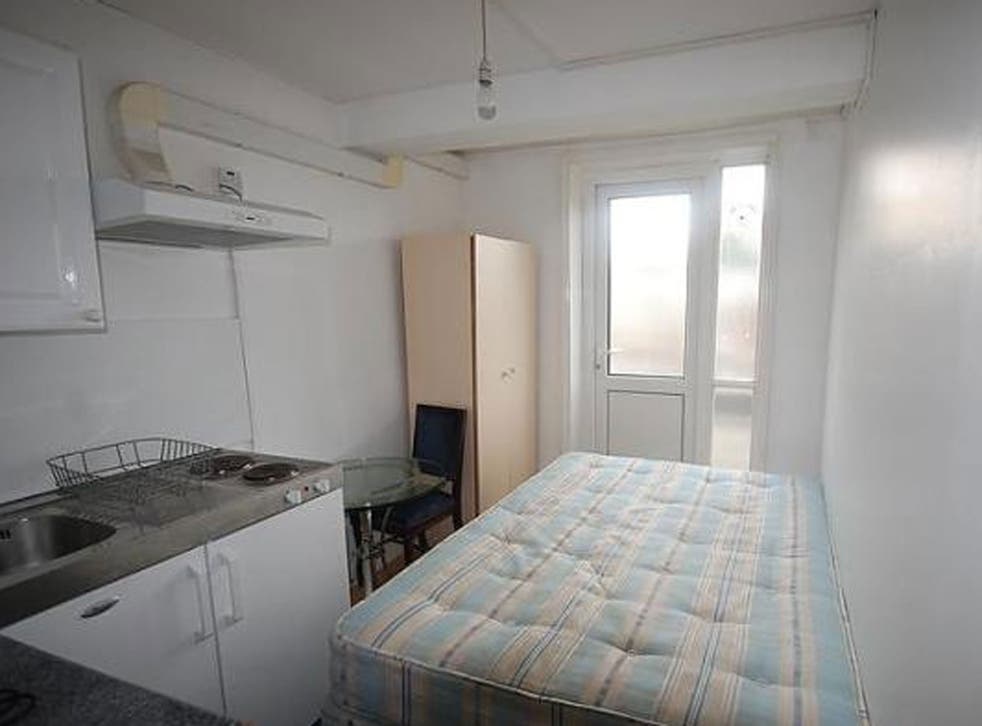 The landlord of a tiny flat in London that provoked outrage with its £700 a month price tag has said pictures used to advertise it "didn't do it justice".
Pictures of the miniscule "studio flat" appeared to show just inches between the bed and cooker, with a table and wardrobe also crammed into the sparse room.
Planning officers at Islington Council are investigating whether planning rules were flouted to divide larger flats into smaller units for profit.
Local councillors also voiced safety concerns over the apparent proximity between the sink, electric hobs and the bed.
Landlord Andrew Panayi, 67, denied the claims and said it had been checked several times by environmental health.
He told the Evening Standard the 40 flats in the four-storey block do have planning permission and the photo used by agents Relocate Me "didn't do justice" to it.
"They didn't photograph the bathroom or the [communal] roof terrace," he added.
The property was advertised for £170 per week, or £737 a month, and is "within walking distance of Kings Cross and Islington" according to an advert on the RightMove website.
It was described as a "modern studio apartment…complete and fully self-contained with its own en-suite bathroom and kitchenette".
Within hours of appearing, the advert had gone viral across social media and just a day later it was pulled because Relocate-Me had been inundated with "abusive" calls, staff said.
The agents have not confirmed whether the flat has been rented out.
An Islington Council spokesman said: "We take alleged breaches of planning rules and the housing acts very seriously, and are seeking to gain access to this property to investigate fully and rigorously.
"We will take robust action if any planning controls or housing acts are being breached."
Last month a similarly small property was on the market for £563 a month near Earls Court in West London, while a garden in the affluent borough of Kensington and Chelsea sold for £80,000 - over the average price of a home fewer than 300 miles away in the northern city of Durham.
Join our new commenting forum
Join thought-provoking conversations, follow other Independent readers and see their replies