'Burn the Witch' was no viral one-off, Radiohead are masters of the hype game
The band were making disruptive promotional campaigns long before the social media age
Jamie Milton Comments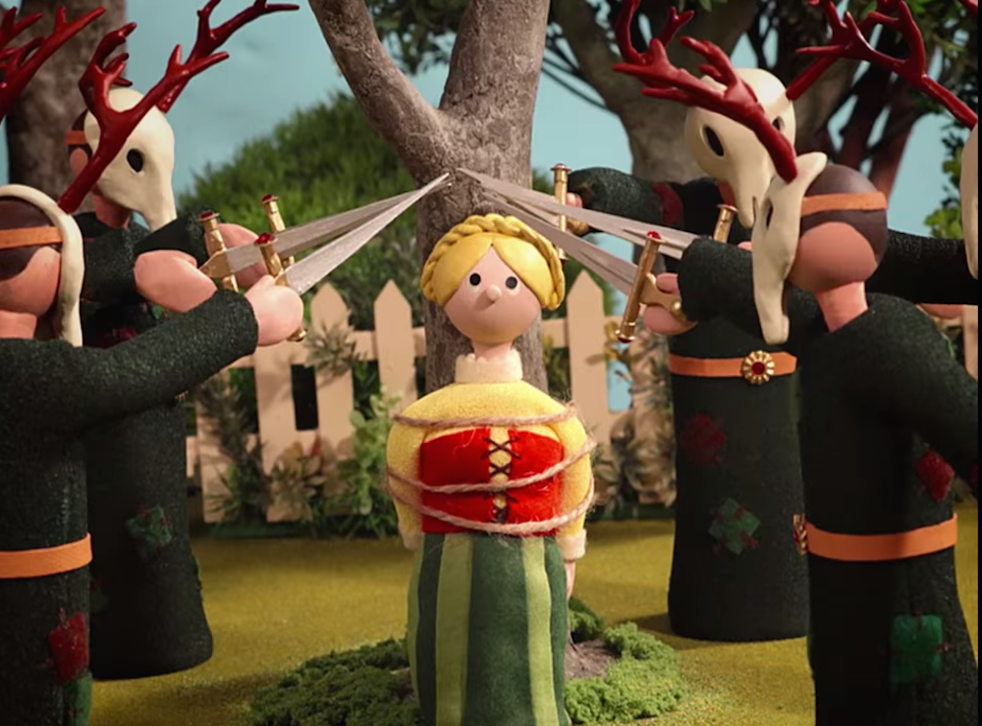 Since last Saturday, all eyes have been on Radiohead's every move. After years of waiting for something to happen, fans who'd previously purchased records or merchandise received cryptic postcards through their letterbox, adorned with the words "BURN THE WITCH" and the words "Sing a song of sixpence", followed by the not-scary-at-all "We know where you live". Shortly after, all of the band's social media accounts went blank. Posts were deleted, their website fading in opacity over the course of several hours. And naturally this was all unfolding in front of thousands of fans, hyperactively refreshing radiohead.com in the hope of a previously unsighted clue.
By Tuesday morning, Radiohead diehards were climbing up the walls. Their favourite band had "disappeared completely", with the exception of one tiny teaser video on Instagram, of a clay model blackbird chirping. It's testament to the band's hype-building skill that they can cause bedlam through birdsong.
Burn the Witch, the lead single from their ninth album, landed this week. And it arrived in the hands of the most engaged of audiences, dying to hear the group's next step. Some may call it cynical and a desperate cry for attention, but it worked. And Radiohead have always had their way with hype. Their knack for cryptic clues goes back further than an Agatha Christie plotline.
If they're playing a game, it's one they've been invested in for decades. Kid A was a revolutionary record in many aspects. It tore up Radiohead's own rulebook, scrapping a guitar-led mentality. And it spearheaded a reputation for screwing up formulae, performing the unexpected move. Unlike the band's last three records, fans at least had a vague idea of when it was complete. Thom Yorke claimed recording was over and that he was going "for a walk in the park". No funny games, there. But they refused to send advance copies to critics, restricting previews to eerie 'Blips' videos, aired on MTV. Fragmented to the extreme, these were blink-and-you-missed-it recordings, like hearing the final versions of In Limbo or Everything In Its Right Place within a vacuum. What's more, art collaborator Stanley Donwood gave each of these 'Blips' a suitably terrifying animation. When you combine the tiny previews, Kid A suddenly seems even more terrifying than the self-destructive writer's block context it emerged from.
By the time 2003's Hail to the Thief was complete, speedy Internet access was no longer restricted to the few. And Radiohead suddenly had a new world to contend with (and eventually use to their advantage). The relationship didn't get off to a flying start. Those 'Blips' from the Kid A era were uploaded to an iBlip applet, embedded on fan-sites and attached with a pre-order. They already had their HTML know-how. But ten weeks before its official release, Hail to the Thief was leaked online.
Still, the leak didn't prevent Hail to the Thief from being given a grand parade of a build-up. Promotional posters took a timely albeit hopeless jab at TV talent shows. Put up across Los Angeles, they mimicked a Pop Idol-style search for "young blood", a play on lyrics from their We Suck Young Blood song. "Hungry? Sick? Begging for a break? Sweet? Fresh? Would you do anything? We want young blood. We want sweet meats. We suck young blood," read the blurb. Plucky talent show wannabes could dial a number, directed to "the thief", to be in with a chance of living the dream. Banksy-esque in its lack of subtlety, it was a distinctly grumpy way to promote a new record. But it was another sign of Radiohead being playful when approaching their next step.
Following the leak of their previous record, Radiohead were less open about their works-in-progress. Hail to the Thief's leak was arguably the crucial factor in leading to In Rainbows' surprise release, five years later. In the interim, clues were scarce. Updates on their de-facto blog page, Dead Air Space, were few and far between. Lyrics were occasionally unveiled, but fans learnt more from road-testing shows in 2006, where they debuted new material. The wheels on Radiohead's hype train started turning with a short video of a tape machine, playing snippets of In Rainbows material. Like the 'Blips' but in more analogue form, this is all anyone would get before Jonny Greenwood unashamedly announced the band's new album would be out in a week, available on a pay-what-you-like basis. If there's one way of building hype in an instant, it's by changing the way a record is released.
Follow-up The King of Limbs was dropped out of the blue, by which point Radiohead could have been accused of playing a similar hand. Thom Yorke released solo record Tomorrow's Modern Boxes last year with zero build-up beyond a bizarre alternate universe app, released by Radiohead and called 'Polyfauna'. The record's BitTorrent bundle might be unconventional in the grand scheme of things, but it was far from revolutionary.
It's a relief in that sense to see Radiohead playing games again. The biggest artists in the world are all vying for attention, months before they release any music. Dropping hints is simply what you have to do before anyone cares. But these bird-chirping, social media shunning exploits are bold enough to be counted, and they carry the same cynical psyche of the band themselves. You could say none of this really matters, but however you release a record in 2016, fandom and excitement are the currencies. For the past week, Radiohead's Reddit forum has been a source of wonder. Every minuscule detail – from the integers at which an Instagram teaser lands, to the number of times a bird chirps – are pointers for what to expect. And the band are fully aware of this. They're playing the game, interacting with their fans on a mischievous level. The world doesn't come to a halt for every band, but there's plenty to learn from the enigmatic interactions that Radiohead specialise in.
Register for free to continue reading
Registration is a free and easy way to support our truly independent journalism
By registering, you will also enjoy limited access to Premium articles, exclusive newsletters, commenting, and virtual events with our leading journalists
Already have an account? sign in
Join our new commenting forum
Join thought-provoking conversations, follow other Independent readers and see their replies