Review of the Year 2018
How sport in 2018 brought out the best and the worst in us
Sport has never just been about balls and goals and points and rules. It's a reflection of our nature, a reflection on our times, an expression of our humanity, a vehicle for change, says Jonathan Liew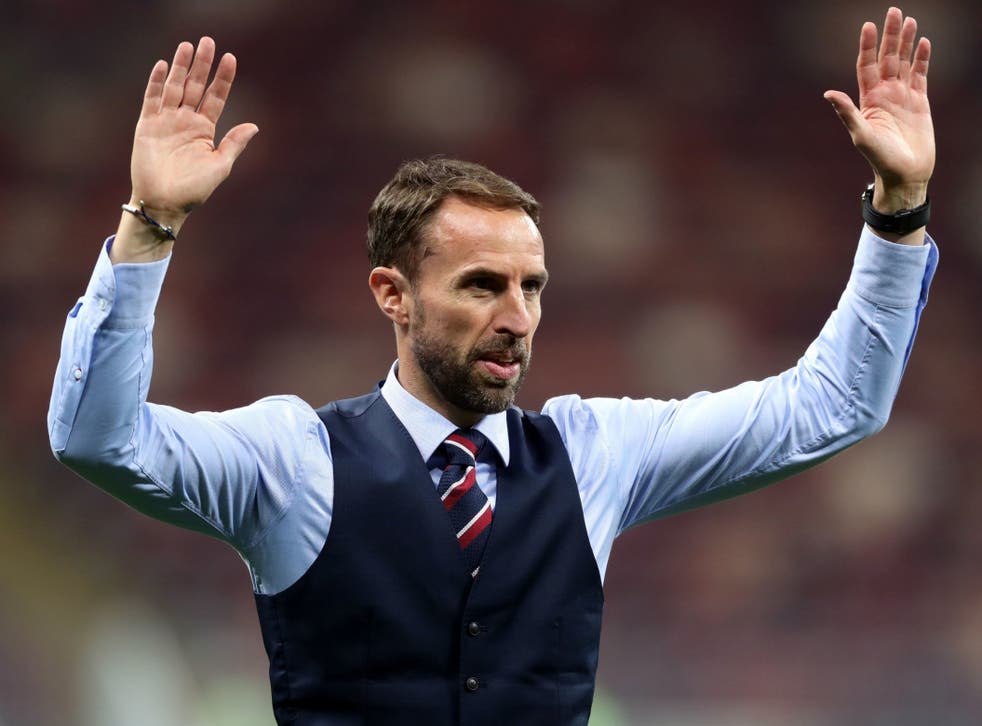 Was it real? Could we believe our eyes? Was it all a dream, a vision, a canny confidence trick? As the World Cup blew through our lives this summer, bringing with it a fiesta of colour and cordiality, of fun and fabulous football, it was impossible not to be overcome by a curious and persistent surrealness. How real was this ebullient, congenial version of Putin's Russia: a country of beaming policemen, bureaucratic alacrity, fans of all races partying on the streets of St Petersburg?
How far could we trust their team, which had defied a pre-tournament world ranking of 70 to storm the quarter-finals on a diet of suspiciously relentless running?
And was this really our England, adored and admired, taking the field in a World Cup semi-final for the first time in a generation, swept up in a tide of optimism and hedonism and unashamed patriotic fervour? In so many ways, this was the question that defined not just the Russian World Cup but sport more generally in 2018: the increasingly fuzzy line between the real and the surreal, the authentic and the confected, the honest and the crooked.
Not that there was anything ersatz or illegitimate about Gareth Southgate's England, a young and appealing team with no egos, no cliques and an appealingly modern style of football. Bolstered by the marksmanship of Harry Kane, the energy of Jordan Pickford and the enormous head of Harry Maguire, England arrived in Russia as makeweights and left it as pioneers, paladins, dreamers: a team not just to admire, but to like. And in the waistcoated Southgate, we had the sort of benign and mature figurehead so lacking in our politics. The rhetoric of Southgate's England as a healing salve for a divided nation was always a touch fanciful: football, after all, is football, and real life is real life. But for four heady weeks, the two had scarcely felt more thrillingly conjoined.
Nor was there anything unjust in France winning their first World Cup away from home soil, and one achieved in the face of a multitude of obstacles: Messi's Argentina, Suarez's Uruguay, an all-star Belgium that would end the year as the world's No 1 side. Then, in a classic rain-sodden denouement, they finally broke the spirits of a wonderful Croatia team, running rampant in the second half and firmly setting aside the popular notion of them as a functional, unexciting team. And in the wonderful Kylian Mbappe, the mercurial Paul Pogba, the inexhaustible N'Golo Kante, we glimpsed an embodiment of the modern France: proud, clever, multicultural and outward-looking.
France's triumph seemed to tap into a more general trend in elite football: away from the age of Messi and Ronaldo, of the idea of the team as a one-man star vehicle, and towards a new era of collective excellence. Few embodied that shift more perfectly than Pep Guardiola's Manchester City, who in winning the Premier League title with a top-flight record of 100 points scaled peaks of excellence and elegance that had never been seen on an English field.
They should have won the Champions League as well, but were demolished by a familiar foe: the thrashing tsunami of Jurgen Klopp's Liverpool, whose intoxicating cocktail of high-energy counter-pressing, fluid attacking combinations and total, evangelical belief powered them all the way to the final in Kiev. There, reality and Zinedine Zidane's ruthless Real Madrid bit hard: Gareth Bale's brilliant bicycle kick, the howling errors of Loris Karius, Mo Salah's heartbreaking early injury at the hands of the nefarious Sergio Ramos. If you're going to walk in the clouds, get set for an almighty fall.
Nobody learned that lesson harder than Arsene Wenger. After 22 years, the memories of his all-conquering Arsenal teams had faded to sepia, crushed and buried under layers of cloying competence. It was time for a change, in more senses than one, and as he left the Emirates Stadium dugout for the last time, it was hard not to feel he was taking a piece of English footballing history away with him.
There was a similar sensation at The Oval a few months later. For at least a couple of years, it had been hard to shake the sense that Alastair Cook had outstayed his welcome at the apex of the England cricket team. The runs were beginning to dry up. His successor as captain, Joe Root, was trying to craft a new side with its own, forward-looking identity. And yet, as Cook raised his bat after completing one more century in his final innings, none of that seemed to matter. One last time, English cricket clutched one of its greatest ever batsmen to its bosom, before moving on, eager and blinking, into an uncertain new dawn.
For Root, 2018 was a year of bold progress. It was a year that began with the sting of a crushing Ashes defeat, Root himself incapacitated in the dressing room sleeping off a monstrous stomach bug. By its end, in tandem with a new national selector in Ed Smith and a renewed focus on youthful expression and attacking cricket, Root's England was beginning to take ominous shape. A 4-1 thrashing of India, the world's No 1 team, and a famous series win in Sri Lanka felt like just the start.
Behind the scenes, though, the edifice was a good deal less secure. The criminal trial of Ben Stokes returned English cricket to the front pages in a most unwelcome manner. Meanwhile, the incompetence and arrogance with which the ECB established its new 100-ball competition underlined its disdain for its audience. And here again, we were confronted with the question of what sport in the coming decades should look like: what, if any, of its recognisable virtues will survive the headlong and avaricious stampede to convert it into a synthetic, scripted, made-for-television entertainment extravaganza.
Already, we are seeing the first tentative twinges of what this future might bring. The Football Leaks revelations disclosed that Europe's elite football clubs are making their most concerted effort yet to pull up the drawbridge and set up their own super league, a travelling roadshow in which the best are playing the best in perpetuity, and everyone else just pays and watches. Tiger Woods and Phil Mickelson played out a grotesque $9m duel in Las Vegas. Tennis is in a state of civil war over the new Davis Cup format, which ripped up a tired old formula and replaces it with a week-long circus. And one of the fastest growing sports in the world is not strictly a sport at all, but e-sports, the curious phenomenon whereby millions of people go online and watch other people playing computer games for money.
Where do we turn, then, for a little authenticity? To the Olympics, perhaps, where a veritable avalanche of UK Sport funding propelled Britain to its best ever Winter Games in Pyeongchang, Lizzy Yarnold's second straight gold one of five medals in total. To the Ryder Cup, perhaps, where Thomas Bjorn's redoubtable Europeans reinforced their dominance on home turf in Paris. To the marathon, where Eliud Kipchoge of Kenya continues to set a jaw-dropping standard, reducing the world record in Berlin to two hours and a shade under 100 seconds. Perhaps even to the Commonwealth Games, that strange and archaic colonial vapour trail, where England's netball team pulled off one of the biggest shocks anywhere in the sporting world this year, beating the redoubtable Australians 52-51 in front of a shocked home crowd.
You might look to the magnificent Irish rugby union side, who began the year by storming to the Grand Slam, claimed their first series win in Australia for almost four decades, and finished it by defeating the All Blacks in Dublin and bringing the visitors' record winning streak of 18 to an end. You might look to Rob Cross, beating Phil Taylor to become the world darts champion, just 18 months after he was playing pub games for beer money. And there were few more authentically thrilling sporting moments than Serena Williams's astonishing meltdown at the US Open in September, a maelstrom of uncorked rage and complex moral mazes that overshadowed the rise of a new star of the women's game in Naomi Osaka.
But then again, perhaps dividing sport into the pure and the impure has always been a false dichotomy. Take the Tour de France, for instance: an epic canvas of real human pain and flawed human nature. Perhaps it was unfair on Geraint Thomas that his magnificent triumph was subsumed in the general scepticism over Team Sky and the sport in general, but it was the natural corollary of a heritage in which even the most optimistic fan struggles to believe in what they are seeing. Perhaps it was harsh on Tyson Fury that his tale of personal redemption and superhuman ability to pick himself up off the canvas against Deontay Wilder were thwarted by the Los Angeles judges and the cloud of controversy that seems to follow him around like the weather. But when you have served time for a drug ban and made homophobia and sexism a part of your everyman schtick, you can't expect your greatness to pass unquestioned.
And perhaps it was even a touch unjust on Steve Smith, David Warner and Cameron Bancroft for their sandpaper antics in Cape Town to be held up as an exemplar of some wider moral failing within Australian cricket, perhaps even Australian society. But to watch the sensational fallout from their attempt to cheat in a Test match against South Africa was to be reminded that those who attempt to harness the immense power of sport for their own prestige or enrichment are also subject to its devastating judgement.
After all, sport has never just been about balls and goals and points and rules. It's a reflection of our nature, a reflection on our times, an expression of our humanity, a vehicle for change. You could produce any number of examples of this: the increasing corporatisation and commodification of live sport, the scourges of doping and fixing and racism and injustice, the cynical and egregious way in which repressive regimes and despicable individuals buy into sport to launder their reputations and buttress their influence.
But as important as all that stuff is, perhaps the moment in 2018 that summed it up best was the aftermath of the devastating helicopter crash that claimed the lives of five people, including Vichai Srivaddhanaprabha, the owner of Leicester City. In the following days, it wasn't just Leicester fans who turned up at the King Power Stadium to lay flowers and pay their respects. They came from far and wide, from inside and outside the game, because collectively they recognised that Srivaddhanaprabha was more than a chequebook, the ownership of a football club more than a business transaction, their 2016 Premier League title more than a mere sporting achievement.
Sport is merely the vessel; the emotions it contains, the hope and faith and anticipation and despair and tedium and outrage, are universal. Sport means more, because it is more.
Join our new commenting forum
Join thought-provoking conversations, follow other Independent readers and see their replies