Elon Musk reveals cause of mysterious Starship explosion as SN15 prepares for launch
Thick fog at SpaceX's launch site meant it was impossible to see what actually took place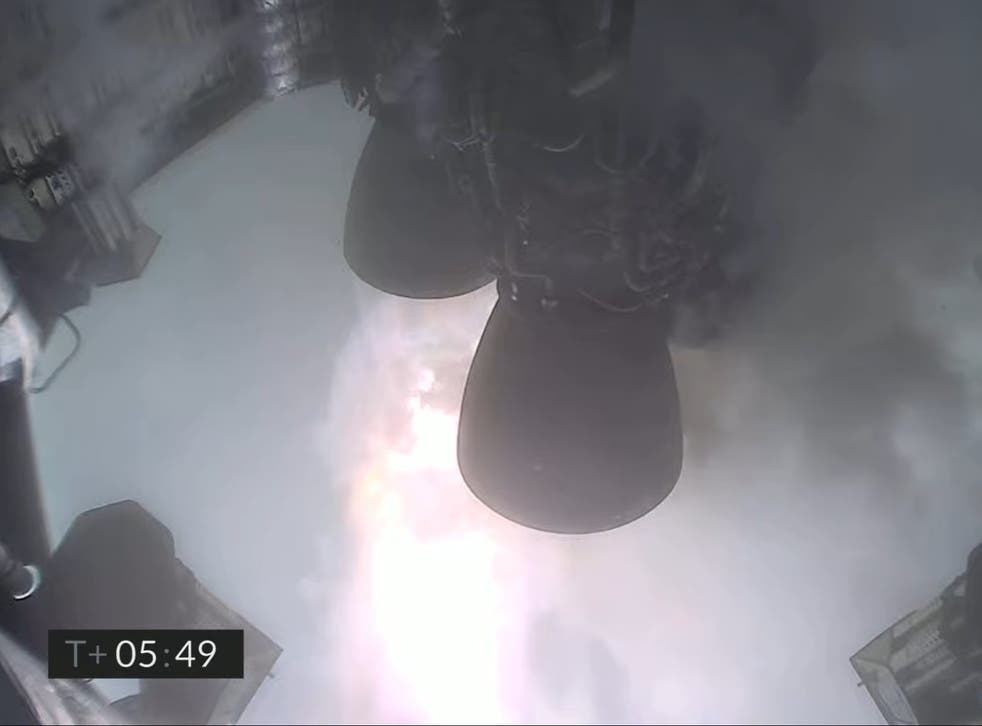 Leer en Español
SpaceX boss Elon Musk has blamed a "relatively small" methane leak for causing the latest Starship test to end in a mid-flight explosion.
Starship SN11 blew up less than six minutes after lifting off from SpaceX's Boca Chica facility in Texas last week, during a launch and landing attempt in heavy fog.
Poor visibility meant it was not immediately clear what happened, with SpaceX initially giving no reason for the Starship prototype experiencing a "rapid unscheduled disassembly" at the start of its landing procedure.
Investigations into the flight data have since uncovered a methane (CH4) leak, which is used as a propellent for the next-generation rocket's Raptor engines.
"Ascent phase, transition to horizontal and control during free fall were good," Mr Musk tweeted in reply to one of his followers inquiring about the investigation.
"A (relatively) small CH4 leak led to fire on engine 2 and fried part of avionics, causing hard start attempting landing burn in CH4 turbopump. This is getting fixed 6 ways to Sunday."
Read more:
Whatever fix is introduced will be tested on the next prototype – Starship SN15 – which is expected to launch at some point this month.
Residents of Boca Chica Village have shared images of Starship SN15 nearly fully assembled at the launch site. This suggests a flight test could take place as early as this week, though there are currently no local road closures scheduled.
If Starship SN15 is able to land successfully, it will be the first major flight test for a Starship craft to not end in a fiery explosion.
SpaceX Starship crashes in huge fireball explosion
It will also mark a significant milestone towards Mr Musk's ambition of sending humans to Mars within the next four years aboard a Starship rocket.
The technology billionaire hopes to build up to 100 Starships every year, with each one capable of carrying up to 100 people onboard, as well as cargo.
The eventual goal is to establish a self-sustaining human colony on Mars, which Mr Musk claims could be achieved by 2050.
Register for free to continue reading
Registration is a free and easy way to support our truly independent journalism
By registering, you will also enjoy limited access to Premium articles, exclusive newsletters, commenting, and virtual events with our leading journalists
Already have an account? sign in
Register for free to continue reading
Registration is a free and easy way to support our truly independent journalism
By registering, you will also enjoy limited access to Premium articles, exclusive newsletters, commenting, and virtual events with our leading journalists
Already have an account? sign in
Join our new commenting forum
Join thought-provoking conversations, follow other Independent readers and see their replies