Harvest Full Moon 2020: How to watch rare event tonight as it lines up with 'full Mars'
First of two October events comes ahead of Halloween Blue Moon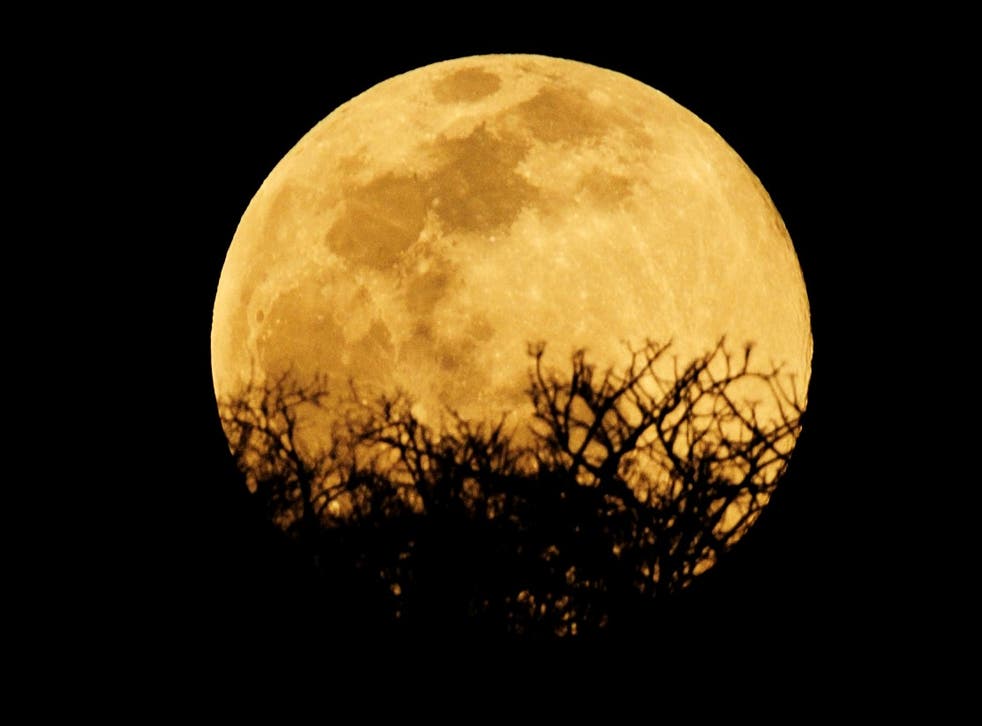 The first of two full moons this October takes place tonight, and will appear in the night's sky alongside an unusually large Mars.
The 2020 Harvest Moon will reach its peak at 10.05pm BST on Thursday, 1 October, but will continue to appear full through to Saturday morning.
It gets its name for being the closest full moon to the autumn equinox, which was traditionally around harvest time in the northern hemisphere.
The second full moon in October will appear on Halloween and is called a Blue Moon because it is the second full moon to occur in a single calendar month.
Both full moons will be among the smallest of the year, as they will occur when the moon is at its furthest point from Earth in its 27.5 day orbit of Earth - known as the apogee point.
On Thursday it will be around 406,000km away from Earth, making it nearly 50,000km further away than when it is a supermoon.
A phenomenon known as the moon illusion, however, means that it will appear bigger and brighter than usual as it rises and sets over the horizon. This is because the human brain is tricked into comparing the moon to objects on the horizon, like trees and buildings.
This week's full moon will also be in the vicinity of Mars, which is set to come to opposition for the first time in nearly two years. This is the point at which the Earth passes between the Sun and Mars, which Nasa describes as a "full" Mars.
Moon pictures show traces left by astronauts

Show all 11
The exact date of opposition is 13 October, with the red planet not set to appear as big or as bright until 2035.
Mercury will also appear slightly different to usual, as it is reaching a phase known as the greatest elongation this evening.
Nasa explains: "Thursday, 1 October, will be when the planet Mercury reaches its greatest angular separation from the sun as seen from Earth for this apparition, appearing half-lit through a large enough telescope."
Weather depending, this week also provides a great opportunity to view other planets and celestial objects with a modest telescope setup, according to the space agency.
"Evenings should continue to be a great time for viewing the planets Jupiter, Saturn, and Mars, especially with a backyard telescope," Nasa said.
"With clear skies you should be able to see Jupiter's four bright moons - Ganymede, Calisto, Europa, and Io - shifting positions noticeably in the course of an evening. For Saturn, you should be able to see the brightly illuminated rings as well as the motions of Saturn's largest moon, Titan."
Several free apps are available to track the moon, planets and star constellations, such as Sky View and Star Chart.
Register for free to continue reading
Registration is a free and easy way to support our truly independent journalism
By registering, you will also enjoy limited access to Premium articles, exclusive newsletters, commenting, and virtual events with our leading journalists
Already have an account? sign in
Register for free to continue reading
Registration is a free and easy way to support our truly independent journalism
By registering, you will also enjoy limited access to Premium articles, exclusive newsletters, commenting, and virtual events with our leading journalists
Already have an account? sign in
Join our new commenting forum
Join thought-provoking conversations, follow other Independent readers and see their replies