Amir Khan: 'The Taliban can threaten me but I must speak out... innocent kids, killed over nothing. It's sick in the mind'
Boxer Amir Khan will travel to Pakistan in bid to 'make a difference' in the wake of army school massacre
Declan Taylor
Saturday 20 December 2014 19:21 Comments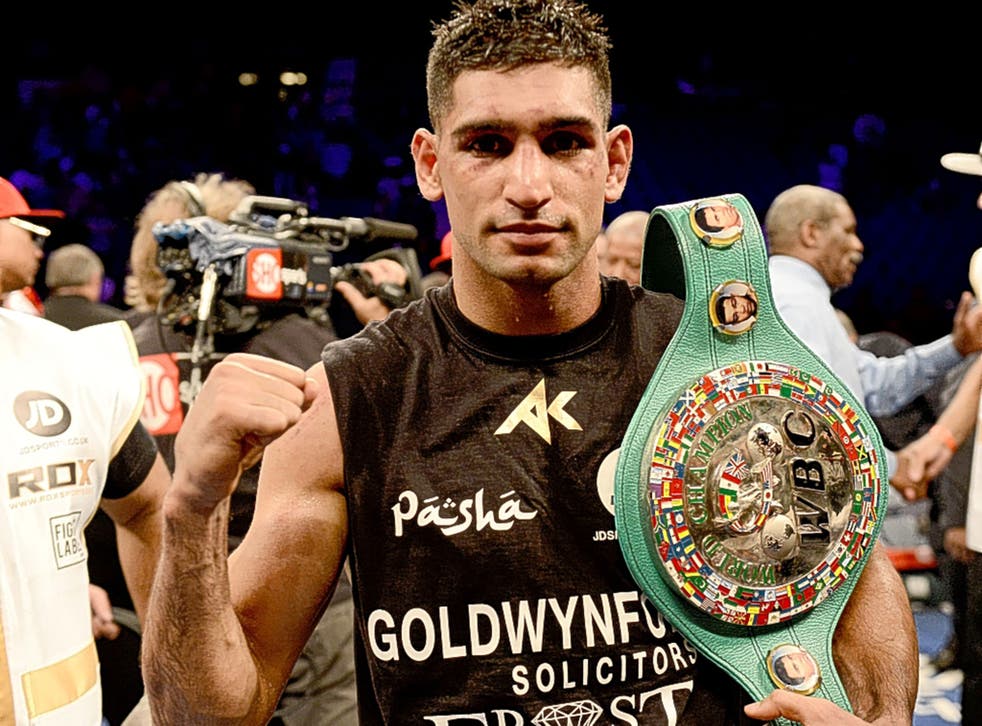 Amir Khan will visit Pakistan next week to show his support to those affected by the Peshawar massacre, although he admits that his life will be in danger after speaking out against the Taliban.
Khan, whose parents are from Pakistan and whose brother and fellow boxer Haroon represented the country at the Commonwealth Games, is one of the biggest sporting icons in Asia and visits the subcontinent regularly.
Khan was deeply distressed by the atrocity in Peshawar, where 141 people, mainly children, were killed at an army school in what has been described as the Taliban's deadliest attack to date. The welterweight returned to England on Tuesday having won his fight with Devon Alexander in Las Vegas last weekend, and has confirmed he will travel to Pakistan before the turn of the year in a bid to "make a difference" in the country.
The 28-year-old, who recently became a father for the first time, has already donated his fight shorts from Saturday, woven with 24-carat gold thread and worth around £30,000, to help rebuild the school in the north-west of the country, and now feels a personal visit will "send a statement" across the region.
In pictures: Aftermath of Taliban massacre in Peshawar

Show all 12
"I will be going to Pakistan between Christmas and New Year," he revealed. "Talking about this stuff could be threatening for me, but I just want to speak the truth and tell people what is happening is wrong.
"I would not consider cancelling the trip – you can't hide away. Look, everything is in God's hands and you cannot hide away from life. If something is going to happen it will happen.
"Everything is written for you, I believe, and you just have to go out there and do what you have to do and carry on with your life. You cannot let things like this stop you.
"I think it's more important now than ever to go over there. I think it will send a statement to a lot of people that Amir Khan is going there to make a difference. I want it to be a better country. It's just a shame – I cannot believe how sick some people are."
Khan's wife, Faryal Makhdoom, gave birth to the couple's first child, Lamaisah, in May and he explained how fatherhood has helped him empathise with those affected by the tragedy.
"The news hurt me even more having a little girl," he said. "Imagine sending my daughter to school and hearing that she got killed. Innocent kids, killed over nothing. They had nothing to do with anything, they had not done anything, and the Taliban went and killed them.
"They are killing their own people and I'm thinking to myself, 'Why are these people doing that? Have they got no brains?' Setting the teachers on fire in front of the kids? These people are ruthless.
"It's very disgusting seeing or hearing stuff like this. You can never think people will be that sick in their mind."
Khan won a silver medal for Britain at the 2004 Olympics in Athens as a lightweight, aged just 17, and his subsequent professional career has kept him in the public spotlight. He concedes that as a sportsman it can be difficult to comment on such grave issues but says he feels compelled to speak out given his standing in Pakistan.
"It is tough," he said. "But one thing boxing has done is educate me more, made me a little bit smarter. It has made me realise that being a fighter, being a champion, I have other commitments in the world.
"I'm a Pakistani so in a way I feel like I have the country behind me. I have to be behind them as well. It makes me feel like whatever I say, it can make a difference. I can say things and it will make a difference across the world.
"I'm the way I am; I'm not fake in any way and I have a heart and a good family. I'm one of those guys who will speak the truth if I think it's wrong. Some people don't want to talk about the Taliban and stuff like that because they think, 'We don't want to get into those politics'. But I'm open, I want to speak the truth."
Khan is proud of his Pakistani heritage and often chooses to have his training gear and clothing designed in the distinctive shade of green associated with the nation.
But the Bolton native fears the tragic news from Peshawar could have deep ramifications for the country, which became independent with the 1947 partition of India, as it attempts to move forward.
"It is setting Pakistan back," Khan said. "Pakistan is a really nice country but things like this just set Pakistan way back.
"Look at India, how developed it is. When they split in 1947, since then look where Pakistan is and where India is. India is so developed and so safe and you can take your family there on vacation. You can't do that in Pakistan, which is such a shame."
Register for free to continue reading
Registration is a free and easy way to support our truly independent journalism
By registering, you will also enjoy limited access to Premium articles, exclusive newsletters, commenting, and virtual events with our leading journalists
Already have an account? sign in
Join our new commenting forum
Join thought-provoking conversations, follow other Independent readers and see their replies