Anthony Joshua vs Wladimir Klitschko: British boxing's golden boy handed his first proper test
The hype stops here. After his demolition job of Molina, Joshua faces a genuine contest against an ageing great determined to sign off in style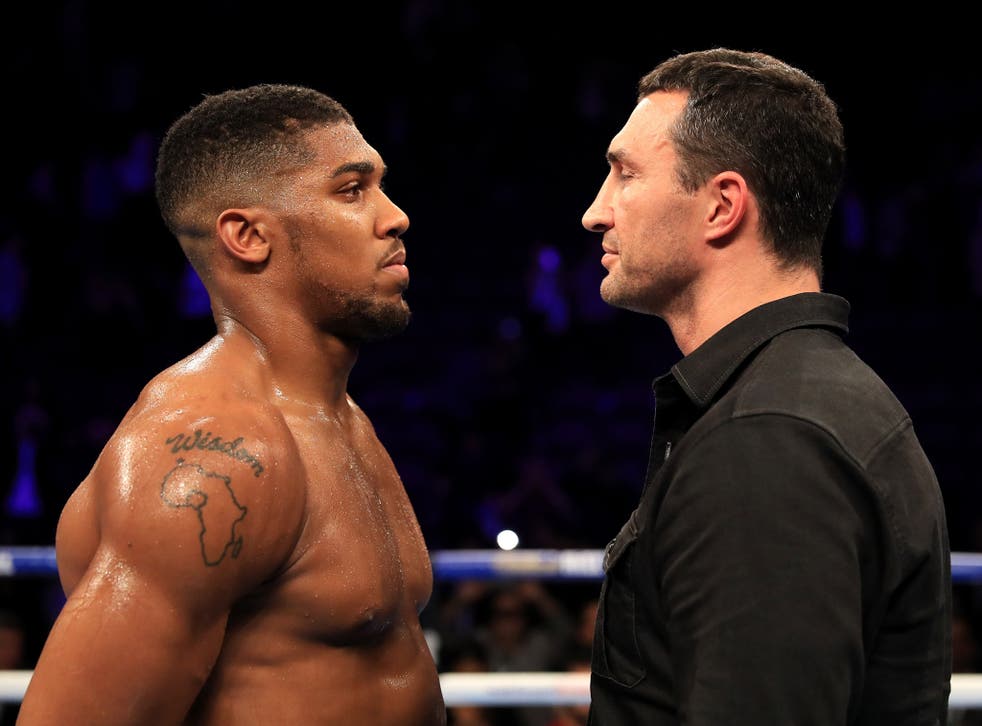 It's on! It has taken Anthony Joshua less than four years to become the threat he is right now and about three seconds of that time was spent convincing Eric Molina that he was in the wrong buffet line on Saturday night in Manchester.
Joshua was warmly applauded from ringside by former world champion Wladimir Klitschko, who looked a lot older and fuzzier at the edges than I have ever seen him. Klitschko mounted the steps and the pair stood facing each other in the ring, Molina long since swept away and vanished, to agree a truly epic fight on April 29 at Wembley.
At ringside, David Haye was ignoring Tony Bellew's insults, exchanged over five heads and less than ten feet, and somewhere else in the 200-pounds seats Tyson Fury, the great forgotten champion, was secretly cursing his addictions and openly cursing the business that made and broke him. It was an unholy patch of boxing turf, brimming with hate, old animosities and future wonders.
Joshua retained the IBF belt he was gifted earlier this year with a third round stoppage of an uninspired and deeply stunned Molina, in front of a crowd that would give religious fanatics a run for their money in the blind devotion stakes. Molina had previously plodded gamely through nine rounds with the WBC champion Deontay Wilder in a title fight. "I've never been hit like that, never felt power like that," Molina managed to say, before being guided to the exit.
The really good news for British boxing is that Joshua remains the calmest soul in the Joshua business and that business, by the way, is spiralling in all directions at a rapid rate. "He's not Klitschko, he's not Haye – I don't get too hyped about beating him," said Joshua. He is still not happy when people refer to him as "champ", a common courtesy when talking to a world champion, and it is that truth that impresses as much as the punches that drop his willing sacrifices. So far all 18 of his opponents in the professional game have fallen early, which is not bad considering that many believe he was the recipient of two very fortunate decisions at the London Olympics on his way to the gold. Not me, by the way.
Klitschko has paid Joshua to be a sparring partner in the past, fed him, filmed him and measured the young Londoner's power, brain and desire under the routine camouflage of sparring at altitude in the Austrian Alps. The big lad from Ukraine has been praising Joshua since 2013. However, he is not stupid and he must see something that he can exploit when the bell sounds next April.
Britain's current boxing world champions

Show all 8
Hopefully, the gleeful posse guiding Joshua are in possession of the opposite information and know for sure that Klitschko is finished and that his body is now holding him hostage for thirty years of relentless preparation and fights. Klitschko will be 41 when the pair meet and it will be his 69th fight. He held several versions of the word title during two reigns and arguably deserves a place at the very top table for a decade of beating every single pretender and contender. His masterclass of control against Haye in 2011 was just part of the legacy he crafted.

However, in November last year big Wlad was turned inside out, left bruised cut and broken in spirit by Fury in front of 51,000 fans in Dusseldorf. It looked like the end, but he went away in desperate solitude; he cried and then signed for a rematch. That fell through twice, Fury lost his mind and Klitschko will not get the chance of revenge. Instead, he has upgraded to redemption, and Fury's new cursing will fall on deaf ears. Wembley Stadium will have 80,000 packed in rapture for the fight.
"My late, great trainer Emmanuel Steward always told me: 'You will have a signature fight.' This is it, he was right," said Klitschko. Steward made Klitschko a great heavyweight and has been missed in the corner since his death in late 2012. Klitschko never met Lennox Lewis, Mike Tyson, Riddick Bowe, could not fight his brother Vitali and the rematch with Fury went up in a powder puff of madness. He beat the rest, often without breaking a sweat. Joshua could be Steward's 'signature' fight. It's the end of hype, a real heavyweight fight.
Join our new commenting forum
Join thought-provoking conversations, follow other Independent readers and see their replies