Anthony Joshua vs Andy Ruiz presser
Anthony Joshua, Tyson Fury, Deontay Wilder and more: Ranking the top 15 heavyweights in the world
Joshua recaptured three versions of the world heavyweight crown, but debate continues to rage as to who is the No 1 in the sport
Anthony Joshua is now back in the mix at the top of the heavyweight division.
A comprehensive victory over Andy Ruiz earned him a second reign as world champion.The division is on fire right now with more intrigue than there has been for decades. There are blockbuster fights (Deontay Wilder vs Tyson Fury II) to decide the belts and compelling eliminators on the horizon.
So our writers compiled a list of their top 15 heavyweights and the combined order (by allocating points from each list) has produced the Indy Sport world heavyweight rankings. We considered who would win right now, though resume was of course considered. For example, Alexander Povetkin has enjoyed a illustrious campaign in the division, yet many considered him fortunate to salvage a draw against the former cruiserweight Michael Hunter on the undercard of Andy Ruiz vs Anthony Joshua 2. Likewise Filip Hrgovic's resume needs some work, but the consensus from our writers is that the Croatian is already a very dangerous opponent for almost anybody in the division.
Oleksandr Usyk is the big mystery and debate surrounded where he should be ranked, given he has just one fight at the weight against Chazz Witherspoon, can the mercurial Ukrainian (who is the WBO mandatory for AJ) utilise his speed against the giants of the sport?
Let us know your rankings on Twitter at @IndySport.
Indy Sport's heavyweight world rankings

Show all 16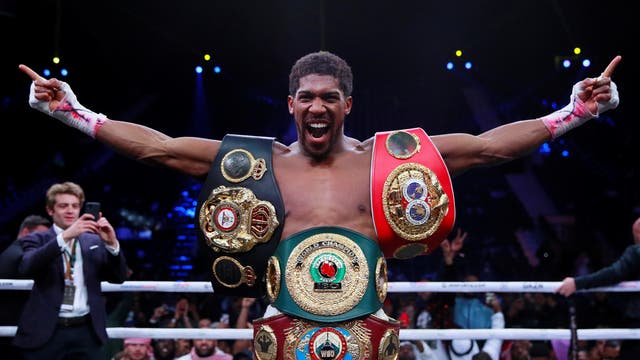 15. Oscar

Rivas, Colombia
Amid all the fallout of Dillian Whyte's issue with UKAD, Oscar Rivas' success in their bout last summer is easily overlooked. He staggered the Briton in the ninth round, was relentless coming forwards, and only lost by a narrow points decision on away soil. There are flaws suggesting he can be easily outboxed, though, with his victory against Bryant Jennings coming in the 12th round when trailing significantly on the scorecards. Beyond that, his resume is far from impressive. But against an opponent who can't sustain a jab and move style, the Colombian remains very dangerous (TK).
14. Alexander Povetkin, Russia
Close to a world title shot in 2016, Povetkin was due to face Deontay Wilder for his WBC crown but later tested positive for banned substances.
The Russian is in the closing stages of his career and put in a performance just about good enough to gift him victory against Hughie Fury, while he looked slow and lethargic against Michael Hunter recently. The opportunities of more world title shots are still realistic but will need to come inside the next year or two for Povetkin to stand any real chance of victory. A good career packed full of wins and a knockout of David Price which will live long in the memory of boxing fans (AH).
13. Adam Kownacki, Poland
'Babyface' is one to watch in 2020, with Al Haymon guiding his career. Kownacki was always mentioned as a potential opponent for Deontay Wilder – also managed by Haymon. Kownacki's standout performance was against the admittedly limited Chris Arreola, who notably threw a CompuBox record 1125 punches in the points win. Durable and able to crack, Kownacki is in an excellent position to emerge as a contender in the near future (JR).
12. Jarrell Miller, USA
Before 'Big Baby' threw the toys out the pram after failing a drugs test and costing himself a world title shot, Miller was rising up through the heavyweight ranks with an undefeated record of 23 wins and one draw. Sure, it's a record that does not feature a single standout name, but the Miller we last saw was proving to be one of the better contenders among the division's also-rans. How much was that down to the juice? Well, we'll see once he finally returns to the ring (JDM).
11. Michael Hunter, USA
Hunter: A fantastic amateur-turned-professional, Michael Hunter just misses out on the top 10 but is starting to make a name for himself in the division. Just one defeat by Oleksandr Usyk in the cruiserweight division, Hunter is now making a case for a world title shot next year. A stellar performance led to a controversial draw against Alexander Povetkin on the undercard of Ruiz vs Joshua II, a fight many neutrals had Hunter winning.
At just 6'2 he could struggle against the biggest boys in the heavyweight division but is begnning to look every bit like he could be a regular at the top (AH).
10. Filip Hrgovic, Croatia
The Croatian is a rising star in the heavyweight division and his presence inside the top 10 will raise eyebrows. But after dispatching Eric Molina in quick time, El Animal will be hovering on the brink of earning a world title shot throughout 2020. His athleticism and towering frame mean he ticks the requisite boxes to be a test for anybody; the volume of shots is impressive and the chopping hooks, whipped in from unorthodox angles (for a heavyweight) will make him a problem in the coming years (JR).
9. Kubrat Pulev, Bulgaria
The Bulgarian was embroiled in a controversial episode earlier this year with a female broadcaster, but now, under Bob Arum, Pulev appears primed to get his shot at a world title again as the IBF mandatory. His hopes of pulling off an upset, should Joshua decide to fulfil his mandatory, appear remote, given he was struggling to distinguish himself against Bogdan Dinu before a 7th round knockout, which was followed up by a pedestrian points decision over little-known Rydell Booker. The only other notable performance in recent years was his clear-cut decision over Hughie Fury. Will not be an opponent most will be desperate to watch against the champions.
8. Joseph Parker, New Zealand
The former WBO heavyweight champion made two successful defences of his title before losing it to Anthony Joshua by unanimous decision a year and a half ago.
At just 27 he has yet to reach his peak and really find his feet in the division, but already has a solid resume and originally won the belt in a close decision victory over Andy Ruiz Jr. His punch selection is excellent but when it has come to the big fights, those against Joshua and Dillian Whyte, Parker has come up just short and failed to let his hands go – but always given a good account of himself. Now partnered with Eddie Hearn and Matchroom Boxing, Parker has got himself back to winning ways and will look to rise up the division once again (AH).
7. Luis Ortiz, Cuba
It's hard to know what Luis Ortiz has left in the tank at this point. He came within seconds of victory in his first fight against Deontay Wilder, and won almost every second before being stopped by a single punch in their rematch last month. That second loss may turn out to be a final swansong and payday for the Cuban veteran, sapping away any motivation to step down the rungs again. Nevertheless, if he's willing to persevere, the southpaw is as technically complete as any heavyweight and still one of the division's hardest punchers (TK).
6. Andy Ruiz Jr, USA
Andy Ruiz: The 'Destroyer' was anything but in his rematch with Joshua, which was a huge shame as he looked to have transformed the 'big three' into a quartet. But the way that he did for Joshua in their first bout should act as a firm reminder of what Ruiz can do if he applies himself in training, and with some of the fastest hands in the division and the power to back it up, he remains a dangerous opponent who may just have had the wake-up call he needed to take the next step up (JDM).
5. Oleksandr Usyk, Ukraine
There is very little evidence so far in his heavyweight journey after a debut against fodder in the form of Chazz Witherspoon. The polished skills of Usyk would be a nightmare for both Wilder and Joshua, though their hulking power may ultimately prove decisive – we must see how Usyk takes a shot against a powerful heavyweight. How Usyk deals with the length of Fury remains a mystery too; at his best the Gypsy King could set up a wall between himself and the Ukrainian in the form of his jab, so let's see how Usyk gets on during the infancy of his spell at heavyweight before crowning him (JR).
4. Dillian Whyte, UK
With just the one loss to Anthony Joshua on his record and a string of 11 straight victories behind him, Whyte is hammering at the door for a world title shot and has been dodged by the 'big three' for the last two years. The 'Body Snatcher' has demonstrated frightening knockout power against Lucas Browne and Dereck Chisora as well as an ability to grind out the wins too, and though he is yet to reach to the very top of the division, he's about as close as you can get before reaching it (JDM).
3. Anthony Joshua, UK – WBA, IBF and WBO champion
Back on track with the smartest victory of his career to regain the WBA, IBF and WBO titles from Andy Ruiz, Joshua can once again look for the fights that will come to define him. Each man in the top three of the division has their own strengths that could see them beat the two others, and for Joshua it is his power blended with an imposing style and the ability to vary his gameplan that he believes will see him come out on top. Whether he will remains to be seen, but the Watford native is back on the right path to see if he can go on and join the greats (JDM).
2. Tyson Fury, UK
Since most agree Tyson Fury should have won on the scorecards against Deontay Wilder, there's a clear argument to say he should top this list. He came into the bout in questionable fitness after a long layoff and two pantomime warm-up, proved he is the superior boxer, and defied logic and health to get back to his feet in the 12th round. However, he was distinctly unimpressive against Otto Wallin in September, while Wilder has gathered momentum and grown in confidence. All will be revealed in the rematch, but if Wilder catches Fury cleanly, and the evidence suggests he will, there are few guarantees the Briton will beat the count again (TK).
1. Deontay Wilder, USA – WBC champion
A controversial choice as No 1 perhaps while we split hairs between the American, Tyson Fury and Anthony Joshua, but this list is predominantly on who wins now. Wilder's terrifying power is going nowhere, and while Tyson Fury could well sharpen up for the rematch, he was unable to evade the lethal right in the first fight. This makes us lean towards the Bronze Bomber in the rematch. So, on to Joshua, who boxed beautifully against Andy Ruiz, but even his biggest fans would admit that version is less polished (for now) than Fury, meaning it would likely develop into a fire fight, which lends itself to Wilder (JR).
Join our new commenting forum
Join thought-provoking conversations, follow other Independent readers and see their replies