Conor Benn exclusive interview: 'Britain is in for one hell of a treat'
The young welterweight looks to remain undefeated at The O2 on Saturday against Steve Jamoye on the undercard of Josh Taylor vs Regis Prograis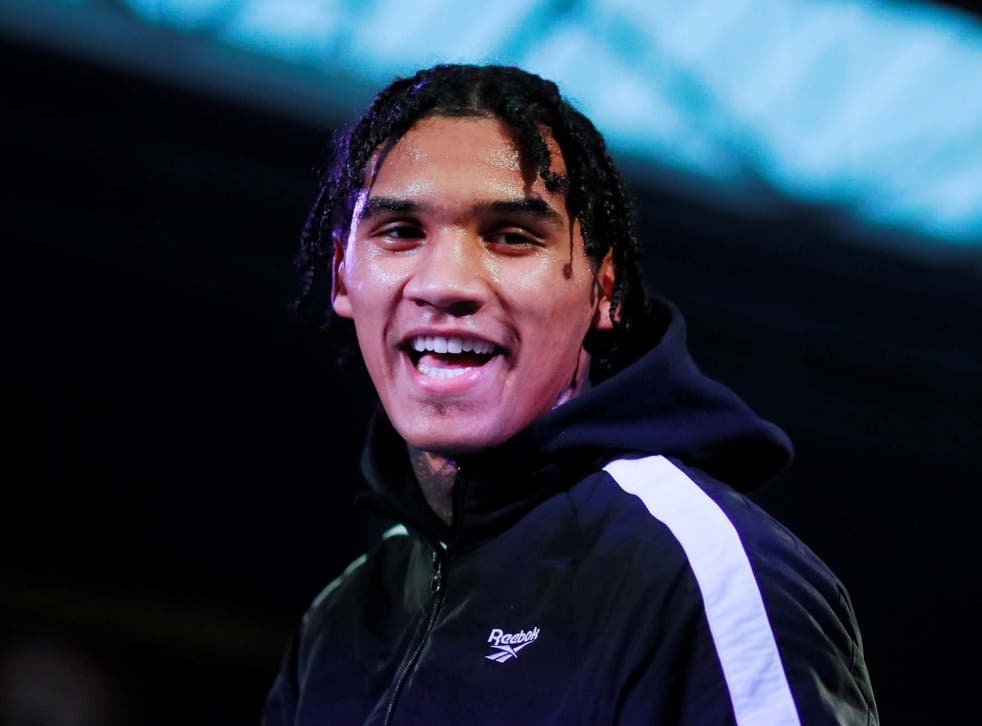 The storm is coming but for now Conor Benn remains at peace now just hours away from his 16th professional fight. The fury that consumes him when he steps between the ropes has come to define him, legitimately, when most assumed he had adopted the persona merely adopted it due to his legendary father's ferocious reputation.
Wildly unrealistic expectations weighed heavy three and a half years ago after turning over following just 22 amateur bouts, but the progress has been undeniably swift. While also frantically polishing his technique, The Destroyer's appeal has come through his raw style. Benn has shunned pressure to conform and is instead revelling in who he is.
"I thought I had to live up to the reputation (of my father)," Benn tells The Independent. "But now I have realised it's who I am."
Benn meets the description of a throwback fighter, unperturbed by efforts to carefully plot his way towards world honours, the 23-year-old has instead embraced his own vulnerability.
In just his 11th fight he tasted the canvas twice against Cedrick Peynaud, yet that only served as validation to himself that he "clearly" possessed the requisite hunger and toughness to thrive in this brutal sport. Instead of reinventing himself in the shadows, Benn slammed his foot on the accelerator, rushing to 15-0 and building a loyal following.
February top 10 pound-for-pound boxers in the world

Show all 16
"I'm somebody who goes into a fight and fights with their heart on their sleeve," Benn maintains. "I give all I can give when I go through those ropes. But I'm only 23, think of the amount of entertainment I've given with such limited amateur background.
"Don't judge me by the fighter I am now. Compare me to the fighter I was four years ago, I'd have knocked that version of myself out in a round."
The acquisition of a WBA trinket, should he blitz Steve Jamoye on Saturday on the undercard of Josh Taylor vs Regis Prograis, will only serve to intensify the spotlight.
Benn is now acutely aware of the perils that come with that, having been left "down in the dumps for quite a while" by the cruel world of social media.
"The only thing that's changed (since turning professional to now) is not letting what people say about me affect me because it doesn't anymore," Benn maintains. "I didn't understand that at first. You have to have thick skin.
"I can say I was down in the dumps for quite a while, listening to what people said made me doubt myself. But why am I letting somebody come into my living room and slap me in the face? That's what social media is, it's allowing people in your front room to disrespect you. I'm not even bothered anymore."
A world title may never come, but many could learn from Benn and the splash he has made so far in maximising each opportunity that has fallen his way. Many initially scoffed at a potential match-up against the dazzling Josh Kelly, yet the pair continue to gravitate towards one another, with a collision perhaps occurring in 2020. It promises to be a bumpy ride in the meantime, making the latest version of Benn a potential show-stealer at The O2 on Saturday.
"Let's see where we end up," Benn ponders, clearly enjoying the ride. "All I know is Britain's in for one hell of a treat."
Register for free to continue reading
Registration is a free and easy way to support our truly independent journalism
By registering, you will also enjoy limited access to Premium articles, exclusive newsletters, commenting, and virtual events with our leading journalists
Already have an account? sign in
Register for free to continue reading
Registration is a free and easy way to support our truly independent journalism
By registering, you will also enjoy limited access to Premium articles, exclusive newsletters, commenting, and virtual events with our leading journalists
Already have an account? sign in
Join our new commenting forum
Join thought-provoking conversations, follow other Independent readers and see their replies