Dillian Whyte dreams of cracking America after avenging Alexander Povetkin defeat
Briton has set his sights on WBA regular champion Trevor Bryan ahead of a potential blockbuster against Deontay Wilder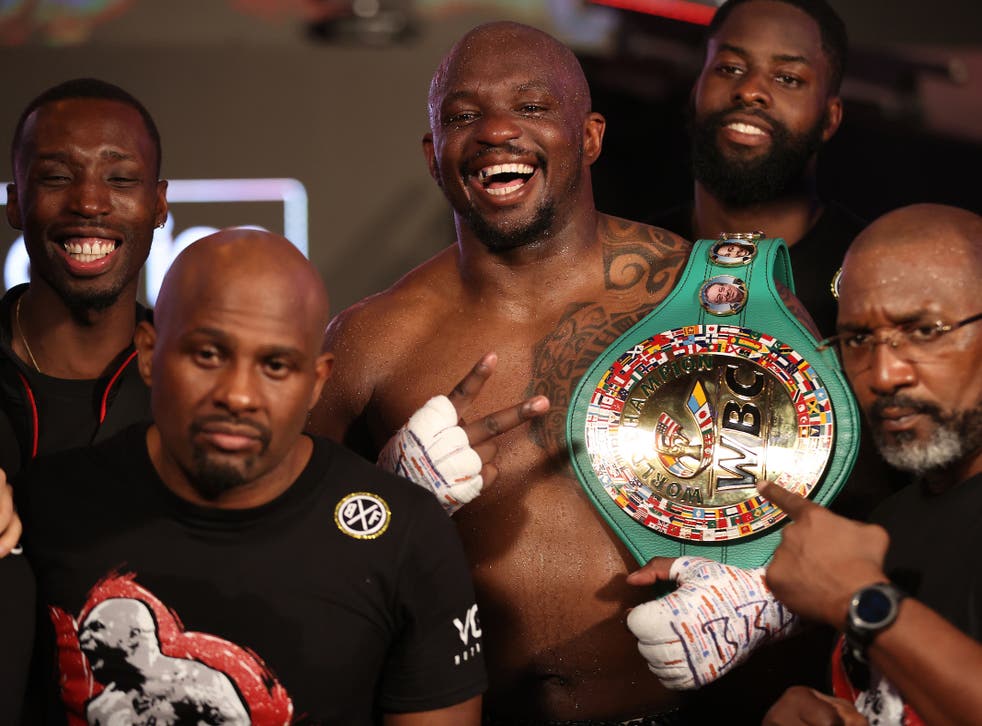 Dillian Whyte moved around the super yacht's breakfast room like a groom at a wedding, shaking hands with his guests and posing for pictures.
His successful revenge mission against Alexander Povetkin in a Gibraltar ring was barely nine hours old but Whyte was already thinking ahead. "I feel good man," he said. "But I just want to know when I'm fighting next."
Whyte knew that a second successive defeat to the ageing Russian, who brutally knocked him out back in August, would have all but ended his career. But the four-round destruction of Povetkin on the southern tip of Gibraltar on Saturday night means his long and winding road to a world title shot has been cleared again.
Now the Jamaica-born Londoner has set his sights on cracking America, where lucrative opportunities against the likes of Deontay Wilder and Andy Ruiz Jr lie in wait. Fighting either of those men this summer seems unlikely, with his promoter Eddie Hearn suggesting that anyone inside the top 15 will do.
Whyte, meanwhile, would like to make his transatlantic mark by following in the footsteps of fellow south Londoner David Haye by winning the WBA 'regular' heavyweight title. Anthony Joshua is the sanctioning body's current 'super' champion but American Trevor Bryan holds the secondary belt and Whyte believes that would be an appropriate summer showdown.
Read more
"I'd love to fight Trevor Bryan for the WBA world title," said Whyte. "That's the same belt David Haye and lots of other champions held so I'd love to fight him for that. It would be a great opportunity."
Whyte has already boxed in America once before, outpointing Malcolm Tann in Nebraska back in 2017. He feels that low-key experience will hold him in good stead four years on.
He said: "I went to Chicago to train two weeks prior to the fight then went up to Omaha. These things just prep you so I now know how much time I need to go in advance if I want to fight there again. I need to go five weeks before the fight, ideally. That would be perfect.
"It's good to experience these things early in your career when you're lower down the card and not the main event so you are prepared and practised when the big ones do come."
Those big ones, however, are unlikely to come against either Joshua or Tyson Fury for some time yet should the British duo finally reach an agreement to fight twice for all four belts this year.
After that, a third clash is not beyond the realms of possibility meaning it could realistically take at least another a year or even 18 months before Whyte enters that picture.
Wilder, therefore, remains the primary target for Hearn. The promoter said: "We want Wilder. We have to acknowledge that subject to everything going our way [with Fury and Joshua], there is not going to be a title shot for Dillian until 2022, so I would like to see him have a little rest, then box in America in the summer and against Wilder later in the year.
"Wilder won't have a fight with Whyte off the bat, so both will have a fight and we can look at the end of the year before Dillian gets his shot."
But Whyte remains uncertain over Wilder's long term plans given the Alabaman has not been seen in a ring since he was battered and bruised by Tyson Fury in their rematch in Las Vegas 12 months ago.
"We don't know if Deontay Wilder is even going to fight again, or if he has any interest in fighting again," Whyte said with a shrug.
"All he does is post pictures with guns, alcohol and weed. Or he's twerking and shaking his ass on TV. There's no sign of him even training at the moment, he may never fight again.
"I would love to smash his face in but if he's not going to fight, what can I do?"
For now, though, Whyte and his team will drive from Gibraltar back to their training base in Portugal. The 32-year-old is planning some family time including a long-awaited chance to meet his three-month-old son who was born during training camp. Only then will he reflect on the real importance of Saturday's victory on The Rock.
"You know what, I could never thank the people of Gibraltar enough," he said. "I might even make this my second home and buy a place here.
"Amazing is an understatement. They have been superb, they've even put me on a coin. I'm the first black man to go on a legal British coin.
"They've given me an opportunity like no other. Who would have thought a kid from Jamaica who was left out to die, survived, grew up in gangs, been shot, stabbed, been in prison, this, that and the other, to turn out with that distinction.
"Think of all the great black guys who came before me. I'm grateful, man."
Join our new commenting forum
Join thought-provoking conversations, follow other Independent readers and see their replies