Dillian Whyte earns redemption story on a night when boxing emerges as the biggest winner
A night which could have seen the Jamaica-born fighter fall from contention, but ultimately thrusts him back into the spotlight, ready for when the biggest fights of all come around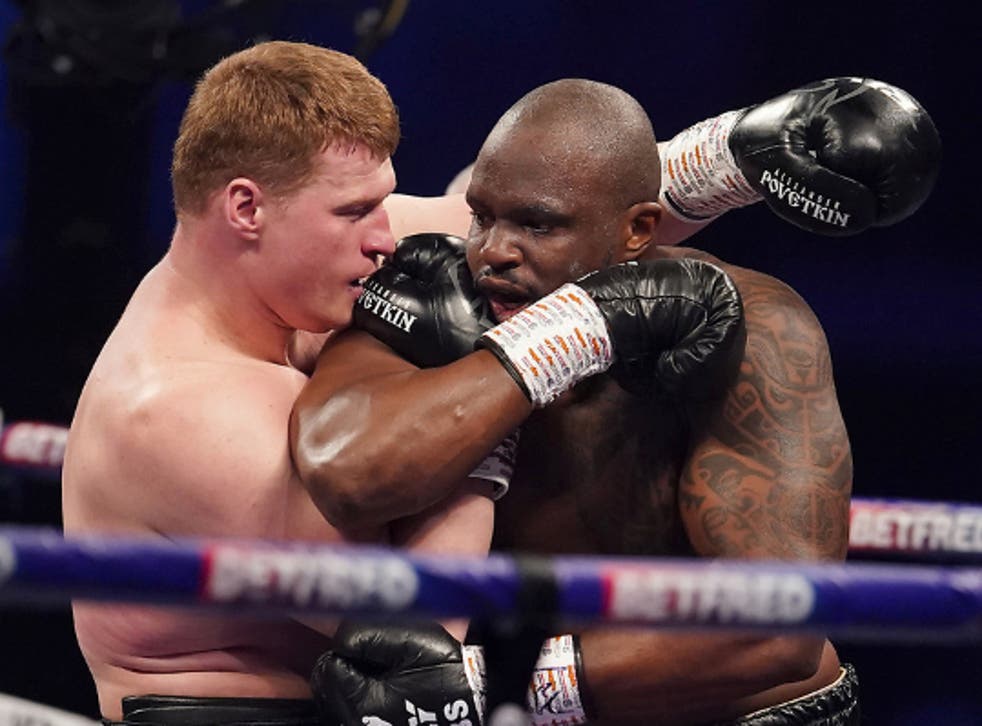 The neon on the Rock was bright on Saturday night when Dillian Whyte led a chorus of approval and let his fists remind us all what a live fight in front of fans is really like.
In Gibraltar, on a night of raw emotions, Whyte beat Alexander Povetkin to get revenge for last summer's shocking loss and to regain his position as the planet's number one and untouchable contender for a world heavyweight title. However, being in that position is a bit like having a laminate that confirms you are in seat 1A for the first trip to Mars. It means everything and nothing, baby.
It was the most important fight of Whyte's career and life; a defeat was the end of his genuine contender status in a division that is likely to get very messy over the next twelve months. Whyte really was one punch from oblivion and one punch from the promised land.
There was real tension and pressure and all week the talk was dominated by how fresh and dangerous Povetkin looked. He was 41, that's a fact, but he was not written off at any point and then the bell sounded and he looked like he was wading through three feet of treacle. It was a shock, but not unusual in boxing where we have a weary axiom about a fighter becoming an old man overnight. Povetkin went through that change on Saturday night and it is irreversible.
READ MORE
However, Povetkin deserves more than being dubbed some type of sacrificial lamb, a man who hobbled to the ring one last time for a pension pay-off in a big fight. He deserves far more than that for 17 years of gruelling fights, of hurt and pain and quality. Whyte's role in the sudden collapse and disappearance of Povetkin should not be diminished by the shell of the Povetkin we all witnessed. At 10 on Saturday night on the Rock, Povetkin was still fearsome and by midnight he was dumped and let's make sure we all remember the sequence.
Whyte let every punch go like he was throwing his last and that type of intensity will break a man. Even a man of granite like Povetkin.
Whyte was smarter than he was last summer when he was knocked out cold by Povetkin and he had to be. Povetkin looked slower once he was clobbered, looked unsteady once Whyte had bounced a few hefty rights off the top of his head and Povetkin was marked across the cheek and face once Whyte's jab had jerked his head back. However, Povetkin only just missed with a dozen short shots when Whyte got too close and went looking for the finish.
The fight was hard, extremely physical and when it was stopped, as Povetkin went down heavily after 2:39 of the fourth, the towel fluttered in; Povetkin's corner knew their man had nothing left to offer but his heart and chin and defiance. He is, as we say, a bit game. I gave Povetkin the second round and the first is best watched through your fingers if you are a fan of ring science. It was, however, gripping.
Whyte used his jab, which might sound like a lazy piece of analysis, but it is simply the truth. Whyte also listened to the double act of Harold Knight and Xavier Miller in his corner and they made a lot of sense. They each asked Whyte to be clever, pick his shots, not take risks.
However, two voices, often both coming at the same time, is never ideal and that is a situation that will need to be controlled. It worked Saturday, but it does not work in hard fights. In Muhammad Ali's corner, Angelo Dundee and Bundini Brown had endless wars, but Ali mostly did his own thing.
The memory of last summer's defeat was the nagging chorus all week and the ring is no place for replays or reprieves, its very real dangers are unforgiving; a beaten fighter can try and hide from the truth, try deception, but at some point, the fighter has to face the demons. Whyte knows a thing or two about demons, knows about bad luck, no luck and hard luck. On the Rock he was fighting for his life, that's not an exaggeration.
The story last summer, before the fight outdoors at Matchroom's Essex headquarters, was about the 1,000 long and unjust nights Whyte had waited as the number one contender or mandatory for the WBC heavyweight title. The wait was coming to an end, beat Povetkin and the WBC mandarins in their tower of lunacy in Mexico City guaranteed him the title fight; lose and it would vanish. And it did and the 1,000 days of waiting was lost in the search for some type of answer for the single-punch disaster in Hearn's childhood garden.
There will be fewer questions left unanswered after Saturday night on the Rock. However, there are still enough unknowns in the boxing life of Dillian Whyte; he has the final win, he has the revenge, the redemption, the fans love his story and now the wait continues for the man who simply refuses to be denied. There was bold talk after midnight of a fight in America, of a stadium fight, of a dream or two. That's for another day.
On the Rock, 502 lucky fans paid to watch a real fight and they left happy, led out under the stars by a smiling Whyte on a night when the sport of boxing won.
Register for free to continue reading
Registration is a free and easy way to support our truly independent journalism
By registering, you will also enjoy limited access to Premium articles, exclusive newsletters, commenting, and virtual events with our leading journalists
Already have an account? sign in
Register for free to continue reading
Registration is a free and easy way to support our truly independent journalism
By registering, you will also enjoy limited access to Premium articles, exclusive newsletters, commenting, and virtual events with our leading journalists
Already have an account? sign in
Join our new commenting forum
Join thought-provoking conversations, follow other Independent readers and see their replies