Ollie Watkins epitomises England's identity under Gareth Southgate
International squad is no longer stacked with established names but those who have something to prove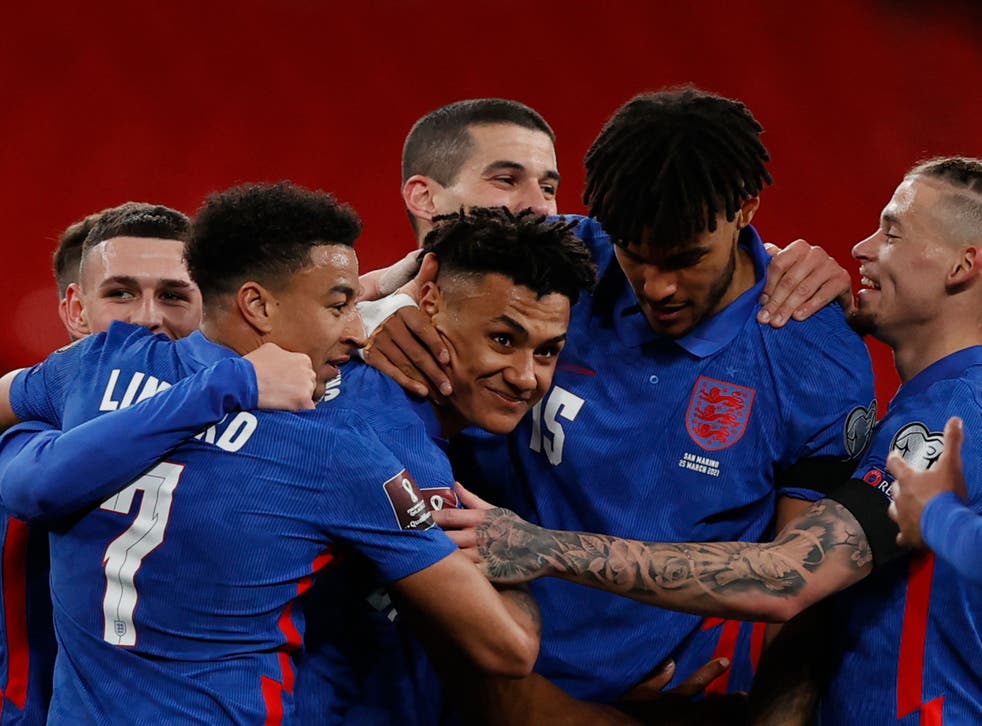 What can you learn from beating San Marino? Anything less than a handsome England win against the lowest-ranked team in international football would have raised a lot of questions. A comfortable 5-0 victory avoided that but, with less than three months until the Euros, it also provided Gareth Southgate with few answers about his team going forward.
"Of course it's not the level of game that's going to dictate how well we can do in the summer," he admitted after the final whistle. This was Southgate's 50th game in charge but, that personal significance aside, even some of the friendlies during his four-and-a-half years in charge have carried greater consequence.
Southgate spoke of practising attacking patterns, rehearsing how to break down a packed defence and "producing consistent habits that need to happen in every single game". There were bright individual displays from Ben Chilwell, Mason Mount, the rejuvenated Jesse Lingard and others too, but they all have to be viewed in context. Lads, it's San Marino.
There was one moment, though, which seemed as if it would stick with Southgate: Ollie Watkins' debut goal, or more to the point, the celebration.
After Watkins had shifted his weight to deceive a defender and slotted a low finish into the far corner and out of goalkeeper Elia Benedettini's reach, he was gradually mobbed by his team-mates. Phil Foden, who had played the pass into Watkins' feet, was first but Aston Villa team-mate Tyrone Mings followed and soon came congratulations from every surrounding England player.
Read more
Television cameras cut to a delighted Southgate, applauding from the touchline. "I think the reaction to his goal in particular told you a lot about this team and this squad," he said later. But why was he so happy? "I think they make it easier for young players and new players to come in and be themselves and to bed in. I really liked the reaction of the team to his goal."
Southgate mentioned those celebrations several times in his post-match press conference - perhaps because it was one moment that could be judged independently of the opposition, and could have come against any team at any time - but then also, as he said, he thought they revealed something about his team.
It is worth remembering the position England were in 50 games ago when Southgate took charge, not long after the dismal exit from Euro 2016. Though squads back then were not picked on reputation to the same extent as during the golden generation's last hurrah, they still regularly featured players whose international careers were running on fumes.
Slowly, Southgate has changed that. He was relatively ruthless in sidelining the likes of Joe Hart, Theo Walcott and Jack Wilshere within a year of taking the reins, and he then handled Wayne Rooney's exit from the international stage with the tact and consideration that England's all-time leading goalscorer deserved.
Since then, there have been no more sacred cows. Fourteen members of the current 26-man squad have fewer than 10 caps. Even some of those with many more, like Lingard, John Stones or Kyle Walker, are playing with something to prove after spells out of Southgate's thinking. Aside from Harry Kane, Harry Maguire and potentially Jordan Henderson if fit, no player can claim to have a nailed-on place in England's first-choice XI.
Southgate said this week that if he had to pick his starting line-up to play against Croatia in England's opening game of the tournament, he could, but he added an important caveat to that on Thursday night. "Every game we play, every opportunity to play with clubs, people have the chance to show good form, good level of quality and the opportunity to change that thinking."
That breeds competition but it also breeds camaraderie, as could be seen from the celebrations of Watkins' goal. There is genuine delight among the young or inexperienced players that Southgate has largely trusted when they see one of their peers seize their moment on the international stage, even if they have only scored a largely inconsequential goal in a routine win over San Marino.
And that, in turn, means Southgate is more confident when it comes to selecting the likes of Watkins, Foden or Jude Bellingham, who also caught the eye after coming on as a substitute. It is unlikely at this late stage, but if another young player were to emerge into Euros contention between now and the end of the season, the England manager would trust they could, in his words, "come in and be themselves and to bed in".
That has perhaps not always been the case in the past, when new call-ups were rarer and squads were stacked with established names. Southgate instead largely picks players with something to prove, not resting on reputation, and his England side feels much fresher for it.
Join our new commenting forum
Join thought-provoking conversations, follow other Independent readers and see their replies