'It's what I dreamt about all day': Ollie Watkins admits disbelief after scoring on England debut
Aston Villa striker came off the bench to find the net in the Three Lions' 5-0 win over San Marino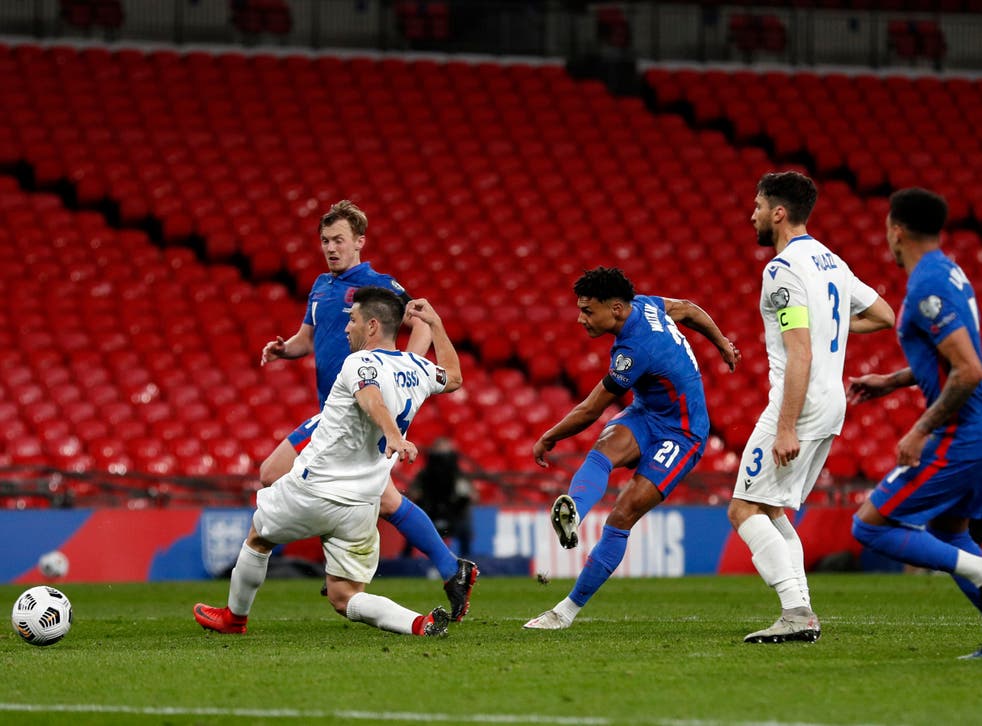 Ollie Watkins could not contain his excitement after scoring on his England debut on Thursday night, his late goal completing a 5-0 victory over San Marino at Wembley Stadium.
The Aston Villa striker came off the bench in the second half to step out for Gareth Southgate's side for the first time, and his accurate finish followed goals by Raheem Sterling, James Ward-Prowse and Dominic Calvert-Lewin – who netted twice.
The result ensured a successful start to England's qualifying campaign for next year's World Cup in Qatar, with further qualifiers against Albania and Poland coming later this month.
"It's unbelievable, it's what I dreamt about all day in the hotel – just to get a chance and enjoy it," Watkins said at full-time.
"I'm speechless to be honest. It's been a good journey, I feel honoured to come out here and put on the shirt and play with the players I'm playing with.
READ MORE:
"You couldn't write it, I'm over the moon to be honest."
Watkins has scored 10 goals for 10th-placed Villa in the Premier League this season, having joined from Championship side Brentford last summer.
England captain Harry Kane remained on the bench against San Marino, with Everton's Calvert-Lewin scoring twice in the Tottenham striker's absence.
Watkins knows he is not at the top of the pecking order among Southgate's strikers ahead of this summer's Euros, and the 25-year-old insisted that he will stay realistic about his chances of being named in the coach's squad come June.
READ MORE:
"I didn't put pressure on myself, I just wanted to get on the pitch for a start," Watkins said.
"I'm grateful for the opportunity. I have just got to take each game as it comes, play consistently for Aston Villa, push up the table and hopefully get into [a European place] and see where we're at."
England face Albania on Sunday and Poland next Wednesday.
Albania were 1-0 winners against Andorra on Thursday, while Poland drew 3-3 against 10-man Hungary elsewhere in the World Cup qualifying group.
Register for free to continue reading
Registration is a free and easy way to support our truly independent journalism
By registering, you will also enjoy limited access to Premium articles, exclusive newsletters, commenting, and virtual events with our leading journalists
Already have an account? sign in
Register for free to continue reading
Registration is a free and easy way to support our truly independent journalism
By registering, you will also enjoy limited access to Premium articles, exclusive newsletters, commenting, and virtual events with our leading journalists
Already have an account? sign in
Join our new commenting forum
Join thought-provoking conversations, follow other Independent readers and see their replies