Tony Bellew willing to help Conor McGregor camp for Floyd Mayweather fight if called upon
Speaking to Fiaz Rafiq, the WBC's 'emeritus' cruiserweight champion tells The Independent why McGregor will need all the help he can get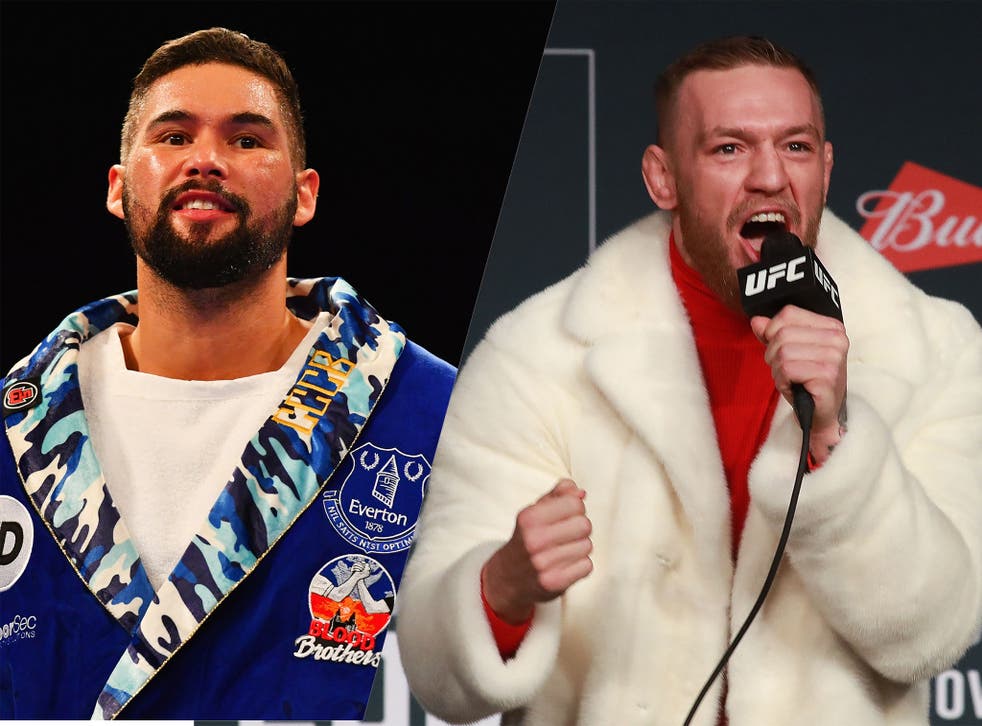 You're a big UFC fan. Coming from a pure boxing background, what made you gravitate toward MMA in terms of appreciating the sport and its warriors?
I've always enjoyed it from the K1 days. I've always watched it from when the likes of Mark Kerr, Mark Coleman and in the UFC when Tank Abbot, Ken Shamrock and Royce Gracie were fighting. So I've always been a fan really. It's something that interests me.
A lot of people feel Conor McGregor does not have a chance against Floyd Mayweather. Do you feel he should be sparring with several world champion boxers to test the waters?
He already sparred with a couple of Irish top level amateurs. The fact of the matter is, he's not a boxer. You can't learn our sport overnight. The two sports are only similar in one way, and that is they're both combat sports, and the ultimate goal is to leave your opponent unconscious. That is the only comparison between MMA and boxing.
Mayweather vs McGregor: From trash-talk to super-fight

Show all 18
It's basically like football and rugby; in both sports they play with a ball, but they're totally two different sports. You cannot come into our sport and compete with the best. I mean, I've seen people saying if Conor McGregor catches Floyd Mayweather clean he could knock him out. So, basically are you trying to tell me Conor McGregor hits harder than a prime Miguel Cotto, Ricky Hatton, Manny Paquiao, Oscar De La Hoya, Shane Mosley? The list is endless.
Are you trying to tell me that Conor can hit harder than all those guys with ten ounce gloves on? Absolutely not! If this was in a cage this would be over in 30 seconds, but it's in a boxing ring. You cannot learn what we do in a space of couple of months.
If McGregor does triumph, would this have an indelible impact on the sport of boxing?
It would be the biggest miracle in all of the sports. It will be the biggest shock in sports history ever. I'm talking about all and any sports ever created by mankind. That's the kind of outside odds I have on Conor. I couldn't even fathom how it would affect boxing. It would actually make a mockery out of boxing. If Floyd Mayweather loses, boxing is at stake here.
When the wrestler Antonio Inoki fought Muhammad Ali in the first ever major MMA bout, Inoki lay there in the ring kicking and bruising Ali's legs. I guess it was staged. There's no way I could compete with a wrestler, but if I hit the wrestler 'boom!' at any stage, even with a light punch, he's going to sleep. But at the same time that wrestler is going to rip my arm socket out. Muhammad Ali's MMA fight was a bit of a farce, but he got well paid, so good on him.
Mayweather v McGregor: Tale of the tape
McGregor has become the face of the UFC. He has carried the sport on his own and he's done it. He's in demand in the UFC. He's a one off. You'd be lucky if you got someone else again that talks the way he does and to back it up like he does, so it can't be all hype because he delivers too, but we will see on the day.
Amir Khan had challenged McGregor to a MMA bout last year. How would have Khan done had McGregor stepped in the boxing ring with the former world champ?
Like I said, you can't learn boxing overnight. It's ridiculous to even suggest it. The outcome would be exactly the same. Don't get me wrong, Amir Khan is a lot more vulnerable than Mayweather, but when Amir will hit McGregor he wouldn't even see the punches coming. I've trained with Amir Khan and I can tell you that he's the fastest thing I've ever trained alongside. He's that quick. Believe me when I say I've trained with some quick fighters in my time, he's is by far the quickest I have ever seen up close and personal. I've travelled to places with him and trained with him when we were amateurs.
Would you ever consider a MMA bout if you took a year or so out of boxing?
Yes, I would consider fighting in MMA. I would train in submission wrestling and get ready for it. As long as the money makes sense, I will do it.
You've met and have been around Mayweather, how do you perceive him personally?
He's exactly how he seems on TV. I don't want to say 'arrogant' but it's all about him, and everything he talks about comes down to money. So, as much as I admire him, there's a saying 'never meet your idols because they'll always disappoint you'. And it was very true with this one.
The movie Creed was a hit. Have you recently considered making big money on the big screen in Hollywood instead of slugging it out in a brutal and bloody sport that you've dedicated your life to?
To be honest, it's a possibility. I've been offered a couple of roles since then. I still stay in touch with Ryan Kruger, the director of Creed, and with Michael B Jordan from the movie who is a good friend of mine. So I won't rule it out, I'll tell you that much, but at the moment I'm a professional fighter and that's my job, that's what I do for a living, that's how I earn for my children. I'm a fighter first and foremost. The acting is a possibility.
I enjoyed working with Stallone and it was a fantastic opportunity to be part of it. It was a fantastic experience working on Creed, one that will stay with me forever. I enjoyed everything about it, day to day grind. One thing I will say: it's a lot more work than people believe. 12 hour days, every single day you work on set is 12 hours and some days can be 14 hours, some can be 16 hours. So it's very demanding, you've always got to be on top of your game and turn up ready to work.
Your next big duel?
I leave it with Eddie Hearn. He's made the right moves the right my career so far. He's a good person, a friend of mine, someone I trust. I understand what I need to do in this business and trusting a promoter is very hard, but I do trust Eddie Hearn, so we're doing well together and may it continue that way.
Would you make yourself available to help McGregor prepare for his historic bout if the opportunity is on the table, what's your direct message to the Notorious?
My message to Conor McGregor is: 'Well done. You've just earned yourself in the region of $100 million dollars. Good on you. May the best man win.'
Of course I would help him out. I really like Conor. I'm actually a Conor McGregor fan, so why not? I don't think he's going to need someone the size of me. I'm 6 ft 3 and I weigh 16 and half stones and I hit like a truck - completely opposite to Mayweather. So he's not going to need me. However, if he needs me I'm happy to help him prepare for this fight and spar.
Register for free to continue reading
Registration is a free and easy way to support our truly independent journalism
By registering, you will also enjoy limited access to Premium articles, exclusive newsletters, commenting, and virtual events with our leading journalists
Already have an account? sign in
Register for free to continue reading
Registration is a free and easy way to support our truly independent journalism
By registering, you will also enjoy limited access to Premium articles, exclusive newsletters, commenting, and virtual events with our leading journalists
Already have an account? sign in
Join our new commenting forum
Join thought-provoking conversations, follow other Independent readers and see their replies