James DeGale lost teeth, his cool and his hearing - but kept his super-middleweight title against Badou Jack
DeGale's talk of a fantasy fight at the Emirates is just a dream for now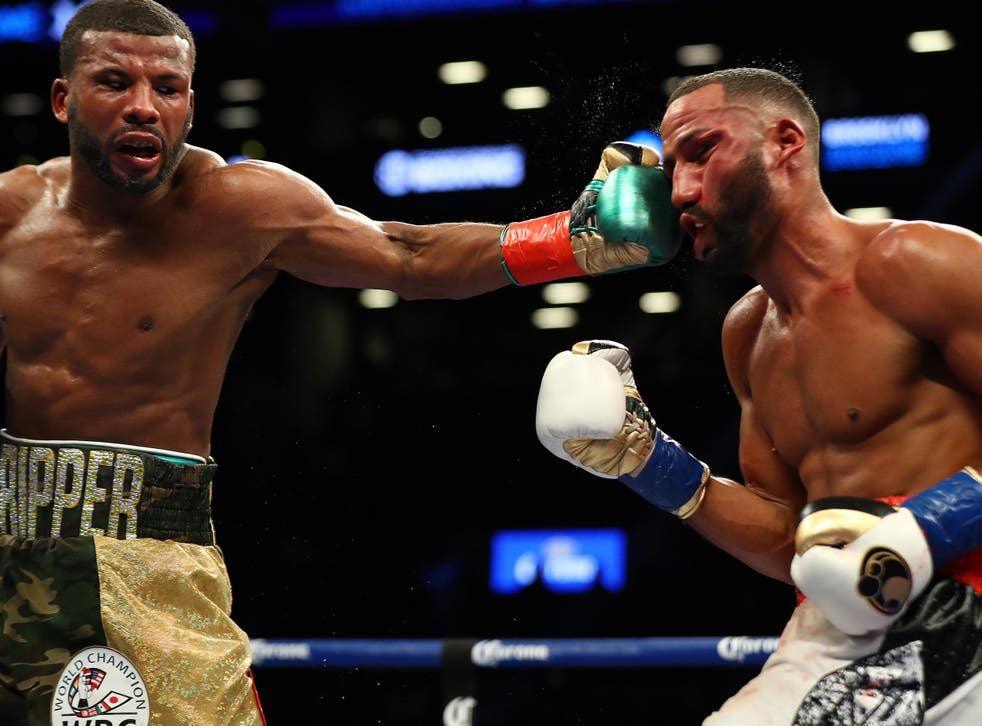 The draw was a possibility long before James DeGale lost two teeth, his hearing and his cool at the end of his fight with Badou Jack in Brooklyn on Saturday night.
DeGale retained his IBF super-middleweight title and failed to win Jack's WBC version when two of the three judges returned a perfectly acceptable 113-113 score; the third official voted for DeGale by two rounds, which was fine. There was no robbery in New York.
In round one Jack touched down from a perfect counter and in the last round, a harrowing final round, DeGale was sent heavily to the canvas when he was caught with a looping right uppercut. Jack got up and smiled, DeGale got up, his mouth red, his face sliced under the right eye and ran to survive the last ninety seconds.
Jack had fought his way carefully back into the fight after the bad opener and was scoring far too easily with single jabs and rights to the body when DeGale, for some odd reason, repeatedly retreated to the ropes. The fight was poised, tight after about 10 rounds: DeGale was sharper, his punches more intricate, but Jack just kept reading him and countering.
At ringside the calm from before the first bell had been replaced by the constant screaming of Floyd Mayweather, boxing's richest fighter, Jack's manager and the novice promoter of the fight. Mayweather had initially been refused entry to the ring before the fight, but wasted no time once it was over to jump in and declare his man the winner.
DeGale, sounding curiously distant and speaking with a lisp because of the lost teeth and an injured ear, seemed confused at the end and his loyal corner was subdued as the wait for the verdict dragged on. In two of Jack's last three fights individual judges returned a drawn verdict three times and, as the wait continued, there were signs on the faces of the men in the ring that another draw was coming.
The verdict was booed, cheered and debated in chaos in the ring as Mayweather tried to be diplomatic at first, Jack was reasonable but DeGale kept on screaming about respect and a rematch. Mayweather attempted to explain that Jack was moving up to light-heavyweight and that, as he had said last Friday, Jack's days as a super-middleweight are over. Jack backed his boss, but DeGale took it as an insult, a lack of respect. "They don't want to fight me," said DeGale.
Mayweather did say that he wanted to be involved in DeGale's career going forward, which is a possibility for the London boxer who has now had his last four fights overseas. The was also a hungry look in Mayweather's eyes as he stood arguing with DeGale; he was once world champion at light-middleweight and he will fight again given the way he was eyeing DeGale. "I'm done with boxing, I don't miss anything about it and now I want to build my company," Mayweather insisted, but he has ended retirements before.
At ringside in New York was Callum Smith, one of the quartet of fighting Smith brothers from Liverpool, who was there to smile and agree a fight with DeGale had he beaten Jack. It now looks like Smith could fight for the vacant WBC title if Jack decides to move up a division. He could in theory fight DeGale for the IBF title, but winning the WBC belt would make more sense.
There is always a chance that Eddie Hearn, who has been working with DeGale, can turn Mayweather's head with a big offer for a rematch in London. However, Mayweather is rich and insists that he will only accept fights for his boxers that make sense and that he will never take fights because of the money. If Jack does move to light-heavyweight with Mayweather's blessing, it will be the best thing he has done during his erratic two years as a promoter and manager.
Hearn could also try and get DeGale in with Smith, assuming the WBC title is vacant, but that would be a foolish move by Smith; the unbeaten boxer is the official number one, he will get the title fight, then a defence and that will build the DeGale fight for later. It will also build his payment.
DeGale went to a local hospital for a check, was given a clear and he should now take six months to let his body heal properly. Somewhere between Jack's fists, Mayweather's wild eyes and a few smiling nurses, all talk of domestic super fights at the Emirates vanished. DeGale needs rest, not fantasy talk right now.
Register for free to continue reading
Registration is a free and easy way to support our truly independent journalism
By registering, you will also enjoy limited access to Premium articles, exclusive newsletters, commenting, and virtual events with our leading journalists
Already have an account? sign in
Register for free to continue reading
Registration is a free and easy way to support our truly independent journalism
By registering, you will also enjoy limited access to Premium articles, exclusive newsletters, commenting, and virtual events with our leading journalists
Already have an account? sign in
Join our new commenting forum
Join thought-provoking conversations, follow other Independent readers and see their replies