John Ryder took on the full power of Canelo Alvarez and emerged an unlikely hero
Ryder lived up to his word and forced Alvarez until the end on a brutal and bloody night in Mexico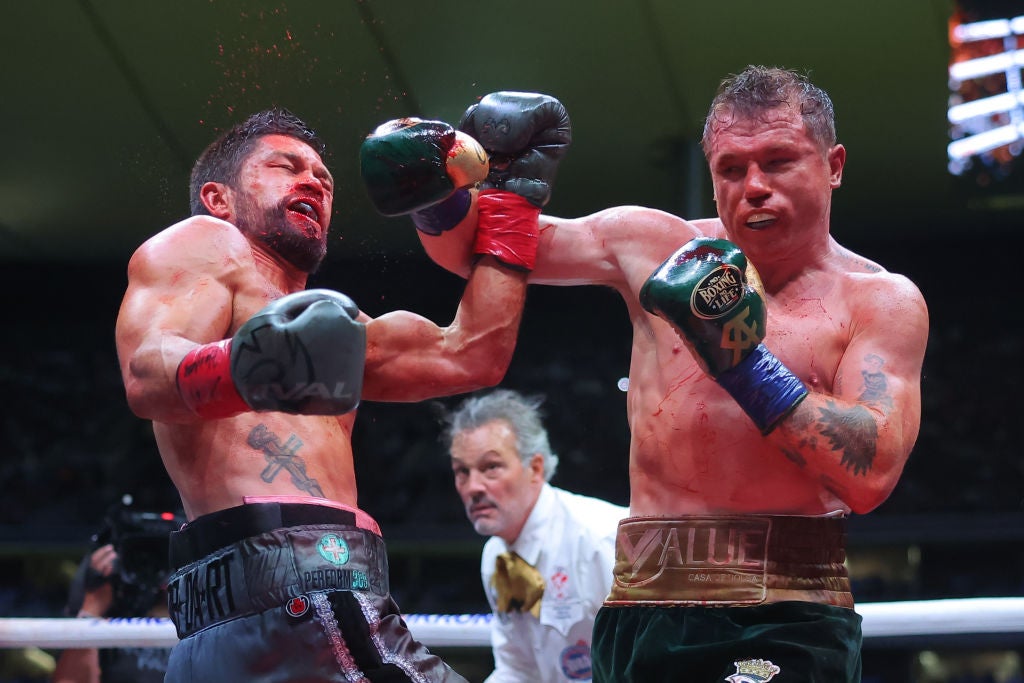 Saul Canelo Alvarez and John Ryder fought to a bloody standstill on Saturday night in front of 55,000 fanatics here in Guadalajara.
Ryder lost the decision widely, survived two knockdowns, a damaged nose, the hostility of a crowd and left the ring an unlikely hero. He was booed in, cheered out and Canelo led the praise.
"It's boxing, it was hard, but that is the business," said Ryder. "His plan was to stop me and he didn't. He knows he's been in a fight." They both knew they have been in a fight.
It was a spectacular event, a gripping fight and Ryder's resilience was inspiring. The four world title belts that Alvarez wore to the ring were reduced to meaningless trinkets by Ryder's bravery. It was simply a night of pride. And fireworks and celebration for Alvarez in his first fight on home soil for twelve years. It was billed as the return of the king and a jeweller from Buenos Aires, who makes items for the pope, produced a lovely gold crown for Canelo. There was a lot of pomp on Saturday night.
At the end of five rounds, the fight looked close to over. Ryder's nose was bleeding heavily, he was spending the minute between rounds spitting out the blood in the back of his throat. The nose had been broken in round two by a Canelo uppercut.
The nose, however, was only part of the problem; in the fifth round, Ryder was dropped heavily by a right. He slid down the ropes, took a knee and narrowly beat the count. It looked over. Instead, the real fight started.
Ryder was clearly still shaken and totally smeared in his own blood, but he let his fists go and took the fight to Alvarez. His refusal to take a step back, combined with the amount of blood, gave the fight a truly heroic feel. Nobody in the Estadio Akron was sitting when the bell sounded to end the fifth. A lot of rounds ended that way.
Ryder was dropped again on the bell at finish of round eight, he jumped up quick and looked stunned, not badly hurt. Once again in the corner, the ringside doctor examined his damaged nose and let him continue. It might very well be the bloodiest fight I have ever seen from ringside.
It was from the ninth that Canelo noticeably started to slow down and, amazingly, Ryder increased his pace. The last three rounds were attritional; Ryder pushed Alvarez back. Ryder might not have done enough to take the last three rounds, but he made Alvarez fight to the very end. It was exactly what Ryder had promised.
Ryder had talked all week here about going the distance and Alvarez, under pressure to impress his flock, had talked about a stoppage. Alvarez came close, but Ryder simply refused to quit; his nose was a real danger to his ability to continue and Tony Sims, his trainer, also told him a couple of times that he needed to have a good round. Ryder listened and did. Ryder had his nose reset when he went back to his dressing room. It was a truly brutal fight, a fight of great sacrifices.
It was for Canelo a triumph; he was also the promoter of the show. In Mexico he is an idol, a kid who once sold ice cream on local buses and was last week named as the fifth highest earner in sport. It was his 59th win.
Ryder finished the night with his broken nose strapped and with a few swellings on his face. "I wish it had been 15 rounds," he said. He was joking, just.
Late on Saturday night, Ryder made Alvarez fight for every second of the fight and both left the ring with the marks and memories that the best share when they meet each other.
Join our commenting forum
Join thought-provoking conversations, follow other Independent readers and see their replies