'I don't feel pressure': Josh Taylor targeting great legacy ahead of 'colossal' Jose Ramirez fight
Exclusive interview: The unified light welterweight world champion is eager to help his East Lothian community while preparing for his date with history in Las Vegas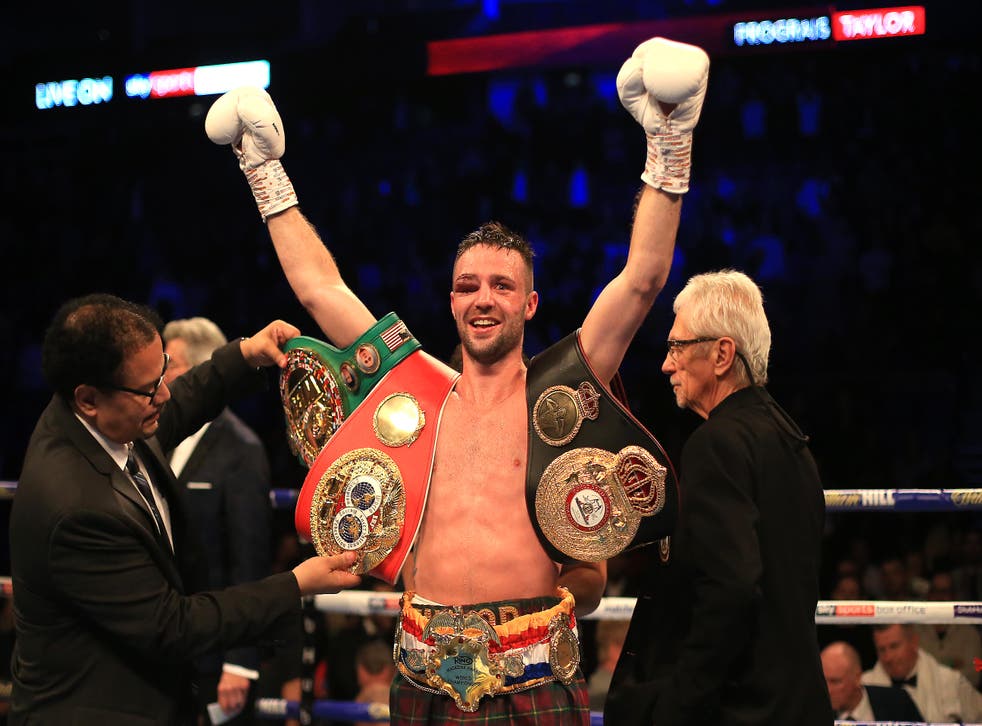 Josh Taylor recalls his first encounter with Jose Ramirez, it was 10 years ago in Baku when the Scot and American briefly crossed paths at the AIBA World Boxing Championships. Little did either fighter know that destiny would see them meet in Las Vegas in 2021 with all four light welterweight world titles on the line alongside the coveted title of undisputed.
The fight will see a fighter hold all four belts at 140 pounds for just the second time, following greatness in the shape of pound-for-pound superstar Terence Crawford, who may well entertain a fight against the winner later this year up at welterweight.
"It's humongous, it's colossal," Taylor tells The Independent ahead of the fight on 22 May. "It's a massive fight, one for the history books. I really do think I'm going to pull it off. The magnitude of the fight is massive. It'll open up so many opportunities and cement my name in the history books as one of the greats of this sport."
Taylor has a chance to transcend the sport and secure something greater than just pugilistic glory, and the man from East Lothian is conscious of the power he possesses to leave a legacy beyond the ring.
"I'd like to open up a community hub in the future," Taylor explains, having grown closer to his community throughout the Covid-19 pandemic while supporting local project Sunday Fresh Chicken Dinner Boxes. The charity helps those struggling by providing a free meal, with toiletries and cleaning products, from every £9 donation.
Read more:
'I can be the next great fighter': Gervonta Davis primed to emerge from Floyd Mayweather's shadow
Badou Jack endures dark side of boxing to continue blazing trail outside the ring
"It would have a big gym, somewhere for people to go and keep fit and healthy, talk to doctors, a psychiatrist, help people with their problems. Some help with their diets too, I want to do that after I'm done with boxing and give back.
"There would be a boxing gym and I'd have an input into that, but a general community hub to meet up and talk about things, it's something my home area needs, it's lacking and doesn't have anything of the sort at the moment."
His experience with the food initiative has been an "eye-opener" alongside the toil of training alongside Ben Davison, with the pair counting down the days until they embark on a four-week mission to the bright lights in Nevada later this month.
There is evidently a stark contrast between home and the bright lights where his legacy-defining night will unfold, but his career has only drawn Taylor closer to his roots, embracing the natural beauty that surrounds him on the outskirts of Edinburgh.
"Home is where the heart is," Taylor insists. "It's where my family and friends are. I haven't changed much.
"It's a lovely part of the world, right up on the east coast of Scotland, it's beautiful. It's a great place when you're getting down, to have that beauty on your doorstep: the seaside, the countryside, rolling hills, fields, nature and wildlife.
"When you're feeling s***, you go for a walk down on the coast, great views, it makes you feel better and cheers you up. It's such a great natural antidepressant. It's been very good for me."
His tranquil surroundings combined with the endearing character of his opponent provides a challenge for Taylor, who admits he has to "find a way to not like him" and harness that elusive edge from the first bell.
"You need to find that killer instinct," he adds. "To get that spitefulness, but luckily I'm a spiteful character when it comes to boxing and fighting. As soon as the final bell goes though, there'll be respect."
Taylor is still pinching himself at the thought of immortality inside just 18 professional fights, but he rejects the notion of being overwhelmed by the occasion after coping admirably to this point as Scottish boxing's poster boy.
"I'll be calm, I've dealt with pressure my whole career," Taylor concludes. "I'm used to it, I don't feel it, it makes me thrive under it.
"It's the biggest test there is, for all the belts. It gives you the fire in the stomach, I deal with it very well. I don't feel pressure, I don't see it as any way a burden, it's a motivational thing."
Register for free to continue reading
Registration is a free and easy way to support our truly independent journalism
By registering, you will also enjoy limited access to Premium articles, exclusive newsletters, commenting, and virtual events with our leading journalists
Already have an account? sign in
Register for free to continue reading
Registration is a free and easy way to support our truly independent journalism
By registering, you will also enjoy limited access to Premium articles, exclusive newsletters, commenting, and virtual events with our leading journalists
Already have an account? sign in
Join our new commenting forum
Join thought-provoking conversations, follow other Independent readers and see their replies