Josh Warrington interview: The underdog who became a world champion, surprising everybody but himself
The IBF featherweight champion speaks to The Independent about fate, fortune and the four challengers looming on the horizon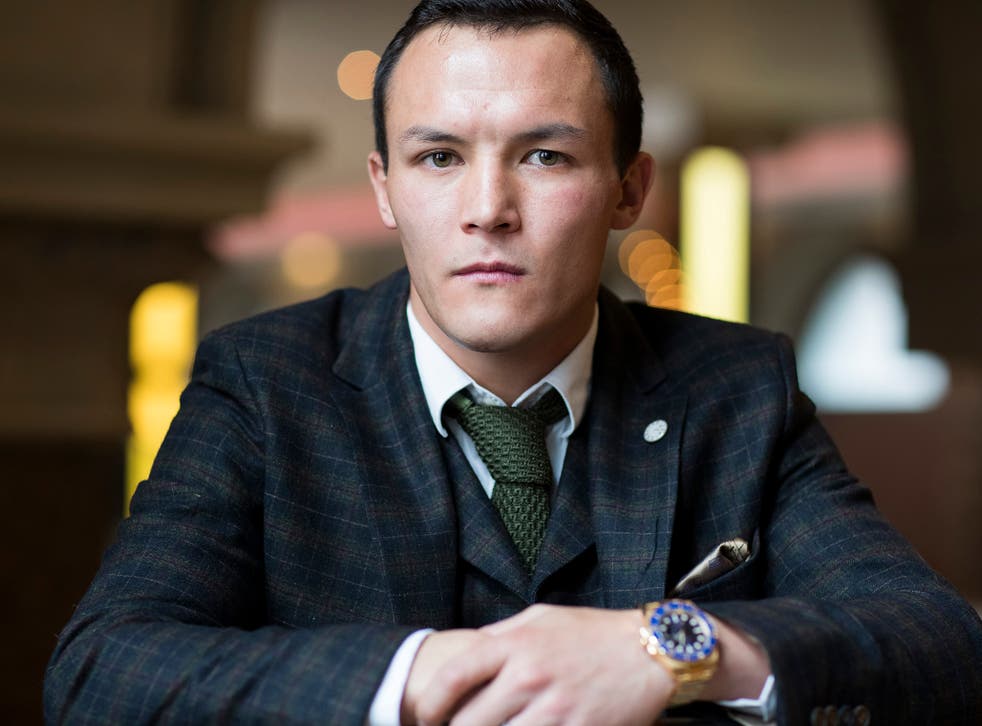 Josh Warrington has not once suffered the ignominy of being knocked down in his nine-year professional boxing career. And yet, when the referee raised his left arm to the night sky to declare him the new IBF featherweight champion of the world, he could not help but collapse to the canvas as though caught on the chin by a man twice his size, his face contorting in triumph. Elland Road erupted around him.
It was a fitting end to a remarkable title fight that had hummed with excitement, emotion and the exhilarating gravity of local pride. Lee Selby, who had ruled the division with distinction for close to three years, arrived in Leeds two months ago the bookmakers' favourite but was firefighting from the sound of the first bell onwards. Cut in the second and again in the sixth, he lost his title on a split decision that even he later granted should have been unanimous.
It was an outcome few had predicted. With the notable exception of Warrington himself, who insists that not only had he predicted, he had already seen it, too. "I had pictured myself many, many times fighting him," he tells The Independent. "I pictured myself walking down the tunnel. I pictured myself in the ring. But most importantly, I pictured myself winning."
So, in the angst-ridden days ahead of his date with destiny, Warrington began making a number of sorties to the stadium he had visited ever since he was a slip of a boy with a white scarf around his neck. "I'm a massive believer in visualisation," he explains. "I made sure that I went down to the ground a few times before the fight. And when it finally came to fight night I was able to stand in the tunnel with the crowd going bonkers and for it all to feel normal. I had been there before.
Britain's current boxing world champions

Show all 8
"Winning the world title at Elland Road is something that I have pictured for many, many years. And I can genuinely say that I believe winning that fight was my destiny. I love Leeds and have always dreamed of winning the title there and from the first moment I stepped foot inside the ground that evening, I knew there was absolutely no way I was losing that fight."
From the mental transformation of the England football team to the mindfulness of a revitalised Novak Djokovic, the power of positive psychology has emerged as an unlikely theme of this sporting summer. And yet even so, it comes as something of a surprise to hear somebody as refreshingly straight-forward as Warrington talk so plainly about his psychological process, with all the ease of a man reeling off his shopping list.
But for Warrington all that visualisation was entirely natural. After all, he had dreamed of this moment ever since he turned professional back in 2009, defeating an 11-89 journeyman named Delroy Spencer in front of a cut-price crowd at Huddersfield Leisure Centre. That shimmering vision — of his arm in the air and a belt around his waist, a world champion — was the thing that had pushed him on through all those gruelling early fights on the small hall circuit, through all those punishingly monastic training camps.
Which rather begs the question: what motivates him now? Once you've reached the top and made the dream a reality, how quickly can you recalibrate and go again? Difficult questions, but Warrington says it did not take him long to find the answers.
"People keep asking me if this has all sunk in," he says, speaking on behalf of the Movember Foundation. "And I keep saying the same thing: I don't want it to sink in. It keeps me hungry. Because when you start feeling as though you're the big man and you've done it — when you take a step back — that's when it suddenly becomes dangerous. That's when you become exposed.
"Honestly, as soon as I walked out of the ring after winning and walked back to my changing room, I genuinely thought: 'who's next?' I went through that Selby fight in second gear, at the end I felt like I had more to give and there was more to come. I know I have to be patient though: I have always been chasing the boxing and chasing the fight but now is the time for me to be in control of my own career.
"Everybody knows that the hardest thing in boxing is keeping hold of a title, because people want to be where you are. But I want to leave a legacy. So to win another world title is now the thing that I'm aiming for. Wining one was great, but that belt is looking a little bit lonely on the mantlepiece and it's time to go after another one."
That leaves him with three options. Léo Santa Cruz holds the WBA belt. Gary Russell Jr. the WBC. And the undefeated Óscar Valdez the WBO. The three have a combined record of 88-2, with any unification showdown almost certain to take place in the States. Warrington readily admits that the prospect of fighting under the bright lights of Las Vegas — and "taking over silly numbers" — is something that appeals.
There is a fourth, potentially even more attractive road for Warrington to take. His Frank Warren stablemate Carl Frampton defends his WBO interim title against Luke Jackson next month, with Warrington scheduled to be in attendance. A lucrative showdown looms, with the winner afforded the opportunity to then break America.
It is something Warrington has thought of. "I think boxing is massively about timing. Frampton has been a very good champion and he has some wonderful nights and I have enjoyed watching him. I would even go as far as saying that I have been a fan of his, watching him over the years. And I don't think that he's finished or washed up or whatever, but his last few fights haven't shown him in the best of form."
So is it a fight he can picture winning, another dream to be made reality? His answer is as emphatic as that first round against Selby two months ago, the moment that he transformed from Warrington the underdog to Warrington the world champion. "Yes," he replies. "I'm reaching my peak and I think that if I get in with him then I will beat him."
Join our new commenting forum
Join thought-provoking conversations, follow other Independent readers and see their replies