Sublime Lawrence Okolie now holds all the cards after fulfilling crazy dream
The Hackney fighter displayed immense precision to dispatch Krzysztof Glowacki in six rounds to capture the WBO version of the cruiserweight world title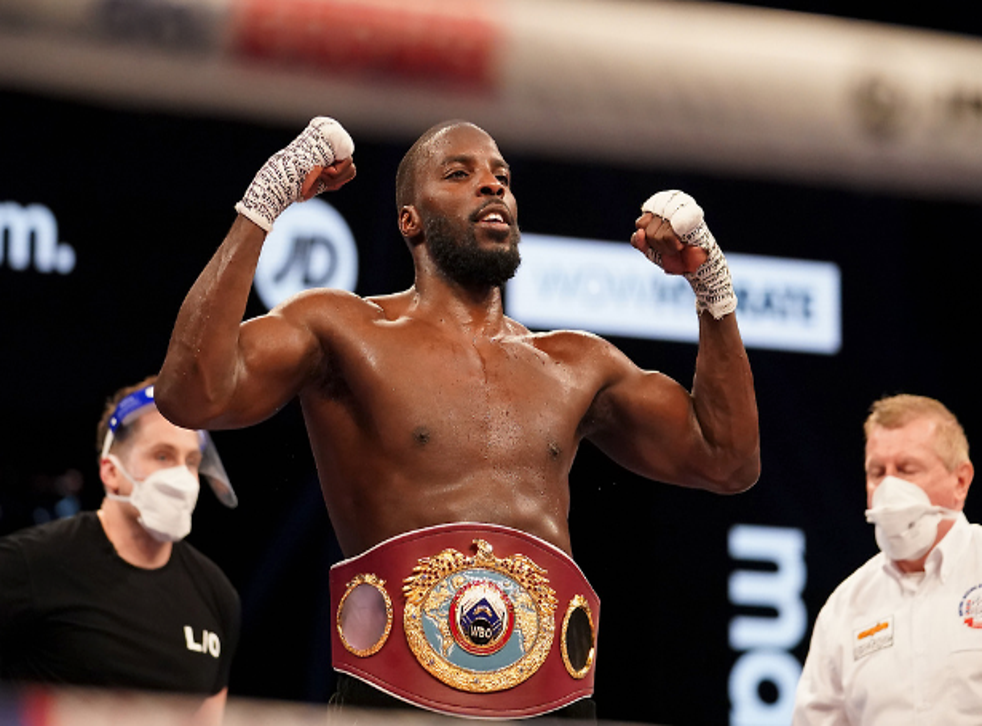 Lawrence Okolie started his boxing life flipping burgers at Victoria train station and on Saturday night he won a version of the world title.
Okolie watched the 2012 Olympics in a greasy kitchen, sucked in his belly, threw a few punches in front of a mirror and decided that he would chase some type of crazy dream; four years later he was boxing at the Rio Olympics. This is not fiction, this happened to the kid from Hackney.
At Wembley on Saturday night, Okolie, having just his 16th paid fight, knocked out Poland's Krzysztof Glowacki after 46-seconds of the sixth round to win the vacant WBO cruiserweight title. Glowacki collapsed in a heap, flat on his back and was counted out as he struggled up.
Glowacki lost every second of the fight, was cut at the end, frustrated and suddenly aged in what was his 34th fight; Glowacki had won and lost in world title fights, had real pedigree. Sure, he had not fought for 21-months, but that is a hazard that eternally divides expert opinion.
On the night, Okolie was simply too fast and powerful and as each minute ticked away it was clear Glowacki's time was fast running out. The last punch was perfect, delivered from a blind spot when Okolie saw the a gap. It was clean and Glowacki had no chance; his body went limp as he dropped to the canvas. He was out.
READ MORE:
Katie Taylor to defend undisputed lightweight title against Natasha Jonas in reprisal of Olympic rivalry
Marvelous Marvin Hagler was a miracle – a man fighting against the odds, facts and industry
Dillian Whyte and Alexander Povetkin honoured by Gibraltar ahead of heavyweight rematch
Remembering Henry Cooper, a small giant with an icon's legacy
Inevitably, Glowacki became old, slow, washed-up, overrated and a soft touch as he went down. Boxing can be a bit cruel in judgment, but I believe Glowacki was none of those things until Okolie started hitting him.
"This belt is special," said Okolie. "It means I can take this to the council estate I came from and say: 'This is where I'm from and now I've got this.' It signifies success."
The cruiserweight world title belt is also a big part of British boxing history with six previous champions and about a dozen failures at the weight. Okolie wants to be the best British cruiserweight and that is an impressive unofficial title; Glenn McCrory, Johnny Nelson, Carl Thompson, Enzo Maccarinelli, David Haye and Tony Bellew were all special in different ways when they were world champions. Haye made the dream transition to heavyweight world champion. Okolie certainly knows a thing or two about dreaming big.
Next month, Okolie has a self-help book coming out, his guide to overcoming fears of failures, bullying, obesity and also facing success. It has certainly been a good sporting journey so far.
After Saturday's fight, as the adrenaline of victory start to ease, Okolie admitted he would probably lock the door on his room back at the hotel and have a little cry. It was the best audition line ever for a slot on Loose Women and I hope he gets it. The second thing behind closed doors would be a call to his mum - if he is not sitting next to one of the Nolan sisters soon it will be an outrage.
There are a lot options available now for Okolie and one is clearly a move from cruiserweight to heavyweight. Okolie has the raw dimensions right now to gain the pounds and still retain his speed; the unknown is the question of power and whether that would travel with him up in weight. Okolie has stopped, dropped or knocked out 13 of the 16 men he has beaten. Glowacki was an easy target, but heavyweight lumps do not tumble quite so easily. There are also the other world champions at cruiserweight.
On Saturday night, there was never any rush, no urgency or panic in Okolie's work. In his corner, Shane McGuigan, was as calm as his fighter, picking his words of advice with the same care Okolie was picking his punches.
"No rush; stay in the centre, feint and throw," McGuigan told Okolie at the end of the fifth. Less than a minute later and it was over after Okolie had held the middle of the ring, not rushed, showed a feint and delivered the final punch of the night.
Okolie made a difficult night look easy and a dangerous opponent look bad. It was a fine start to his life as a world champion and he knows it will not always be this easy and his opponents will not always look so bad.
Now, it's the Loose Women sofa.
Register for free to continue reading
Registration is a free and easy way to support our truly independent journalism
By registering, you will also enjoy limited access to Premium articles, exclusive newsletters, commenting, and virtual events with our leading journalists
Already have an account? sign in
Register for free to continue reading
Registration is a free and easy way to support our truly independent journalism
By registering, you will also enjoy limited access to Premium articles, exclusive newsletters, commenting, and virtual events with our leading journalists
Already have an account? sign in
Join our new commenting forum
Join thought-provoking conversations, follow other Independent readers and see their replies